What Trump's executive order means for student loans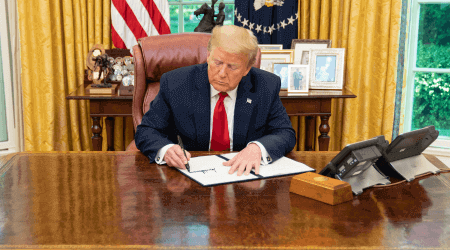 Repayments won't be due until 2021 but other assistance is still set to expire in October.
President Trump signed an executive order Saturday extending some federal student loan forbearance assistance to December 31st. But it didn't fully extend all student loan repayment assistance offered through the CARES Act.
Here's what the executive order means if you have federal student loans.
Forbearance extends until the end of the year
Trumps's executive order extended forbearance on federal student loans until December 31st. Under the CARES Act, student loan forbearance was set to end on September 30th.
Like with the CARES Act, you don't have to apply for this type of forbearance — it's automatic. And you have the option to continue making repayments of any size toward your loan if you want to get out of debt faster.
That 0% interest also extends to the end of 2020
The executive order also extends the 0% interest rate until December 31st. This means that your loans won't gain interest while they're in forbearance.
This is important — under most forbearance programs, interest continues to add up and gets added to your loan balance once repayments resume. That's why forbearance is usually an expensive decision. But in this case, it won't cost federal loan holders.
This 0% interest applies whether you decide to make repayments or not.
Forbearance won't count toward PSLF after October
Under the CARES Act, repayments that were covered by forbearance are counted as eligible for the Public Service Loan Forgiveness Program (PSLF). This will still last until September 30th. But after that date, these don't count toward forgiveness.
Luckily PSLF payments don't need to be consecutive — you can still qualify if you take a break for a few months. But if you're anxious to pay off your loans and it fits your budget, reach out to FedLoan Servicing to ask about your options for making eligible income-driven repayments.
Forbearance also won't count toward rehabilitation after October
Borrowers who had defaulted on their loan and signed up for loan rehabilitation will also need to watch out. While the CARES Act had also skipped repayments during forbearance toward rehabilitation, the executive order doesn't extend this past September 30th.
Reach out to your servicer to make sure that you're set to start making repayments on time when they resume. Otherwise you could end up defaulting again.
Collections will resume in October
The CARES Act also paused involuntary collections on federal student loans until September 30th. This includes wage and tax refunds and other withholdings of federal benefits.
Since Trump's executive order doesn't cover collections, they are still set to resume after that date.
Forbearance could show up on your credit report
The CARES Act required student loan servicers to report repayments in forbearance as if the borrower had made these repayments on time. But the executive order made no mention of credit reporting. So servicers won't have to do this after September 30th.
While forbearance shouldn't affect your credit score, it'll be more visible to lenders and anyone else who looks at your credit report — who can sometimes view forbearance negatively.
More assistance could be on the way
This executive order might seem thin. But it's possible that this isn't the only student loan assistance we'll see before the CARES Act aid expires.
Congress is currently working to put together a new coronavirus stimulus package, which could contain more expansive student loan assistance. While the details of this deal aren't clear yet, it's likely to be more expansive than this executive order. Congress has more power to give aid than the president does.
Photo: Wikimedia