Why ETF expense ratios matter
Learn which ETF fees are hidden in plain sight.
Exchange-traded funds (ETFs) can be a valuable investment, but watch out for management fees. One fee, the ETF expense ratio, can eat into your gains.
What is an ETF expense ratio?
An expense ratio is the annual fee investment companies charge for managing your ETF. It also covers operating expenses like administrative and compliance fees.
The ETFs expense ratio is calculated as a percentage. ETF expense ratios are determined by dividing a fund's expenses by its total dollar value.
It's typically deducted from the income of a fund's assets every year.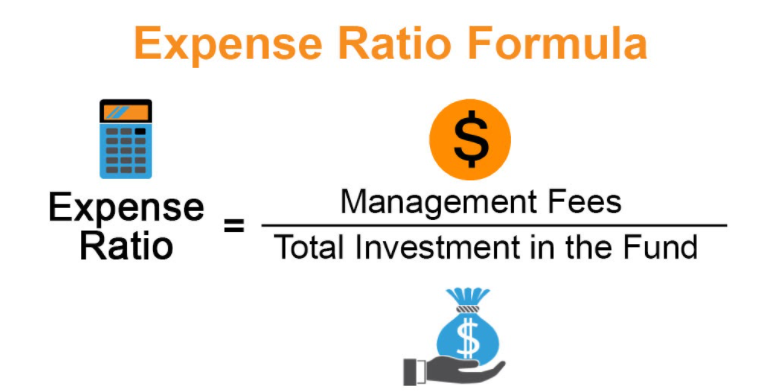 (Credit: educba.com)
If an ETF expense ratio is high, it can take a large chunk out of your returns, reducing the value of your ETF. For instance, a fund with an expense ratio of 0.50% will cost you $5 in fees for every $1,000 you've invested.
Where to find ETF expense ratios
You can find the details of your expense ratio through your fund's paperwork and broker:
Your fund's prospectus. ETF expense ratios are typically found in the summary of the fund that's filed with the SEC. You can usually find this prospectus on the broker's website. It will look something like this:

Vanguard Total Stock Market ETF expense ratio (Credit: vanguard.com)
Your fund's broker. Contact your fund's broker for a deeper explanation of your ETF's fees.
An ETF's expense ratio can depend on whether your ETF is managed actively or passively.
Active vs. passive management
The differences in the two management styles can determine what a high expense ratio for an ETF is. There are more transaction costs for actively managed ETFs after managers make several purchases and sales.
Active management means that an ETF manager makes key decisions about how to invest your fund's assets. Cathy Wood's ARK Innovation ETF (NYSEARCA:ARKK) is an example of an actively managed ETF.
Average ETF expense ratios for an actively managed fund range from 0.4% to 0.75%. You'll pay fees on each of your manager's transactions, like purchases and sales, which can add up.
Ratios above 1.5% are usually the benchmark for what a high expense ratio for an ETF is. A percentage below 0.5% is low for an actively managed fund.
Passive management follows a specific index. The Vanguard 500 Index Fund ETF (NYSEARCA:VOO) is a fund that tracks the S&P 500. There aren't as many aggressive buys and sells, which can make for fewer fees.
A passively managed fund's ETF expense ratio averages around 0.2%. A ratio under 0.2% is a low percentage. Any amount above 2.5% is usually too high.
ETF expense ratios and your 10-year investment
Here's what you might pay on an initial $1000 investment in fees at various expense ratios over 10 years.
| Year | 10% gain | ER 0.5% | ER 1.0% | ER 1.5% | ER 2.0% | ER 2.5% |
| --- | --- | --- | --- | --- | --- | --- |
| 0 | $1,000.00 | $0 | $0 | $0 | $0 | $0 |
| 1 | $1,100.00 | $5 | $10 | $15 | $20 | $25 |
| 2 | $1,210.00 | $10.97 | $21.90 | $32.78 | $43.60 | $54.37 |
| 3 | $1,331.00 | $18.07 | $35.97 | $53.71 | $71.29 | $88.70 |
| 4 | $1,464.10 | $26.44 | $52.52 | $78.24 | $103.61 | $128.63 |
| 5 | $1,610.51 | $36.27 | $71.89 | $106.85 | $141.18 | $174.88 |
| 6 | $1,771.56 | $47.77 | $94.46 | $140.09 | $184.69 | $228.26 |
| 7 | $1,948.72 | $61.17 | $120.68 | $178.58 | $234.90 | $289.67 |
| 8 | $2,143.59 | $76.72 | $151.03 | $222.99 | $292.66 | $360.11 |
| 9 | $2,357.95 | $94.73 | $186.06 | $274.09 | $358.95 | $440.71 |
| 10 | $2,593.74 | $115.51 | $226.38 | $332.76 | $434.82 | $532.71 |
Trends in expense ratios
While expense ratios can eat into your returns, there is a downward trend in ETF fees that can help investors. Because many ETFs are passively managed, there aren't as many fees that have to be collected. Actively managed ETFs often incur more expenses.
The explosive growth of ETFs over the past few years has also caused ETF expense ratios to trend downward. Because there are so many ETFs to choose from, many investors have more options to discover what a good expense ratio is.
How to compare ETFs
When comparing ETFs for your investment, weigh the expense ratio against assets, commissions and other fees to find the best fit for your budget and financial goals.
Assets. Take a close look at the assets traded when choosing an ETF. While stocks are dominant in ETFs, it's important to have additional assets like commodities to have a diversified portfolio.
Bid-ask spread. In addition to ETF expense ratios, bid-ask spreads are another fee that investors have to analyze. A bid-ask spread is the lowest price you're willing to sell an ETF and the highest price you're willing to buy a fund. Make sure that there's a small range in the spread to reduce expenses.
Commissions. Commissions are another expense that you should consider when picking the right ETF. Commissions are charges to buy and sell ETFs. Make sure you find ETFs with low or even no commission fees.
Trading activity. An ETF that has a high trading volume can be good news for your portfolio. When an ETF has a lot of trading activity, it's easier to have liquidity if you're buying or selling your ETF.
Trading performance. An ETFs past performance may be indicative of its future. Research the top-performing ETFs to know which funds are the best to add to your portfolio.
Compare trading platforms
*Signup bonus information updated weekly.
Disclaimer: The value of any investment can go up or down depending on news, trends and market conditions. We are not investment advisers, so do your own due diligence to understand the risks before you invest.
Bottom line
Learning why ETF expense ratios matter is a crucial part of learning to invest. With research, you can discover a good expense ratio to get the best returns on your investment.