Finder is committed to editorial independence. While we receive compensation when you click links to partners, they do not influence our content.
Eloquii promo codes and review
Best deal: Free US standard shipping on all orders over $100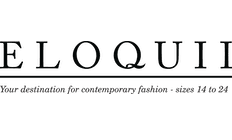 Sick of limited options as a curvy woman? Find clothes that fit your body and up your confidence with the plus-size fashion brand Eloquii.
This cool new brand specializes in the latest trends up to size 28. Its bold, statement-making fashion is affordable, allowing you to step up your style game without breaking the bank.
Eloquii discount and promo codes March 2021
What can I buy at Eloquii?
Eloquii offers fashion-forward pieces for women in sizes 14 to 28. Its clothes are designed for young professionals who like a put-together look that's also on trend. It offers a more office-friendly and mature aesthetic than many other plus-size brands. Yet it manages to avoid looking dated or matronly.
Shop the newest pieces under the What's New tab, by trend in the Going Fast section or by browsing items. It's easy to sort if you're looking for a specific style.
You can narrow down more general categories to the exact cut you're looking for.
Tops
Tunics
Peplum tops
Essential tops
Date night
Bodysuits
Sweaters
Dresses
Midi dresses
Maxi dresses
Jumpsuits
Party dresses
Fit-and-flare dresses
Long-sleeve dresses
Essential dresses
Bottoms
Pants
Jeans
Skirts
Shorts
Leggings
Essential bottoms
Jackets
Jackets
Coats
Work blazers
Suits
Accessories
Shoes
Jewelry
Tights and shapewear
Handbags and clutches
Belts
Sunglasses
Eloquii also offers a selection of lingerie and swimwear designed especially for curvy bodies, including Spanx. And don't forget to check out the Sale section for epic deals.
How do I use my coupon code?
Eloquii sizing guide: What size do I need?
Picking the right size can be tricky! Especially for plus-size ladies, sizing can feel random and frustrating.
Use this sizing chart to order the perfect size the first time. Eloquii even offers sizing charts for different body shapes.
Dresses, skirts, jackets and tops sizing charts
Pants and jeans sizing chart
Other size charts
Shipping, delivery and payments
Can I get free delivery?
Yes! As long as you spend $150, standard shipping is free. Your package is delivered through FedEx SmartPost with final delivery through the US Postal Service.
Most orders arrive in five to eight business days. When you spend $150, no promo code is required for free shipping.
Shipping costs
If your order doesn't quite reach $150 or you'd like to receive your items faster, choose expedited shipping. If you place your order before 1 p.m. ET, it ships the same day.
| Total | Standard service | Second-day service | Next-day service |
| --- | --- | --- | --- |
| $25 or less | $8 | $17 | $23.99 |
| $25.01–$40 | $8 | $18 | $24.99 |
| $40.01–$75 | $8 | $20 | $26.99 |
| $75.01–$100 | $8 | $25 | $31.99 |
| $100.01–$125 | $8 | $27 | $33.99 |
| $125.01–$150 | $8 | $29 | $35.99 |
| $150.01–$200 | Free | $29.99 | $36.99 |
| $200.01 or more | Free | $30.99 | $37.99 |
Customers in Alaska or Hawaii can choose standard shipping, but your items may take longer to arrive.
| Alaska | 12–15 business days |
| --- | --- |
| Hawaii | 12–15 business days |
| Puerto Rico | Temporarily unable to ship |
| APO/FPO | 12–15 business days |
| US Virgin Islands | Temporarily unable to ship |
| All other US territories and possessions | 3–4 weeks |
How can I track my order?
Use the Eloquii website to see where your order is. Just log in to your online Eloquii account and click View Order Status and History to see your past orders. Then click Order Tracking at the bottom of the page.
Or type "Track Order" in the Search box on the homepage to be taken to the tracking tool. You'll need your order number as well as your shipping ZIP code.
Payment options
You can pay for your Eloquii order with any major credit card, including Visa, Mastercard, American Express and Discover. Or pay securely through PayPal.
Eloquii's site protects your sensitive personal and financial details through industry-standard SSL protection.
What is Eloquii's return policy?
Eloquii includes a prepaid label with your order to make returns easy. However, i you return your items for a refund with the label, Eloquii deducts a $7 fee from your refund.
To exchange your item, the company waives the return shipping fee and your initial shipping fee for the item.
You must postmark your return within 30 days of the date you received your items. Items marked final sale are not eligible for return.
Are Eloquii returns free?
No. Although Eloquii includes a prepaid shipping label with every order, the company deducts a $7 return shipping fee from returns. Return shipping is free if you're exchanging your item, however.
You can also return your items in person at an Eloquii store or at a Happy Returns location to avoid paying for return shipping. Happy Returns is a company that's building a network of physical return locations, called Return Bars, that allow online shoppers to avoid the hassle and wait of returns by mail. It partners with online retailers like Eloquii for fast, easy and free returns.
To find a Happy Returns location near you, go to the Eloquii website and click Returns + Exchanges at the bottom of the homepage. Scroll to the In Person section and click Happy Returns locations. Enter your ZIP code to find a Return Bar near you.
Can I exchange for a different color or size?
Yes. Send back your items, and Eloquii will process a refund. Before or after you do so, call Eloquii customer service at 1-844-693-5678, and they will process a new order for you.
Eioquii waives its return shipping fee for exchanges, and you won't pay for shipping on your replacement item. Eloquii even applies any promotions or discounts from your original order on to the new one.
How do I return items to Eloquii?
Follow the Eloquii returns checklist to ensure a successful return. Items must be new, unworn and postmarked for return within 30 days of receipt. All swim and lingerie items must have their sanitary strips intact.
You must also include the full original invoice and fill out the information on the back. Use the prepaid mailing label to return your items for a $7 fee or send them with the delivery service of your choice.
Eloquii's returns address
To return an item on your own, mail your package to:
Eloquii Returns
6380 Port Road
Groveport, OH 43125
When's the next Eloquii sale?
Eloquii hosts a semiannual sale, where it slashes its prices significantly. It announces the sale through its email newsletter, social media and a banner across the top of its site.
Eloquii also offers expansive clearance section, which you can sort by clothing item — just like the rest of the site — to make shopping easy. It includes an entire section of $25 deals. Hover over the Sale tab on Eloquii's homepage to sort through its discounted items.
If you love saving on fashion, we recommend signing up for the finder.com newsletter. We'll never spam you, but you'll get access to the incredible deals we find across the Internet.
What sets this brand apart?
While many brands simply modify designs intended for thinner bodies, Eloquii is a fashion brand that designs everything it makes with with the intention of dressing a curvy, full-figured woman.
We love that the brand includes styles and sizing charts for a variety of body types that aren't typically represented in fashion. It's a bit pricier than a fast-fashion brand, but investing in high-quality, long-lasting clothes is better for your wardrobe and the environment.
What do people really say about this brand?
Online reviews of Eloquii comment on the high-fashion feel of the brand. One reviewer said she felt the clothes belonged in Vogue or Elle, and that she's been satisfied with everything she's ordered.
Other online reviewers praise the brand for going above and beyond in their customer service efforts. One woman accidentally shipped some of her household tools with her return and was impressed when Eloquii returned them for free.
However, unsatisfied customers complain that it takes weeks on end to receive a refund after returning items.
What is Eloquii's history?
Eloquii is a brand that's been around for a few years only, founded on the idea that fashion shouldn't stop at size 12.
The company is based out of New York City and Columbus, Ohio. It currently ships its merchandise to the US, Canada and a handful of other countries.
It engages heavily with its shoppers on social media by featuring on its Instagram page and website photos of loyal customers wearing Eloquii clothes.
How can I contact customer support?
Customer service agents from Eloquii are happy to help with anything you need. They're available by phone on weekdays from 9:00 a.m. to 5:30 p.m. ET at 1-844-693-5678.
You can also send an email to customerservice@eloquii.com.
What about social media?
Eloquii focuses its social media efforts on its Instagram page and its blog, Style & Substance. Its Instagram quickly approaches 200K followers, and it features fan photos and style inspiration.
Eloquii encourages its customers to share pictures of its clothes under the hashtag #XOQ. It even features the photos directly on the Eloquii site.
Style & Substance is a plus-size fashion blog that shows off the brand's latest collections and highlights current trends. You can find it by going to the Eloquii website and clicking Style & Substance in the top navigation bar.
Why should I shop at Eloquii?
Pros
More mature aesthetic than other plus-size brands. Find office-ready pieces that don't look matronly.
Better sizing options. Many brands stop at size 24. Meanwhile, Eloquii goes up to size 28 and includes exceptional size charts.
Free standard shipping. Orders of $150 or more ship free.
Free exchanges. It's easy to get a different size or color at no cost to you.
Cons
Glitchy website. The Eloquii website is clunky to navigate, with lots of pop-ups and a finicky jump navigation.
Confusing shipping policies. There's no flat rate for expedited shipping.
Bottom line
Eloquii offers plus-size clothing options for women that stand out from the crowd with its thoughtful design, fashion-forward attitude and high-quality threads. Although the website isn't perfect, it's easy enough to shop. And prices are comparable to other plus-size brands like Torrid.
We like that free standard shipping is available, although the minimum purchase of $150 can be steep if you weren't looking for a haul. But Eloquii's unique sizing options that consider more than one body type are a definite plus for the brand.
Frequently asked questions
More guides on Finder