Finder is committed to editorial independence. While we receive compensation when you click links to partners, they do not influence our content.
Eco-friendly cryptocurrencies
Almost all modern-day cryptocurrencies use environmentally friendly technologies – here's how they work.
Cryptocurrencies have grown to become a mainstream asset class with widespread attention from many different parts of society. Recently, the energy consumption of cryptocurrencies has come to light, so you might be wondering which coins and tokens are eco-friendly.
Disclaimer: This information should not be interpreted as an endorsement of cryptocurrency or any specific provider, service or offering. It is not a recommendation to trade.
What are the energy concerns with cryptocurrencies like Bitcoin?
The Bitcoin network uses a process known as "mining" to broadcast transactions and keep the network safe from attacks. Transactions are bundled into packets of information known as "blocks" which are created by specialised machines that compete to solve mathematical puzzles. The winner gets to add the next block to the network and is rewarded with freshly minted Bitcoin for doing so. This process is known as proof-of-work mining and is one of cornerstones of ensuring the Bitcoin network remains safe and uncompromised.
Several other cryptocurrencies use proof-of-work to secure their networks, which uses a lot of electricity in the process. Thankfully, these days most new cryptocurrencies have abandoned proof-of-work and instead use energy-efficient methods for mining. Despite this, many proof-of-work blockchains still exist, and their individual environmental impact depends on several things.
Energy per block. Cryptocurrency transactions are bundled into blocks, meaning hundreds or thousands are sent at once. Depending on the network, new blocks may be broadcast every few seconds or every few minutes. The creation of new blocks is the primary thing that consumes energy.
Size of the network. Blocks are broadcast regardless of how many transactions are included. This means larger networks are more energy-efficient per block, whereas unpopular networks expend energy despite processing relatively few transactions.
Energy source. Cryptocurrencies vary in how they are mined. Bitcoin requires industrial level "farms", while Ethereum is easy to mine at home. As such, energy sources used to mine crypto can vary greatly. There are claims that most mining farms use renewable energy, although this is debated.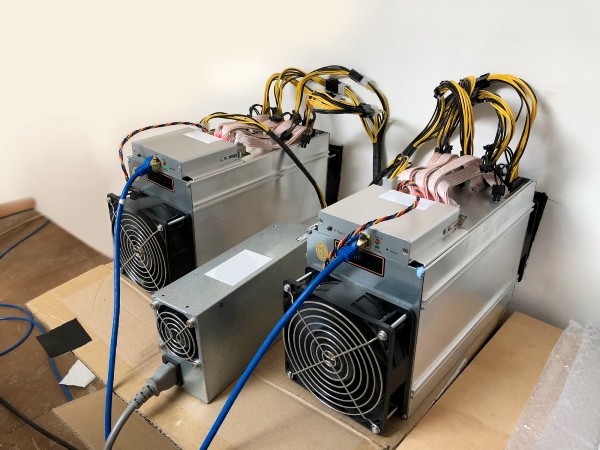 Two Bitcoin mining units. Professional facilities operate thousands of these at once. Source: Getty
According to the Cambridge Bitcoin Electricity Consumption Index, Bitcoin mining uses 120TWh a year. This amount of energy is equivalent to the annual domestic electric consumption of Sweden or Malaysia.
Another website, Digiconomist, states that one Bitcoin transaction uses the same amount of electricity that an American household would use in a month.
Unfortunately, Bitcoin is not the only cryptocurrency leaving such a large carbon footprint. Other digital coins suffer from a similar fate. A good example of how similar proof-of-work blockchains suffer from high-energy consumption is RavenCoin. This cryptocurrency uses 4.32% of the total power consumed by the top 20 cryptocurrencies, despite having a market cap of only 0.06%.
Aside from proof-of-work algorithms, market volatility can also contribute to the energy consumption of cryptocurrencies. When the prices of large crypto coins like Bitcoin and Ether crash, miners slow down or completely turn off their mining devices because it becomes too expensive to run the machines.
For example, in 2018, Ethereum miners reduced their energy consumption from 20TWh to 10TWh in less than 20 days because the price of Ether tanked. Once the cryptocurrency regained value in 2021, the energy consumption rose again to approximately 31TWh by 31 March 2021.
With all these variables it can be hard to discover the cryptocurrencies bucking this unsustainable trend. Luckily, there are several eco-friendly projects out there and they are more sustainable than Bitcoin and Ether. Let's look at how such coins function and why they are better for the environment.
How do eco-friendly cryptocurrencies work?
Most sustainable cryptocurrencies work by moving away from the standard proof-of-work mining algorithm.
Proof-of-stake
The first alternative is a proof-of-stake consensus algorithm, which is becoming increasingly popular. According to experts, the proof-of-stake protocols can radically change the future of cryptocurrencies and allow them to be much more energy-efficient. Instead of having miners using their computers to solve mathematical problems, proof-of-stake relies on a network of larger coin holders to stake (lock up) their crypto holdings and then validate transactions on the system. This eliminates the need for thousands of specialised machines with high energy consumption, in favour of a single run-of-the-mill server or computer that instead just has to remain idly connected to the Internet all day. Some estimates place the reduction in power consumption at a factor of 2 million times less than Bitcoin.
Some of the largest cryptocurrencies using proof-of-stake include Polkadot, Solana, Cardano, Binance Coin and Stellar.
Read more: How to stake cryptocurrency to earn interest and rewards
Proof-of-authority
Proof-of-authority is a novel approach to blockchain consensus, similar in speed and energy consumption to proof-of-stake, but without the need to stake capital. Instead, network validators (the computers that verify transactions) are not anonymous, but are known participants on the network (such as companies) who stake their reputation and authority. This method is somewhat popular in private blockchains, which are typically operated by a collection of businesses. If one of these nodes were to act maliciously, their transactions would not match the other nodes and they would be booted from the network – with their reputation damaged in the process.
Proof-of-space and time
A rather new consensus mechanism is the proof-of-space and time mechanism. This algorithm uses empty hard drive storage instead of computational power. Launched in 2021, Chia coin is one of the most prominent coins that currently employs a proof-of-space and time algorithm.
Instead of mining, Chia users rely on a farming process to generate new coins. All that a user needs is 100GB of hard drive space which is referred to as a plot. The plot must be created on a user's hard drive before they can begin farming. The more plots a user has, the bigger their "farm" and the greater their chance of cultivating a Chia coin.
Chia harvesters allocate as much space as possible to the low-cost, yet lucrative, creation of the coin. To start farming, all one has to do is download the program to their computer and allocate a specific amount of space to the network.
Since this type of mining does not require complicated processors to solve mathematical problems, it is more energy-efficient than proof-of-work. According to Chia's white paper, the process uses 10,000 times less energy than Bitcoin's mining. However, Chia is not without issues, with research showing that the process degrades hard drives rapidly, which in turn creates a negative environmental effect due to consumption.
Eco-friendly coins list
Now that we have covered the inner workings of a few sustainable cryptocurrency protocols, let's look at some examples of greener alternatives to Bitcoin.
Cardano (ADA)
Cardano
is the brainchild of Charles Hoskinson, a co-founder of Ethereum. After leaving Ethereum in 2015, Hoskinson began developing the competing platform that we see today.
Cardano is a blockchain built for the development of decentralised applications (dApps) and is a direct competitor to Ethereum. However, thanks to its efficient proof-of-stake protocol, Cardano can process up to 257 transactions per second compared to Ethereum's 15. Cardano's native cryptocurrency ADA allows users to stake and validate transactions on the blockchain network.
Since Cardano uses a proof-of-stake consensus algorithm, it consumes far less energy than Bitcoin and Ethereum. According to Hoskinson, Cardano only consumes 6GWh of power annually, compared to Bitcoin's 120TWh.
Cardano is considered the first peer-reviewed blockchain since it is continually tested by a network of scientists and academics from assorted universities.
How to buy Cardano (ADA)
SolarCoin (SLR)
SolarCoin is a blockchain that aims to incentivise real-world environmental activity. The blockchain creates 1 SolarCoin token every time 1MWh is generated from solar technology. The platform relies on users uploading documentation to prove they have generated solar energy, but with the Internet of Things, the process will become more streamlined with automatic updates from solar arrays.
Nano (NANO)
Launched in 2015, Nano is one of the older coins in the list but is far more sustainable than Bitcoin. It is free, fast, scalable and lightweight since it doesn't depend on mining.
Instead, Nano leverages a more energy-efficient block-lattice technology, which uses 0.112Wh per transaction, compared to 950KWh for Bitcoin.
Interestingly, Nano still uses a proof-of-work mechanism but it goes beyond the blockchain by creating an account chain for each user. Instead of having nodes validating transactions, Nano uses Open Representative Voting (ORV). ORV allows the platform's users to choose a representative who is then responsible for validating transactions on the blockchain.
How to buy Nano
BitGreen (BITG)
BitGreen was created in 2017 in direct response to the environmental impact of Bitcoin. The cryptocurrency project is a community-driven initiative and greener alternative to the proof-of-work consensus algorithm. A non-profit organisation was set up to oversee the maintenance of BitGreen.
The project hoped to incentivise eco-friendly actions by rewarding users who, for example, bought a sustainable coffee or used a desktop wallet.
Holders of the BitGreen token can then use the coin to purchase goods and services through BitGreen partners such as Mercatox, Crex24exchanges, STEX and ProBiot Exchange.
Stellar (XLM)
Created in 2015, Stellar is an open-source version of XRP's Ripple Network. It was created by one of Ripple's founders and like Ripple, the blockchain aims to bridge the gap between digital currencies and traditional financial institutions. Although the underlying code is different, the fundamental difference is that while Ripple aims to aid the cross-border payments of financial institutions, Stellar aims to provide low-cost international money transfers for everyday people. The platform is free to use and is seen as a potential alternative to PayPal since it allows for faster, easier and cost-effective cross-border and cross-asset transactions.
The Stellar Development Foundation is the non-profit organisation responsible for developing the Stellar Network and has received backing from Stripe, Google, BlackRock, FastFoward and IBM.
From an environmental standpoint, the Stellar blockchain uses an open-source consensus algorithm known as The Federated Byzantine Agreement. The system relies on quorum slices (fractions of the network) to verify transactions instead of having the entire network involved. Therefore, the authentication cycle is shorter, faster and more efficient, leaving a smaller carbon footprint than cryptocurrencies like Bitcoin.
Stellar allows users to create tokens to use on the platform. This has allowed some to use the network for green initiatives such as investing in renewable energy. Interestingly, it is also considered the first cryptocurrency to be Sharia-compliant.
Other sustainable cryptocurrencies include Ripple (XRP), EOSIO (EOS), TRON (TRX), Burstcoin (BURST), Holochain (HOT), DEVVIO, Hedera Hashgraph (HBAR), Tezos (XTZ), Algorand (ALGO) and MetaHash (MHC).
How stellar works and where to buy it.
Final word
These tokens are just a handful of the more sustainable cryptocurrencies out there. Given how fast the cryptocurrency space is growing, it is possible even more eco-friendly coins will soon come into existence. One thing is certain, we can expect digital currencies to evolve and transform the way we use energy to create transparent, fortified transactional systems.
Disclaimer: Cryptocurrencies are speculative, complex and involve significant risks – they are highly volatile and sensitive to secondary activity. Performance is unpredictable and past performance is no guarantee of future performance. Consider your own circumstances, and obtain your own advice, before relying on this information. You should also verify the nature of any product or service (including its legal status and relevant regulatory requirements) and consult the relevant Regulators' websites before making any decision. Finder, or the author, may have holdings in the cryptocurrencies discussed.