Finder is committed to editorial independence. While we receive compensation when you click links to partners, they do not influence our content.
How to start a dropshipping business
Avoid shipping logistics and inventory when you work directly with a supplier.
Sell online even if you don't make, stock or ship the products with a dropshipping supplier. This means your business isn't tied to a set location, and makes starting an online business easier. But customizing products can be difficult and you're responsible for any issues with the supplier.
What is dropshipping and how does it work?
Dropshipping is an online business model that uses a third-party seller to move merchandise. So when you sell an item, you contact the supplier and buy that item at wholesale cost. This supplier ships the product directly to the customer for you.
This means you never see the product. Instead you're selling someone else's products and taking a share of the profits.
Here's how it works:
Add a product to your site from a supplier.
Sell a product from your online store.
Forward the order and delivery details to the dropshipping supplier — a wholesaler or manufacturer
The dropshipping supplier packs the order and ships it to the customer on your behalf.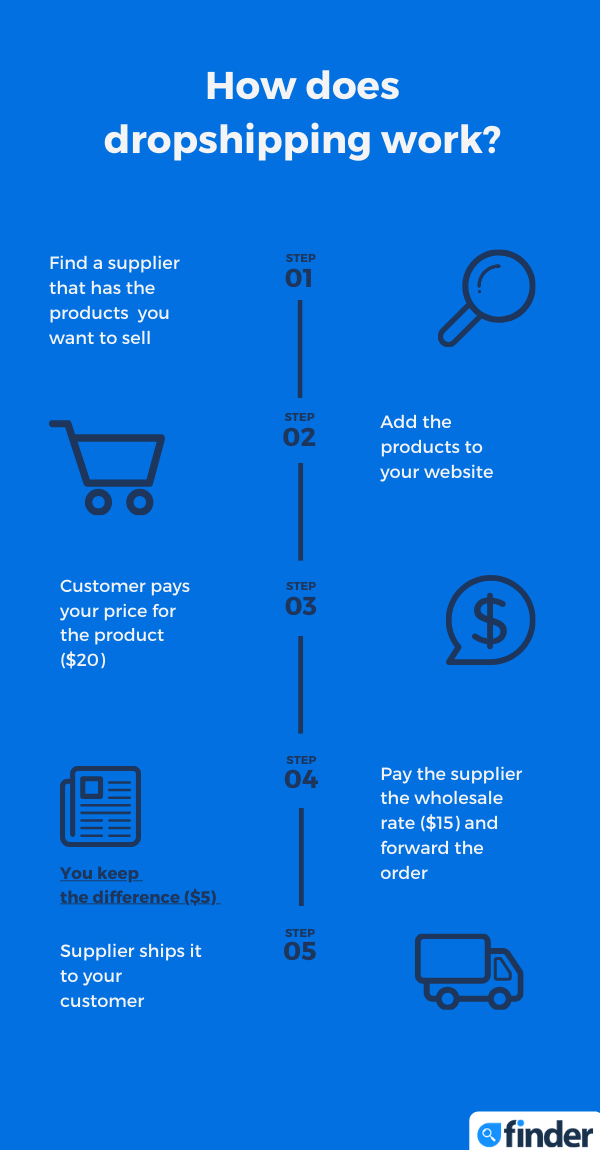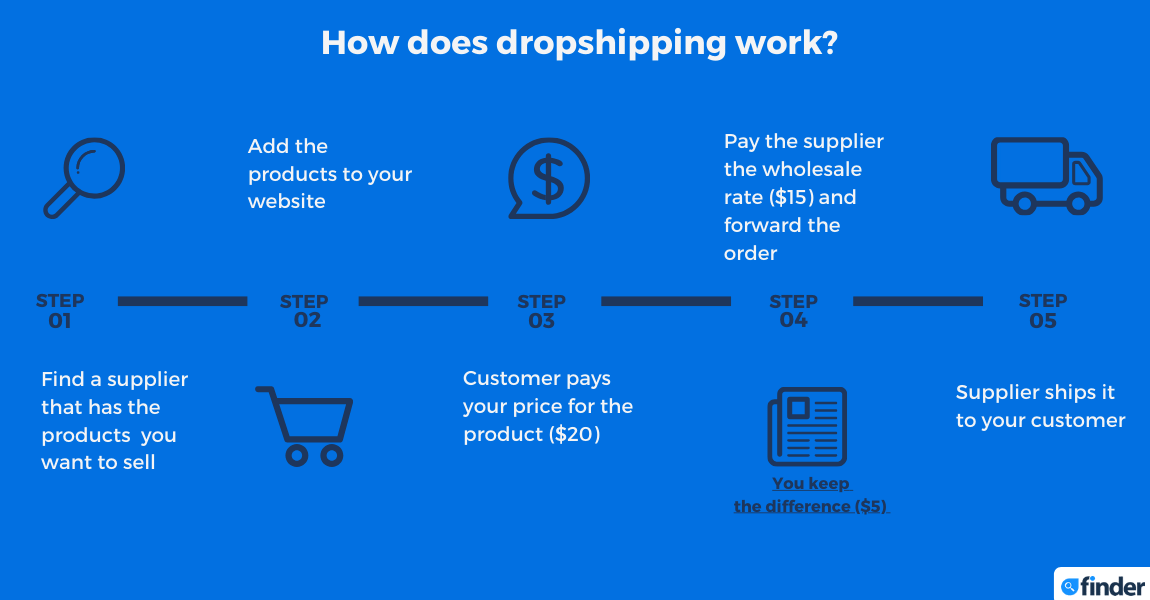 How to start a dropshipping business
You'll need to complete the following steps if you want to set up an online dropshipping store:
1. Get a tax ID number
Creating a sales tax ID number is often required for you to do business with a dropshipping supplier so you can collect and submit taxes.
Many states allow you to apply for a sales tax ID online. Expect to provide your business name, ownership information, business license number and federal tax ID number.
2. Choose products and suppliers
Once you choose the products you'd like to sell, partner with reliable dropshipping suppliers who can manufacture, store, pack and ship products.
3. Set up an online store
Next, you need to decide where to sell products: through your own online store or an e-commerce marketplace, like Amazon or eBay. Setting up your own store gives you full control over site branding and managing your online presence, while online marketplaces provide access to a larger audience of potential buyers.
4. Start selling
List your products online and start selling. Devise a detailed marketing plan that includes advertising and social media strategies to help attract new customers to build a bigger business.
How to find the right items to dropship
When it comes to finding high-quality items that you can sell for a profit, research is your friend. Scope out some ideal dropshipping products using the following strategies:
Research trending products. Use tools like Google Trends and "top-selling products" sections on e-commerce marketplaces to find out what sort of items are in high demand.
Find your niche. Select products in a niche that you're knowledgeable and passionate about. Decide whether you want to sell high-demand products, or focus on targeting a market.
Consider pricing. Find a happy medium between products that are easy to market and will sell for a profit. Consider packing and shipping costs and how they could affect buyers.
Research the competition. Research other sellers that stock similar items to see if you can match or beat their prices and still make a reasonable profit.
Focus on products that are relatively cheap and easy to ship. Products that tend to sell the best with dropshipping include:
Phone cases
Phone accessories
Tote bags
Clothing
Skincare products
Baby products
Pet supplies
What marketplaces allow dropshipping?
Use dropshipping to sell products from your own online store, along with other popular online marketplaces:
Before you sign up for an account on any marketplace, check the terms and conditions to make sure dropshipping is permitted.
How to find dropshipping suppliers
Compare a range of dropshipping suppliers to find a reliable partner for your business. Consider cost, but also factor in the supplier's track record and shipping times, and its refunds and how it handles complaints.
Contact manufacturers and wholesalers directly, or find them using supplier directories like Worldwide Brands and SaleHoo. Look up your potential dropshipping supplier on the Better Business Bureau and Trustpilot to find out more about its reputation among fellow merchants.
Check out the table below for details on a few popular dropshipping supplier directories or see our picks for best shipping companies.
Easy product integration into your Shopify store
Free plan available
Millions of products

Plugin is only available on Shopify
Limited customer support

2 million products from hundreds of manufacturers and suppliers
See suppliers' fulfillment rates, average processing time, ship times and cost
Multiple plans

High monthly fees
Order and restocking fees

Free
Simple and straightforward platform

Only a limited number of suppliers on the platform offer dropshipping

16 million+ products from thousands of wholesalers
Lifetime access

One-time $299 membership fee

8,000+ suppliers
Video tutorials and online selling guides

$67 annual fee
Limited products compared to other platforms

20+ third-party software integrations

Phone support during the week for all service tiers
Users report that the user interface is easy to navigate

No free tier or free trial

$59+ monthly fee

Only 6 international shipping carriers
Choosing a dropshipping supplier
When trying to determine the best dropshipping supplier, ask yourself the following questions:
How long has the company been in business?
Can you easily access information about where the company is based and who runs it?
Are there legitimate reviews and testimonials from existing customers?
Are products competitively priced?
How long will the supplier take to ship items to customers?
Which countries does the supplier ship to?
Is the supplier willing to send samples of the products you want to sell?
Does the supplier have a big enough inventory and can it cope with increased demand?
Is there a minimum order size?
How does the supplier deal with returns and damaged products?
How responsive is customer support?
Does it offer insurance and fraud protection?
How to boost dropshipping profits
Dropshipping offers the potential to earn money, whether you're looking to grow your budding e-commerce business or make some cash on the side.
That said, there's no guarantee you'll turn a profit. Help set up your dropshipping business for success with the following tips:
Research the market. Help find a niche you can target, and research your competition. This can give you a better idea of how to price your products and which sales and marketing strategies are most effective.
Crunch the numbers. Dropshipping sounds like an easy way to make money but that isn't always the case. Calculate your predicted income and any overhead costs. Consider the time that's required to run a dropshipping store before deciding if it's worth it.
Find the right supplier. Compare a range of businesses before deciding who you want to work with. If your supplier sends out defective items, is slow to ship products or is simply uncommunicative, it could cause big problems for your business.
Marketingx. Blogs, paid ads and email marketing campaigns can help you attract new customers and encourage repeat business.
Social media. Maintaining a strong social media presence helps increase the credibility of your business and enforces brand awareness.
Reviews. Encourage happy customers to leave reviews for your online store — this helps prospective customers decide whether your business is legit.
Search engine optimization. Whether you're selling on a marketplace or through your own store, make your site and listings SEO-friendly to increase visibility in search results.
What to watch out for when you use dropshipping
Though dropshipping seems as easy as order, ship and collect money, consider the following issues that could arise:
Defective supplies. The success of your business rides on the reliability of your dropshipping supplier. Without control of storage or shipping, it's difficult to ensure the quality of the items you sell.
Missing inventory. Keeping track of inventory can be a major challenge, particularly if you're sourcing products for your store from multiple warehouses that fulfill orders for other retailers.
Shipping complications. If a customer orders two products from your online store, but each ship from different international warehouse, your customer could pay two separate shipping costs.
Customer service. While your supplier takes care of manufacturing, storage and shipping, you're responsible for customer service. If there's a problem with an order, you'll need to solve the problem and handle communications with an unhappy customer.
Low-profit margins. While you don't have to invest much to get your business off the ground, profits are typically low. Most of the profit goes to the dropship supplier.
Fierce competition. As dropshipping becomes a more accessible option for international merchants, expect to face stiff competition from other entrepreneurs.
Expecting easy income. On the surface, dropshipping seems like a simple way to earn passive income. But you'll still need to put in plenty of time and effort to give your business the best opportunity for success.
Do I have to pay taxes on dropshipping in the US?
Yes. Expect to pay income and sales tax when you sell through a dropshipper. How these taxes are handled depends largely on which state you live in.
If you own a US business that sells online, you need to report your earnings. Check with the IRS to find out how and when to file business income taxes in your state.
Your state, county, city or municipality may also impose sales tax, with rates that vary by location. Contact the US Small Business Administration to find out if you need to register your business and how to collect sales tax.
Bottom line
Ultimately, dropshipping is worth considering if you're looking to build an e-commerce business. But if you approach it expecting to earn easy money, you may be in for a disappointment.
A successful dropshipping business requires careful preparation and planning as well as an ongoing commitment to making each customer's experience as smooth and seamless as possible.
Explore your e-commerce options across multiple providers to find the best home for your online business.
Frequently asked questions
Is dropshipping legal?
Yes, dropshipping is legal in the US. But you'll need to make sure the products you offer can be legally sold in the US and on the online platform you've chosen for your store. Most e-commerce websites have lists of prohibited goods and services that merchants are forbidden to sell.
Do I need a business license?
Like taxes, licensing requirements vary by state and municipality. You may be required to obtain a sales tax license, federal license, occupational license or official certificate of use. Reach out to the Small Business Administration to find out what the licensing requirements are in your state.