Finder is committed to editorial independence. While we receive compensation when you click links to partners, they do not influence our content.
DoorDash review
Get local food delivered straight to your door — or become a driver to earn extra cash.
Important note: Due to the recent coronavirus outbreak, DoorDash is now moving all deliveries to "no contact" by default. This means that your order will be left at your doorstep, unless you select the "hand it to me" option from the dropdown menu when ordering.
San Francisco-based DoorDash is a food delivery platform that serves over 4,000 cities in North America. DoorDash drivers — called "dashers" — can earn extra money by deciding when and where they want to make deliveries. Learn how ordering from and driving for DoorDash works, plus how this company stacks up against the competition.
How does ordering through DoorDash work?
Go to the DoorDash website or open its mobile app.
Enter your delivery ZIP code to find nearby restaurants.
Click on a restaurant and select the items you want to order.
Click Checkout.
Sign into your account or create a new one.
Enter your payment details, add an optional tip and click Place Order.
You'll see the delivery and service fees at checkout prior to placing your order. DoorDash offers new customers free delivery on all orders over $10 for the first 30 days after signing up.
Once your order is placed, you can view its status in the Orders tab when logged into your account online or via the DoorDash app. When a driver accepts your order, you'll see a map with their location in relation to the restaurant and your delivery address.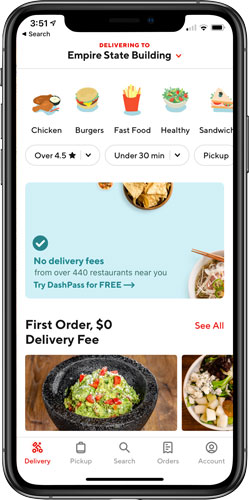 What is DashPass?
DashPass is DoorDash's paid subscription service. DashPass members pay a monthly fee of $9.99 and are eligible for free delivery on orders over $12 from select restaurants, as well as lowered service fees. New customers can try DashPass for one month for free, and the subscription can be cancelled at any time.
DoorDash vs. other food delivery services
DoorDash, GrubHub, Postmates and Uber Eats are some of the most popular food delivery services in the US. Restaurant options and delivery fees from these services can vary based on your location.
However, GrubHub and Uber Eats don't charge a service fee, while DoorDash and Postmates do. DoorDash recently surpassed GrubHub in both monthly revenue and market share, making it one of the largest food delivery services in the country.
History of DoorDash
DoorDash was founded in California in 2013 by a group of Stanford students. It is now available in more than 4,000 cities across all 50 US states and Canada, offering delivery from roughly 340,000 restaurants.
In the summer of 2019, the company came under fire for misleading tipping practices. Since then, DoorDash has restructured its payment process so that drivers are able to keep 100% of the tips they earn, rather than filtering those funds through the company before paying drivers out.
DoorDash future
DoorDash continues to expand its reach in both the US and Canada, with plans to expand to even more Canadian cities in the near future. In the spring of 2019, the company began delivering to select hotels, offering special promotions for this new service. With success in trial markets, DoorDash may expand to partner with more hotel chains across North America.
DoorDash deals and coupons July 2021
It looks like we don't have any coupons at the moment.
How does DoorDash work for drivers?
DoorDash drivers are independent contractors who choose when and where they want to work. As a dasher, you simply go to the restaurant, pick up the customer's order and deliver it to their address. Drivers keep 100% of the tips they receive, and have the opportunity to earn bonuses up to $750 when using a referral code at signup.
To become a Dasher, you must meet these requirements:
Be at least 18 years old
Have a valid social security number
Have a car, scooter or bike
Have a valid driver's license and car insurance (if applicable)
Consent to a background check
The signup process takes only a few minutes, and your account should be fully activated in one to two weeks.