Disney puts "Frozen 2" on Disney+ three months early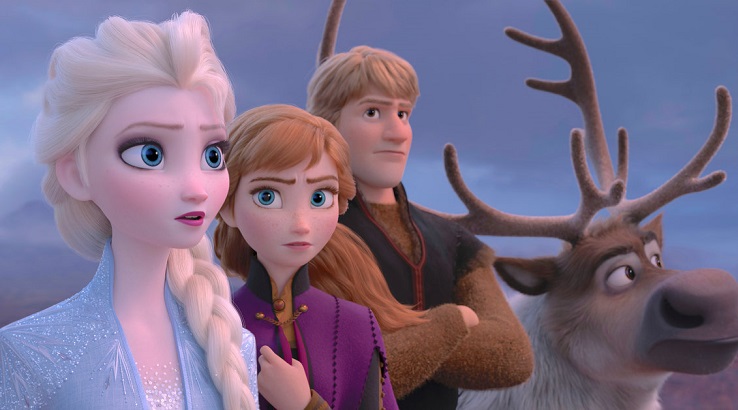 The streaming service's early pickup of the blockbuster offers an unexpected treat to those who may be stuck at home.
Disney has announced that "Frozen 2" is available on Disney+ as of March 15th. This is an unprecedented move, as the film is still in theaters and was scheduled to move to home video in June. The move may be a reflection of the growing realities of the coronavirus pandemic.
With growing numbers of Americans being asked to stay at home in order to control the spread of the virus, the early release can be an unexpected treat for those looking for a distraction.
The Centers for Disease Control and Prevention has recently advised that groups of over 50 people should be avoided for the next eight weeks. "Large events and mass gatherings can contribute to the spread of COVID-19 in the United States via travelers who attend these events and introduce the virus to new communities," the CDC advised, exempting schools and businesses. "Examples of large events and mass gatherings include conferences, festivals, parades, concerts, sporting events, weddings, and other types of assemblies."
In its relatively short stay in the theaters, "Frozen II" has amassed the largest worldwide release for an animated film, was the third-highest grossing movie of 2019, the second-highest-grossing animated movie of all time — below the 2019 "Lion King" remake but above the original "Frozen" — and the 10th highest-grossing movie of all time.
"'Frozen 2' has captivated audiences around the world through its powerful themes of perseverance and the importance of family, messages that are incredibly relevant during this time, and we are pleased to be able to share this heartwarming story early with our Disney+ subscribers to enjoy at home on any device," Bob Chapek, Chief Executive Officer for The Walt Disney Company, said in an announcement.
A shuttered industry
The move reflects a general trend surrounding the entertainment industry. Audience shows like "Last Week Tonight," "Real Time with Bill Mahar," "The View" and "Live with Kelly and Ryan" all filmed without audiences present; "The Fast and Furious: F9," "A Quiet Place Part II" and "No Time to Die" all had their releases postponed; and television shows like "Grey's Anatomy," "The Bachelorette," "Chicago Fire," "Riverdale," "The Tonight Show starring Jimmy Fallon" and "Late Night with Seth Meyers have all halted production. Disney has pushed back its release of "Mulan," "Black Widow" and "New Mutants."
Theaters are among the businesses that have adjusted their practices in reflection of the rising crisis. AMC Theaters, for example, has limited occupancy for its theaters to just 50 people per showing. Regal Cinemas and Cinemark — in an effort to keep their theaters open — have indicated they will follow suit by only allowing 50% occupancy per theater, with thorough cleanings between showings.
Ticket sales have bottomed to the lowest levels since September 2000 in the United States and Canada. In many cities, the movie theaters — along with shops and restaurants — have been ordered closed in many large cities, such as New York and Los Angeles.
Photo credit: The Walt Disney Company