Finder is committed to editorial independence. While we receive compensation when you click links to partners, they do not influence our content.
How to request missing movies and shows on Disney+
Is a favorite Disney movie or fave TV series missing from Disney+? No sweat. Here's how you can request adding it to the streaming platform.
How to request a movie or TV show addition to the
Disney+ viewing list.
Despite having a healthy library of movies and TV shows when the service premiered, Disney+ doesn't yet have every possible movie or TV show that you could expect from a streaming service that has Disney in the title.
Thankfully, there are straightforward steps to follow to have a shot at getting a missing Disney movie or TV show added onto Disney+.
Step 1: Log in to Disney+
Fire up Disney+ in a browser or on a mobile device and log in. If you haven't already made an account, you can sign up and get your first week of streaming for free.
It looks like we don't have any coupons at the moment.
On a computer, hover your mouse cursor over the profile name/avatar in the top right-hand corner of the screen. On a mobile device, tap the profile option down in the bottom-right corner of the screen.
Step 2: Select "Help"
Click or tap on Help. A new page will open in the same browser tab on your computer, or your mobile device will open a separate browser. Both of these lead to the Disney+ Help Center page.
Step 3: Select "Give Feedback"
No searching required. Simply tap or click on the Give Feedback option. You'll find this option on the far right below the search bar.
Step 4: Choose the "Request a film or show" option
Click or tap on the grey box under What would you like to do? and a new window will pop up with a drop-down menu. Select the second option: Request a film or show.
Step 5: Type in up to three film or show options
There are no shortcuts here, so you have to manually type the content you'd like added to Disney+. Of course, this should only include Disney-owned content for the best success.
Then click or tap the big blue Submit button once you've requested your Disney shows.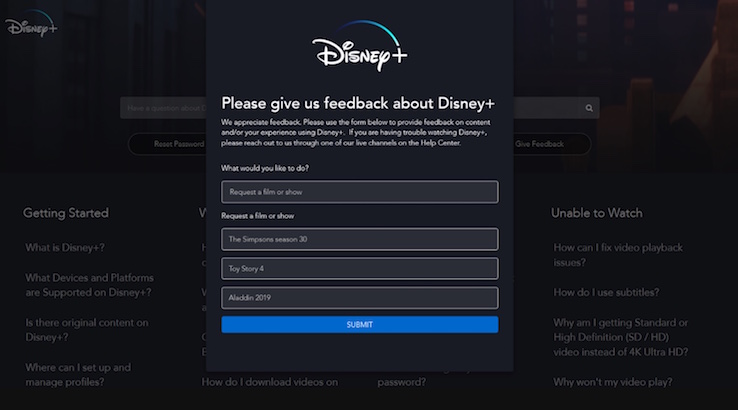 You should then receive a notification that thanks you for your feedback and mentions that Disney+ reviews all requests. Promising stuff! If you follow Disney+ on Facebook or Twitter, you'll be able to keep track of the new content that's coming to the service.
What about Disney+ titles that have release dates?
If you can find a movie or TV show on Disney+ that only has a trailer and a date for when it's hitting the streaming service, there's no point following the steps above to have it added. It's already on deck and will land on Disney+ on its set date. 10 Things I Hate About You fans, hold out.
When will new Disney movies or TV shows be added to Disney+?
Keep an eye out on social media accounts for Disney+ for these announcements, but it's safe to assume that newer Disney content will eventually end up on Disney+ — if the speedy availability of Avengers: Endgame is any indication.
Why isn't the entire MCU on Disney+?
Yes, Disney owns Marvel, but Marvel doesn't own the film rights to all of its characters. Not even all of the ones that we've seen on screen as part of the ensemble Marvel Cinematic Universe.
For exclusively Disney-owned properties, this will likely change. For The Incredible Hulk and Spider-Man, it's more complicated.
While Disney owns the movie rights to the Hulk character, Universal owns the film rights to any standalone Hulk movies. As for Spider-Man, the friendly neighbourhood web-slinger is on goodwill lease from Sony. This means we might never see The Incredible Hulk, Spider-Man: Homecoming, Spider-Man: Far From Home or the in-development Spider-Man sequel on Disney+.
More guides on Finder