Finder is committed to editorial independence. While we receive compensation when you click links to partners, they do not influence our opinions or reviews. Learn how we make money.
Discover it® Student Cash Back review
A great card for first-timers, with excellent cash back if you spend in its rotating categories.
finder.com's rating: 4.2 / 5
★★★★★
Get this card if you're a student who's new to credit cards — and you spend in the card's rotating cashback categories.
Pick something else if you have very poor credit.
You're welcome to apply if you're new to credit. You may also have a chance of approval if you have a fair credit score of 580 or higher.
0%
Intro purchase APR
for the first 6 months (then 12.99% to 21.99% variable)
10.99%
Intro balance transfer
for the first 6 months (then 12.99% to 21.99% variable)
Details
| | |
| --- | --- |
| Product Name | Discover it® Student Cash Back |
| Card type | Discover |
| Annual fee | $0 |
| Purchase APR | 0% intro for the first 6 months (then 12.99% to 21.99% variable) |
| Balance transfer APR | 10.99% intro for the first 6 months (then 12.99% to 21.99% variable) |
| Balance transfer fee | 3% |
| Cash advance rate | 24.99% variable |
| Cash advance fee | $10 or 5% of the cash advance amount, whichever is greater |
| Foreign transaction fee | None |
| Interest free period | Up to 25 days |
| Late payment fee | Up to $40 |
| Returned payment fee | Up to $40 |
Expert review
Review by
kevin.chen@findercrew.com
---
Kevin Joey Chen is a credit cards, banking and investments writer whose work and analysis have appeared on CNN, U.S. News & World Report, Business.com, Lifehacker and CreditCards.com. He's passionate about helping you get your finances in order by expertly navigating cutting-edge financial tools — including credit cards, apps and budgeting software.
Expert review
A good student card is lenient on first-time cardholders. That's partly why Discover it® Student Cash Back shines. There's no annual fee, penalty APR, foreign transaction fee or over-the-credit-limit fee. Plus, your first late fee is waived. Put these together and you have a relatively forgiving card for credit newbies.

Discover it® Student Cash Back really pulls ahead of the competition with its rewards. If you consistently spend in its rotating categories, you'll love the accelerated cash back you can earn. And Discover offers two valuable bonuses with its first-year cashback match and Good Grades Reward.
The perks
Annual fee: None.

Discover it® Student Cash Back is a great student card, in part because it doesn't have an initial fee to get started.

Limited-time bonuses: Cashback match and Good Grades Reward.

At the end of your first year, Discover will match all of the cash back you've earned. And for up to the next five years, you'll receive a $20 statement credit each school year you earn a 3.0 GPA or higher.

Though you'll have to wait to receive these bonuses, they could add up to a significant haul. They're especially generous considering most student cards don't offer signup bonuses.

Rewards: Up to 5% cash back in rotating categories.

Each quarter, Discover will promote special categories in which you'll earn 5% cash back on up to $1,500 in purchases if you activate them. After that you'll earn 1% cash back in those categories until the next quarter. You'll also earn 1% back on all other purchases.

The 5% categories may include gas stations, wholesale clubs, restaurants, grocery stores, Amazon.com and more. Overall, 5% cash back is an excellent rate if you can spend consistently in the rotating categories.

Intro APR: For purchases and balance transfers.

Enjoy a 0% intro APR for 6 months following your account opening on purchases. Also, get a 10.99% intro APR for 6 months on balance transfers starting from the date of your first transfer. After your intro APRs expire, your normal rate will be 12.99% to 21.99% variable.

The intro purchase APR is fairly generous for a student card, and it can help as you make important purchases for the school year. You'll need to pay off all of your purchases eventually, so consider spending only what you can pay off before the intro rate expires.

The intro balance transfer APR is a poor deal. For an intro rate, you'd typically look for a 0% APR. Considering avoiding balance transfers altogether, as they don't come with a grace period on interest.
How much cashback rewards can I earn with this card?
It's best to see the card's cashback rewards as a sweetener, especially if you don't spend much monthly.
Let's say you spend $300 a month, $100 of it toward Discover it® Student Cash Back's 5% categories.
Over a year, you'd earn:
$200 per month x 1% = $24 cash back per year
$100 per month x 5% = $60 cash back per year
In total, you'd earn $84 in cash back over a year.
If it's your first year with the card, Discover will match the cash back you've earned. So, you'd earn $168 cash back for your first year.
And don't forget about the Good Grades Reward, which offers a $20 statement credit each year you earn a 3.0 GPA or higher.
You'll also like …
Use cash back at Amazon.com.

You can use your cash back directly at Amazon.com without having to redeem it first. Just link your Discover card account to your Amazon.com account.

Consumer-friendly account features.

With Freeze It, you can block new purchases, balance transfers or cash advances on your credit card if your card is lost or stolen.

There's no penalty APR, which is a higher interest rate some providers charge if you make a minor slip-up — such as a single late payment. And you won't be charged a fee if you exceed your credit limit.

There are no late-fee charges the first time you pay late. This is a great perk while you're getting used to paying your card bill on time. On subsequent late payments, you may be assessed fees up to $40.

No foreign transaction fees.

Use your card internationally and at foreign websites without incurring fees. This makes it a great choice if you're studying abroad or going on a summer trip.

Get your FICO score for free.

You can see your FICO score on each of your monthly credit card statements. A strong credit score can help you when you're applying for housing, taking out a loan and more.
What to watch out for
It hurts to pay late.

Your first late fee is waived, but making subsequent late or returned payments could result in fees as high as $40. You can potentially avoid late payments by setting up automatic payments.

Expiration on intro APRs.

Your intro purchase APR expires 6 months following your account opening, and your intro balance transfer APR expires 6 months after your first transfer. Seriously consider paying off your balances before the expiration of your intro APRs to avoid accruing interest at a high rate.

Time limit for balance transfers.

If you want to take advantage of the intro balance transfer APR, your transfers must post to your account by the cutoff date. Check your card's terms and conditions to find this date.

Higher APR for cash advances.

Cash advances are subject to an APR of 24.99% variable. This is a very high rate, so consider avoiding it altogether. Cash advances don't have grace periods and they'll start accumulating interest immediately.

Fees for balance transfers and cash advances.

You'll pay a 3% fee for each balance transfer. For each cash advance, you'll pay the greater of $10 or 5%.
Balance transfers and cash advances: Avoid them for now
If you're just getting started with credit, strongly consider avoiding balance transfers and cash advances entirely. They don't have grace periods on interest, and they could burden you with snowballing debt. Many longtime cardholders never use them at all.
Many personal-finance experts offer this advice: Use your card only to make purchases, and pay off your balance in full each month. These are great habits, and they'll lay the foundation for responsible card use for years to come.
Compare student credit cards
Discover it® Cash Back review – September 2020
What should I know before I apply?
To apply for Discover it® Student Cash Back, you must be at least 18 years old and a US citizen or resident. You must also be a college student.
Information you'll need
Full name, address and contact information.
Total annual gross income, monthly housing payment and total available assets.
Social Security number and mother's maiden name.
School information, your degree type and your expected graduation date.
Getting a credit card when you're under 21
If you're under 21 years old, you must prove you have enough income to repay your credit card debt. Usually, you can only report personal income — such as wages and allowances — scholarships and grants.
If you can't prove sufficient income, you can ask someone over 21 to become an authorized user on their account.
What credit score do I need?
Discover welcomes customers who are new to credit. If you have poor credit, you'll have lower odds of being approved for the card.
What do customers say about Discover it® Student Cash Back?
Some students say they've received credit-limit increases after several months of using their cards. Other customers say they're pleased with the card's rotating cash back and Discover's customer service.
The Better Business Bureau (BBB) has accredited Discover, giving the bank an A+ rating. As of this writing, Discover has nearly 900 customer complaints on its profile. According to the BBB, many of them have been answered or resolved.
How to apply for Discover it® Student Cash Back
Go to the Discover website and click Apply now.
Enter your name and pick a card design.
Complete the application form with your address, contact information and income information.
Continue filling out the application form with your mother's maiden name, school information, checking and savings account information and school mailing address.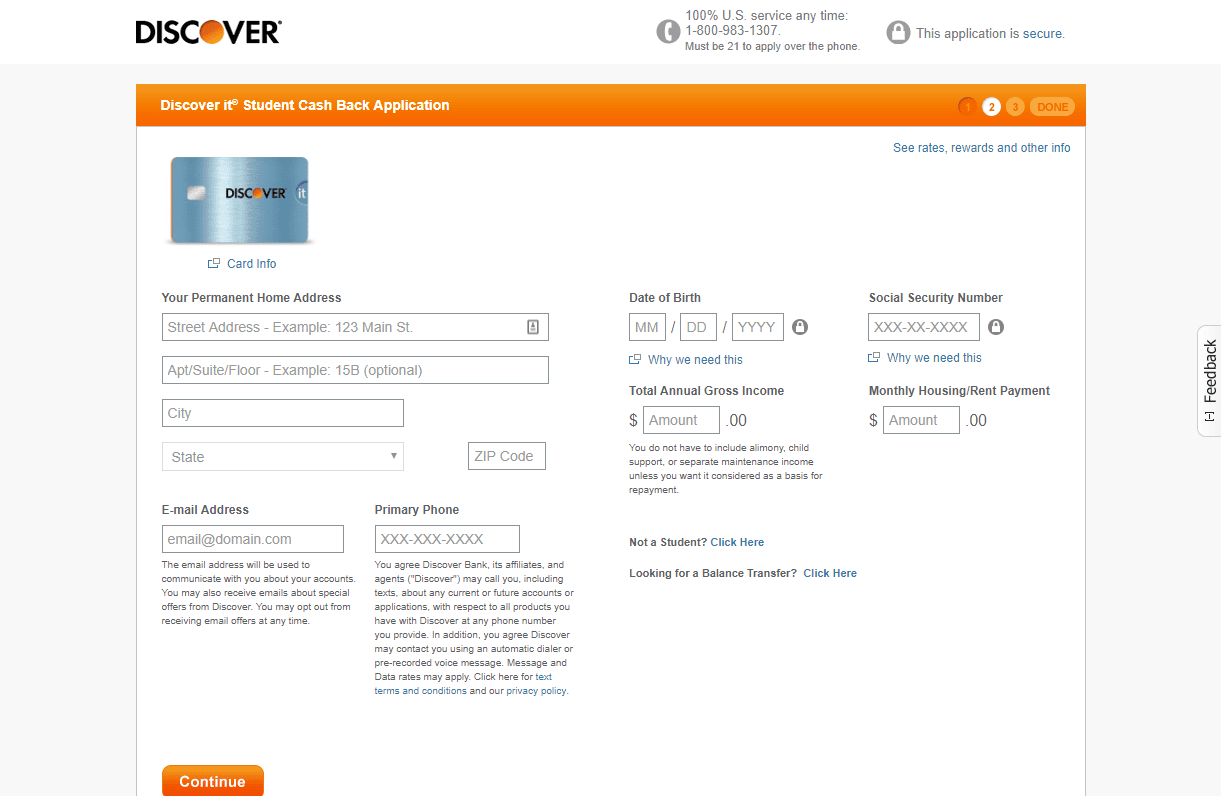 How long will it take to get my Discover it® Student Cash Back?
You'll likely receive a decision immediately after you apply. If there are issues with your application, however, you may have to wait up to a few weeks for a decision.
If you're approved, expect to receive the card within 7 to 10 business days.
I got the card. Now what?
Now's a great time to learn how to use credit responsibly. You'll build your credit score and lay the path to future financial success.
Make timely payments.

Pay your card bill online at the Discover website, where you can also enroll in automatic bill pay.

Avoid interest.

After the close of each billing cycle, you have a grace period of 25 days to pay your balance — at least 23 days for billing periods that begin in February. If you do, you won't pay interest on your purchases.

Avoid fees.

Your first late fee will be waived. However, subsequent late payments cost up to $40 each. Each returned payment will come with a fee of up to $40. Balance transfers and cash advances also come with fees.

Customer service.

If you need help, you can contact Discover through live chat or by calling 1-800-DISCOVER.
How do I redeem rewards from this card?
Log in to your Discover account to redeem rewards. You can redeem them for account credit, charitable donations, electronic deposits to your bank account or Amazon.com payments. If you have at least $5 cash back, you can redeem it for gift cards or eCertificates from Discover's partners.
Compare Discover it® Student Cash Back with other cards
Bottom line
With its cardholder-friendly policies, Discover it® Student Cash Back is an excellent pick for first-timers. Consider whether you can take advantage of its rotating cashback categories to get maximum value from it.
Frequently asked questions
Credit card ratings
★★★★★ — Excellent
★★★★★ — Good
★★★★★ — Average
★★★★★ — Subpar
★★★★★ — Poor
Our team evaluates credit cards to determine their value against similar cards on the market.
We rank card types — travel, cash back, business — on a set of factors that are most relevant to that type of card. We create these rankings to help you narrow down a credit card that best suits your spending and budget.
Images: discover.com