Digital banking is the best way to get a 1%+ APY right now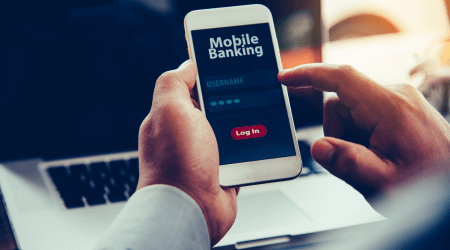 More people are switching over to digital banks in light of the coronavirus pandemic. But is it worth the switch?
Interest rates have bottomed out since the start of the coronavirus pandemic. While this is good news for borrowers, it's bad news for savers. The only way to earn 1% APY or higher today is to switch to a digital bank.
A recent study from BAI reveals that 57% of consumers ramped up their digital banking usage after the coronavirus pandemic started. Of those surveyed, 87% say they'll continue using digital banking to the same degree once the pandemic ends.
"COVID-19 has forever changed the way customers interact with their financial services organizations. Digital channels have become the new storefront, and consumers are finding banking apps easier to use and a more convenient way to conduct their financial business," said Karl Dahlgren, managing director at BAI.
Here are some features and drawbacks of digital banking, along with a breakdown of how much interest you could earn if you make the switch to a high-yield account.
Digital banking features
Here are some stand-out digital banking features that may sway you to make the switch:
More convenient. Digital banking allows you to check your balance, avoid fees, deposit checks, send money and manage your spending — all from your computer or smartphone. Some digital banks even have built-in budgeting and savings tools to help you manage your money in real-time.
Higher APYs. Thanks to lower overhead, digital banks consistently offer some of the highest APYs in the industry. Most are usually over 1% compared to just 0.06% offered by traditional banks.
Lower fees. Most digital banks are light on fees, foregoing the monthly maintenance, overdraft and ATM fees often charged by mainstream institutions.
What to watch for and avoid
Switching to a digital bank has its perks, but there are a few things to watch out for:
Features vary by bank. Some institutions offer budgeting tools and spending insights to help you manage your money. Others are barebones and only allow you to check your balance and manage transactions online. Identify which features are most important to you, then find a bank account to match.
Limited in-person branches. Even with the rise of digital banking, 32% of consumers still prefer to visit a bank branch for complex financial advice. Some digital banks don't have branch locations, but you may still be able to get personalized assistance over the phone.
How much could I earn with a digital bank account?
Switching to a high-yield digital bank account could add thousands of dollars to your pocket once compound interest works its magic. This table shows how much interest you'd earn with a standard savings account earning 0.06% APY (the current national average) compared to the 1% APY found with most digital banks.
| Initial balance | 0.06% APY earnings for first year | 1% APY earnings for first year | How much extra you'd earn over 5 years with a 1% APY vs. 0.06% APY |
| --- | --- | --- | --- |
| $10,000 | $6 | $100 | $483 |
| $25,000 | $25 | $250 | $1,207 |
| $50,000 | $50 | $500 | $2,413 |
Is digital banking safe?
Even as digital banking continues to grow, 38% of consumers are concerned about security and the potential for fraud.
"The concerns around security and fraud are universal across all generational segments, but the older generations are a little bit more apprehensive than younger consumers," said Dahlgren.
Banks already use a number of policies and security measures to protect your cash from potential hackers. These include using firewalls, fraud monitoring and data encryption to protect your information when accessing your account. Even still, there are measures you can take to protect yourself when banking online:
Create strong, unique passwords. Most banks require you to create strong passwords for your accounts. Keep these passwords safe by storing them in a secure password vault, such as LastPass or Dashlane.
Never share personal information. Be wary of any emails, phone calls or texts you receive asking for your personal or bank information. When in doubt, call your bank directly to see if they need something from you.
Watch your Wi-Fi network. Even though public Wi-Fi is free, it's often not secure. If you need to check your bank account in public, turn off your Wi-Fi and use your cellular data to access your account via the mobile app. Then, turn your Wi-Fi back on once you're finished.
Should you switch to digital banking?
Digital banking is here to stay. Research from J.D. Power suggests that 16% of Millennials have switched banks in the past 12 months, along with 4% of older customers. Most made the switch because of low interest rates (36%), high fees (20%) and inconvenient branch locations (19%). If you're currently banking with a subpar institution that doesn't have the tools you need to manage your money digitally, now is the time to compare your options and make the switch.
Photo: Getty Images