Dick's stock rallies 13% despite declining sales. Has it hit bottom?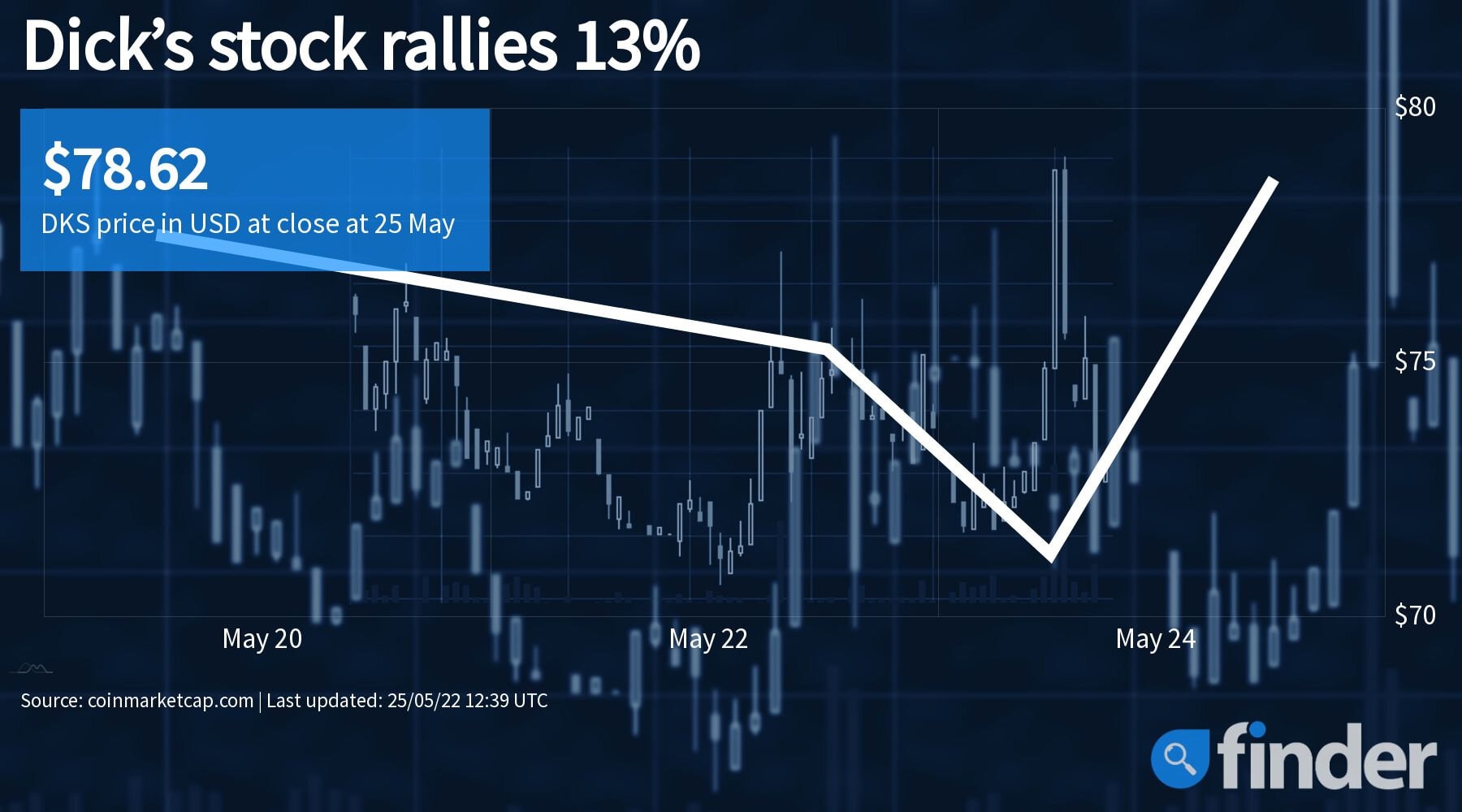 Investors shrug off the move by the nation's largest sporting goods retailer to join the broader retail trend in cutting its outlook for the year amid rising costs. Is this bad year priced in?
Dick's Sporting Goods (DKS) saw sales drop by almost $220 million in the first quarter of 2022 compared to the same quarter last year, a sign that US consumers are dialing back their spending as costs and interest rates rise.
As the nation's largest sporting goods retailer, Dick's may be viewed as a good measure of consumer spending. Comparable store sales were down for the quarter, suggesting consumers are shopping less for discretionary products like sports goods.
Dick's stock tumbled 16% in Wednesday's premarket trading on the news and opened at a new 52-week low, but then it rallied. It was up as much as 13% shortly before noon. The stock had taken a beating last week ahead of its earnings release, so Wednesday's rally might mean investors now consider the disappointing news priced in.
Does that make the stock a buy?
Dick's reports declining sales and cuts full-year outlook
Comparable store sales declined 8.4% for the quarter, compared to a 117.1% increase in the same period last year. The company's net sales fell 7.5% to $2.7 billion, down from $2.9 billion in last year's quarter. Analysts were looking for revenue in the range of $2.05 billion to $2.83 billion.
Dick's said the significant stimulus payments during the same quarter last year, as well as anticipated sales normalization in certain categories, contributed to these sales declines. Compared to pre-COVID 2019 levels, first-quarter sales were up 41%.
Dick's delivered adjusted earnings of $2.85 per share, down 24.8% from the $3.79 reported in the same period last year but topped the $2.47 average estimate analysts had forecasted, according to Yahoo Finance.
While the retailer did report top and bottom-line beats for its first quarter, it issued a weaker-than-expected full-year outlook as it adjusted for what it called "uncertain macroeconomic conditions."
Dick's projects comparable store sales to continue to decline through the year due to the current macroeconomic trends, saying it expects a sales loss in the range of negative 8% to negative 2%.
"Like everyone else, we have been carefully monitoring the rapidly evolving macroeconomic environment and assessing our expectations based on our experience, running our business across economic cycles," DICK's President and CEO Lauren Hobart said during an earnings call with investors Wednesday. "With this perspective, we believe it's appropriate to be cautious and are, therefore, lowering our outlook for the year."
The company is lowering its earnings guidance for the full year to between $9.15 to $11.70, down from the $11.70 to $13.10 guidance provided in March and weaker than the $11.5 to $13.74 analysts had anticipated.
Higher costs aren't just hurting consumers' pockets, though. Hobart said that freight, labor and product input costs are accelerating more quickly than the company had anticipated, which is why they're being cautious about their forward guidance.
Thinking of buying Dick's Sporting Goods stock?
Shares of Dick's hit a new 52-week low Wednesday on the disappointing news before changing course and climbing higher. The stock was trending lower going into earnings, so the unexpected rally might mean investors already priced in a potential downward guidance revision. With Wednesday's rally, the stock is down around 46% from its previous high.
Barring more bad news ahead, that could help the stock put in a bottom.
For a 5-year view of the performance of this stock, see the graph in our dedicated guide to Dick's Sporting Goods stock.
While the company expects to continue to feel the impact of current macroeconomic conditions, analysts still seem confident in the stock's long-term prospects. Dick's stock has a $133.82 average price target, which represents a 69% upside from its current price.
Importantly, the company reported revenue growth above pre-COVID levels. This could be a sign that things are normalizing now that the pandemic boom has come and gone, which is a good sign for long-term investors.
Ready to open an account or considering a new broker? Find the best online brokers for your needs. Or check out fees and features in our comparison table to find a better deal today.
At the time of publication, Matt Miczulski did not own shares of any equity mentioned in this story.
Information on this page is for educational purposes only. Finder is not an advisor or brokerage service, and we don't recommend investors to trade specific stocks or other investments.
Finder is not a client of any featured partner. We may be paid a fee for referring prospective clients to a partner, though it is not a recommendation to invest in any one partner.