What is a debit card security code and how does it work?
Your code protects your bank account from hackers and thieves.
Your debit card provides a direct link to your checking account, which means your balance could be completely wiped out if it ends up in the wrong hands. To minimize that risk, especially with online or over-the-phone purchases, most debit cards come equipped with a special security code.
What is a debit card security code?
Most debit cards have a unique three-digit or four-digit numeric code embedded on them, similar to the codes on credit cards.
This numeric code is separate from the debit card number and verifies that the person providing the debit card details in a transaction has the card in their possession. This is especially important when you're making online or over-the-phone purchases where you cannot provide a signature as proof of your authorization to use the card.
Where is the code located?
The debit card security code can usually be found on the back of the card on the right of the signature panel. Instead of being embossed like your card number, it's printed in small black letters.
Some cards may also have the security code printed on the front, to the right of the card number.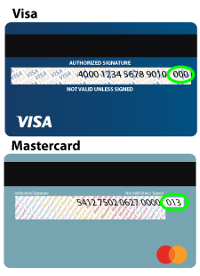 What are the security benefits?
Security codes aren't stored in any database once the transaction has been authorized. This measure ensures that the card numbers can't be misused if the merchant's payment records are hacked.
The security code also isn't included in the information that can be found on the magnetic strip, therefore making it virtually impossible for an individual who has obtained the card number and expiration date to use that information to conduct a transaction online or over the phone.
Case study: How does the security code work?
Amanda is shopping for a pair of sneakers for her son and finds the pair of Nikes he wants on sale at an online sporting goods store.
She proceeds to checkout where she is prompted to enter her personal information followed by her debit card number and expiration date. The last field asks for the security code, which she finds on the back of her card in small print. Once entered, the transaction is processed and the new pair of tennis shoes is on their way to Amanda's house.
If the merchant's website were hacked, Amanda's bank account wouldn't be affected, because her security number was never stored on the merchant's database.
Are there any limitations?
Yes. While security codes increase the security of your card, they don't completely get rid of risk. In order to keep your card safe, don't give out your debit card information to anyone you don't trust and notify your bank immediately if you lose your card or notice any suspicious charges.
Although merchants are not permitted to store the debit card security code, they are not required to ask for it when making a transaction. This could allow for fraudulent activity from individuals who have obtained only the information found on the front of the debit card.
Phishing scams, where you are tricked into giving out your debit card information along with the card's security number on a false website, steal that information and are then able to use the card over the phone or online until it's frozen by the bank.
You may not be able to set up a recurring payment using your debit card if the merchant requires a security code. But you can still set up a recurring payment that's taken directly from your bank account.
Compare secure debit cards
Bottom line
Your debit card's security code helps keep you safe while shopping online or over the phone. You can also keep your finances secure by regularly checking your transactions in your bank's app or online portal and reporting any suspicious transactions. If you don't have a debit card, or your bank doesn't have an online portal, compare checking accounts that can help you keep your money safe.
Frequently asked questions