Is it safe to store your cryptocurrency on an exchange?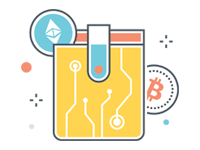 Securely store your crypto:
Cryptocurrency is held in digital wallets. Some exchanges will give you your own wallet, which lets you hold cryptocurrency in your exchange account and then transfer it anywhere as desired, while others will require you to have your own wallet at the time of purchase.
However, using an exchange for long-term storage is not recommended. As the exchange controls the private key to your wallet, you don't have complete control of your funds. Exchanges are also regularly, and sometimes successfully, targeted by hackers so storing cryptocurrency on an exchange can be very risky in the long-term.