Best places to exchange currency in Montréal
Find the best deal on Canadian cash for your next trip to Montreal.
Find more time to relax and enjoy the sights, like the Notre-Dame Basilica, by ordering Canadian dollars ahead of time or visiting an exchange shop once during your trip. Our custom Google Map will show you popular currency exchanges, and our comparison table presents options to exchange currency ahead of time.
Where can I exchange my money in Montréal?
1. Globex 2000
Globex 2000 offers six spots to exchange your cash in Montréal, including three locations downtown. You can reserve currencies ahead of time by booking online. Be sure to check ahead if you plan on visiting on Saturday or Sunday, since several locations are closed or have modified hours on weekends.
2. YAP.cx
YAP.cx offers foreign and local currencies as well as bitcoin exchange, and can be found right across from the Notre-Dame Basilica and Place d'Armes in the city centre. YAP is open for business every day, including weekends, but make sure that you bring cash, because it's the only way you can pay at the moment.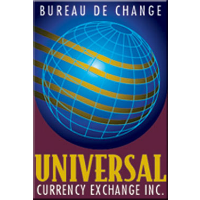 3. Universal Currency Exchange
This place is conveniently located in the underground floor of an office/hotel building in Old Town. It's closed on weekends, but open every other day of the week.
---
Tips for getting the best deal when exchanging money
Shop online for foreign currency. Most agents have a calculator on their websites to help you figure out how much your currency will net you in Canadian dollars or vice versa. Surf the net to dig up the best deals before you head to your nearest exchange agent.
Know the mid-market rate. Use Google or Reuters to see what the mid-market rate is so that you can spot the companies charging the best margin.
Pay with a bank transfer or cash. Avoid paying for your currency with a debit or credit card where possible, as you might be dinged for a cash advance, which could leave you with a 2% to 5% charge on your next bank statement.
Avoid using ATMs. ATMs are convenient and tempting, especially if you're in a rush — but they're also expensive. Try to exchange your currency in advance to avoid high bank fees and dismal exchange rates.
Steer clear from airport vendors. If you need cash before you hit the airport, plan ahead by buying currency at home to avoid high prices.
Ask for a price match. If you've found a better deal online or at another kiosk, don't be afraid to barter. There's no harm in trying and you might even walk out with a better deal.
Compare money transfer services
Our table lets you compare the services you can use to send money abroad. Compare services on transfer speeds and fees, then click Go to site when you're ready to send.
Bottom line
Getting Canadian cash at an exchange company in Montréal can get you a better deal than you'd see at an airport or ATM. But for the best deal on foreign currency, do your research before you leave home, and consider using an international money transfer company if you need to get money to someone else.
Picture: Shutterstock