CryptoBlades game guide
If you can play rock-paper-scissors and have idle hands, this medieval-style game is for you.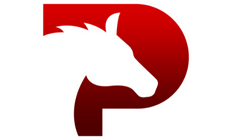 Passive blockchain game
Breed and race NFT horses
Buy and sell NFTs
Earn Vigorus (VIS)
Go to site
Disclaimer: This page is not financial advice or an endorsement of digital assets, providers or services. Digital assets are volatile and risky, and past performance is no guarantee of future results. Potential regulations or policies can affect their availability and services provided. Talk with a financial professional before making a decision. Finder or the author may own cryptocurrency discussed on this page.
CryptoBlades is a medieval-style play-to-earn NFT game built on the Binance Smart Chain. Launched in May 2021, it has some 300,000 active users daily, with that number climbing alongside the game's popularity. Use NFT characters and weapons to battle nonplayable characters to earn tokens, upgrade and reforge NFT weapons — and, above all, earn some cash.
Highlights
RPG
Easy to play
Marketplace open
SKILL is native token
NFT characters and weapons
PvP in final testing phase
What is CryptoBlades?
Developed by Riveted Games, CryptoBlades is a role-playing NFT play-to-earn game on the Binance Smart Chain. You use the native currency SKILL to purchase characters and forge weapons.
The game recommends at least 10 SKILL — about $70 USD — to buy NFT characters and weapons for gameplay at the start. The in-game market allows you to browse weapons and list yours for sale.
Right now, you can fight NPC enemies in combat mode and enter Raids. Player versus player (PvP) combat is in final testing.
Playing CryptoBlades
Go to the CryptoBlades site to get started. You need a MetaMask digital wallet and Binance account to buy Binance Coin (BNB) that can be swapped for SKILL.
The CryptoBlades Wiki recommends ApeSwap for exchanging BNB for SKILL. You'll also need BNB to cover gas fees while playing.
Entering combat mode with NPCs is a solid way to begin. Combat is one of the primary ways to earn SKILL in CryptoBlades, and how you level up your owned heroes.
To enter combat, select the tab Combat. You select your Character, Weapon and an NPC to fight.
Each of your NFT characters has stamina, which basically functions like a cooldown period. It costs your character 20 stamina points and a gas fee to enter combat.
Winning combats
Winners earn SKILL that can be used to upgrade your NFT character, reforge NFT weapons or make in-game purchases. Your character's level determines how much SKILL you earn. In addition to SKILL, your character earns experience points. If you claim the experience, it levels up your NFT character and its stats.
If you lose in NPC combat, you get nothing — but you also lose nothing, except the gas fees you paid to go into combat.
The character with the highest "roll" in combat wins. The game calculates the winner based on stats, weapons, and elemental affinity — Fire, Earth, Lightning or Water — and other factors:
Unaligned Character Power— The character's power and selected weapon, without considering elemental affinities.
Aligned Character Power — Determined by the elemental affinity of character and selected weapon and if they match.
Trait Bonus — Determines if your character has any advantage depending on the elemental affinity.
Enemy Power — Overall power of the enemy NPC, also determines the payout if you win.
Image source: CryptoBlades
Raids
Aside from regular combat, you can check out raids. This mode is where you and other players enter a match to fight a boss with a random element affinity. Raids start every eight hours, and joining early can earn you bonuses. It costs 0.01 SKILL to join a Raid, though you can occasionally find promotional free Raids.
Select the tab Raid, choose the characters and weapons you want to use in the raid, then select Sign Up. Raids use some or all of your character's stamina. The more damage you inflict on the boss, the stronger your rewards can be when compared to other players in the raid.
Possible Raid rewards include:
Two to five weapons
Junk used for forging or reforging weapons
Key to a dungeon
Dust, used to burn weapons
Experience points, whether you win or lose
What is CryptoBlades' token?
SKILL is the native currency of CryptoBlades, with a maximum supply of 1,000,000 tokens.
You can use SKILL to forge new weapons and buy new characters. It's earned by playing or selling NFTs on the CryptoBlades marketplace. There is also a SKILL for SKILL staking pool.
How to buy CryptoBlades' token
When visiting the CryptoBlades site, you can select BUY SKILL on the homepage, where you're redirected to ApeSwap, and you can then swap other tokens for SKILL. ApeSwap supports many crypto wallets, including MetaMask.
Swapping BNB for SKILL is recommended by the platform. BNB can be bought on many exchanges, such as Binance.us and Crypto.com. Remember that while playing CryptoBlades, you need BNB for gas fees as well.
It looks like SKILL may not be available to purchase on an exchange in the US.
You can still purchase SKILL by using a decentralized exchange (DEX) instead. decentralized exchanges are web applications that run on blockchains like Binance Smart Chain (BSC) and allow users to trade any asset directly with one another.
Decentralized exchanges (DEX) are unregulated and run using autonomous pieces of code known as smart contracts. To use a DEX you must interact with the blockchain directly, which is not recommended for novice users. Please learn about decentralized exchanges first if you're unfamiliar.
How to purchase SKILL using a decentralized exchange.
Find SKILL on a decentralized exchange and make sure SKILL can be traded for BNB which is the native asset of Binance. The most popular DEX on Binance Smart Chain is PancakeSwap.
Buy BNB to trade for SKILL using an exchange like Crypto.com. You will need to purchase enough BNB to swap for SKILL as well as BNB to pay for transaction fees (known as gas) on the BSC network, which usually costs less than a dollar.
Transfer the BNB into a a web 3.0 wallet like MetaMask to connect to the DEX.
Trade BNB for SKILL on PancakeSwap, following the instructions on screen. Make sure to leave enough BNB in your wallet to pay for gas.
Wait for the transaction to finalize and the SKILL tokens will arrive in your wallet.
You may now keep the tokens in your web 3.0 wallet or transfer them somewhere more secure like a hardware wallet.
You can follow the same process when you want to sell your tokens, or come back to this page to see if they can now be traded on an exchange in the US.
How does play-to-earn work with CryptoBlades?
How much you earn depends on the level of your characters, the fight's payout, how often you play each day and your overall strategy.
Players on Reddit report average earnings of 0.04 SKILL per combat win with a Level One character, and your winnings increase the more powerful your character becomes.
Players can also earn SKILL by selling NFT characters and weapons on the CryptoBlades marketplace.
You can also be rewarded SKILL for staking the coins in your wallet. Staking is a way of earning rewards for locking your SKILL in a pool for seven days — though you can add more SKILL without restarting the lock period. After the seven days are up, you can withdraw your staked SKILL into your MetaMask wallet with no tax.
Image source: CryptoBlades
Fees
Know that gas fees are required for nearly everything you do in-game. Combat fees vary with a maximum combat gas fee of 0.0025 BNB. The CryptoBlades Wiki reports that the true cost of the combat gas fee is an average 0.0007 BNB. You'll pay gas fees for other transactions, including:
Buying NFT characters or weapons
Reforging a weapon
Claiming experience
Staking
The game recommends holding at least 0.16 BNB in your MetaMast wallet, which is enough to maintain a week's worth of combat.
What are the CryptoBlades NFTs?
Characters and weapons are user-owned ERC-721 NFTs. CryptoBlades supports a proprietary in-game marketplace to limit scams and players buying fake NFTs.
Characters and weapons have an elemental affinity: Fire, Earth, Lightning or Water. The elements have weaknesses and strengths, like Pokémon or rock-paper-scissors — for instance, Fire beats Earth, Earth beats Lightning and so on.
Fire > Earth > Lightning > Water > Fire
CryptoBlades Characters (CBC)
You can own up to four characters on one account, and you can sign up for multiple accounts. The cost of recruiting a character is 1.0 SKILL.
Every character starts at Level One, with an elemental affinity that's random. Your character gets a boost in power at every tenth level — (11, 21, 31 and so on). Characters increase levels when you claim experience that you earn while playing combat, though expect a gas fee.
The maximum stamina a character can have is 200 points. Characters regenerate one point every five minutes.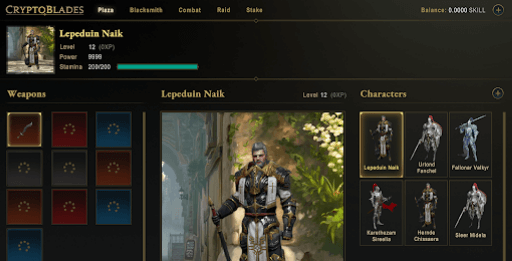 Image source: CryptoBlades
CryptoBlades Weapons (CBW)
Players are allowed an unlimited number of weapons. As with characters, a weapon's elemental affinity is decided at random. Weapons also have levels of rarity, which determine their attributes. Any character can use any weapon, and you can transfer weapons to other wallets.
Weapons have a durability that recovers at the same rate as a character's stamina — so, one point every five minutes. The durability element is used to limit how often a player can use a weapon in a day.
How to buy NFTs on CryptoBlades
To get the NFTs required to play, head to the in-game Market tab. NFTs can be traded for SKILL tokens and then converted in your MetaMask wallet. You'll need BNB for transaction fees.
You can also upgrade your weapons by "reforging" them. To upcycle a weapon, select the in-game Blacksmith tab. Reforging "burns" your weapon, costs gas fees and SKILL, and you get a new weapon with bonus power.
Other crypto games and NFT projects
How to sell CryptoBlades NFT
Sell your NFT characters or weapons in five steps::
Select the Market tab.
Select List NFTs.
Select either Show Characters or Show Weapons.
Select the character or weapon you want to sell.
Choose the SKILL selling price.
Once an NFT is listed for sale, it disappears from your inventory. The game adds a 10% fee, so users pay 10% more than your listing price, like a handling fee. Listing an NFT on the market also costs BNB gas fees.
About CryptoBlades developers
CryptoBlades was developed by Riveted Games, established in 2014.
The owner of Riveted Games is Philip Devine. He's been working in or around games since 2010, and has experience in data warehousing, game design and game development.
The CryptoBlades whitepaper describes the lead team members of Riveted Games, including Dan Karsai as the lead game developer, Ray Hammarling as the lead blockchain developer, and Kyle Kemp as the lead front-end developer.
This transparency with the team is appreciated, and it's nice to see who is behind the game.
Riveted Games' mission statement reads, "Our vision is for gamers to regain control of their digital assets, Play to Earn, and increase the adoption of blockchain technology in their everyday lives."
CryptoBlades roadmap
There aren't many other updates planned at the time of writing, but the CryptoBlades' roadmap says that Trinkets and Junk Burning are the next features up to bat. There's also a new UI in progress.
Some other notable buzz around the game includes:
CryptoBlades nominated Best Play to Earn Blockchain Game in 2021.
PvP game mode in final testing phase as of December 2021.
New standalone sequel called CryptoBlades Kingdoms.
Check out the CryptoBlades Discord for more news.
Bottom line
CryptoBlades is a popular play-to-earn game, but it isn't for everyone. While combat is simple, it takes patience to actually start earning. And there's no guarantee that you'll win every round of combat.
But if minting NFTs to sell for a profit is what you're after, you can try your hand at the market.
If you enjoy world-building, then CryptoBlades Kingdoms may be more your speed, where the goal is to expand your empire. There are also dungeons to explore with rotating rewards.
The play-to-earn niche isn't new, but games built on a blockchain is. The development of CryptoBlades is far from over with the release of PvP combat on its way.