Crypto slump deepens as Bitcoin briefly drops below $40,000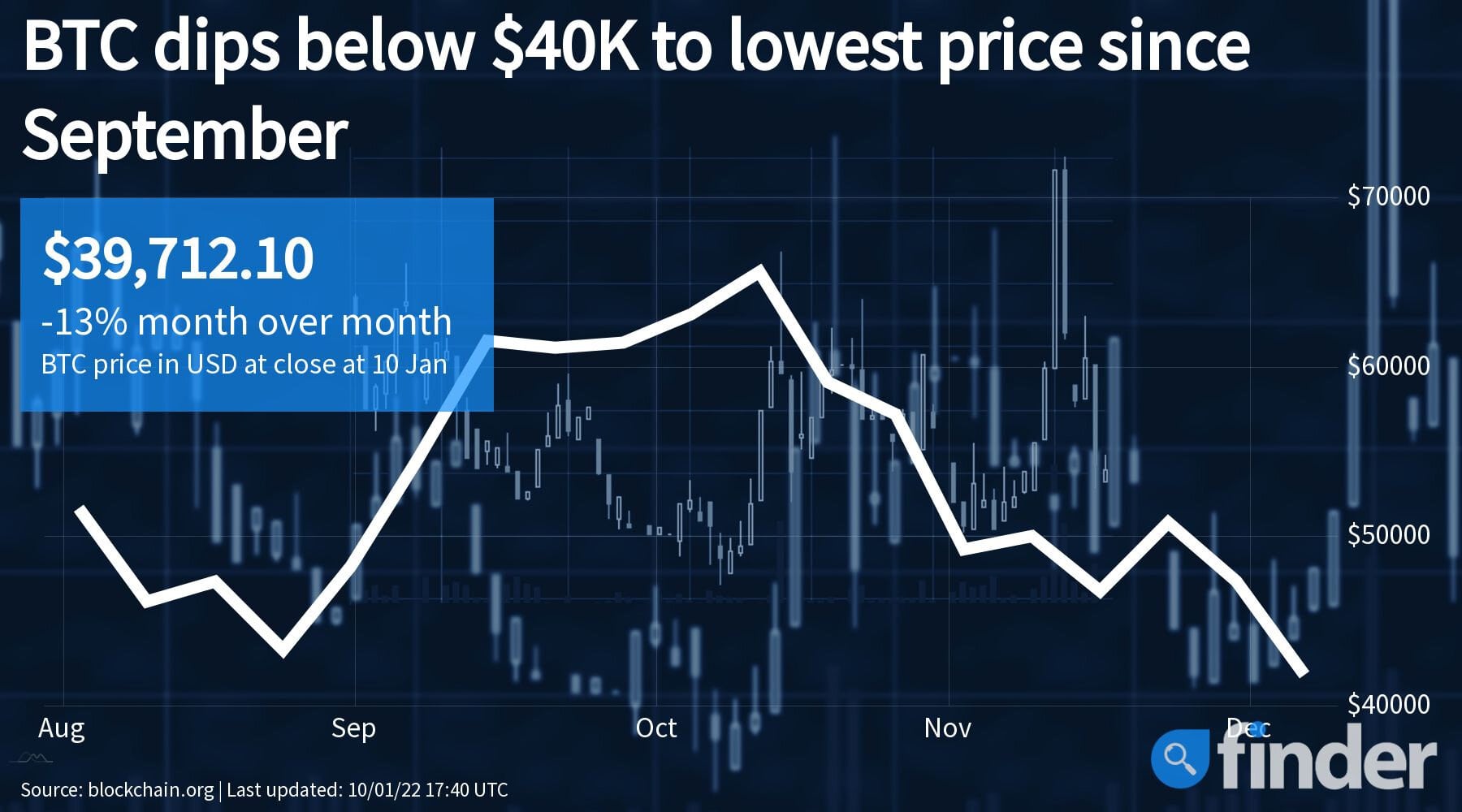 Investors turn to assets that benefit from rising interest rates.
Cryptocurrencies are trading down Monday after Bitcoin (BTC) dropped to its lowest point since September 2021. Investors continue their move out of riskier, growth-oriented assets and into sectors that benefit from rising interest rates, such as financials and consumer staples.
Bitcoin fell as much as 5% to touch a low of $39,712.10, according to CoinDesk, but has since recaptured some of its losses.
As the largest cryptocurrency by market capitalization, other cryptocurrencies tend to follow its trends. Bitcoin's slump is dragging several other top cryptos down with it.
Ethereum (ETH), the second-largest cryptocurrency by market cap, was down 7% at its lowest point Monday. Binance Coin (BNB) was also down 7%, while Solana dropped by as much as 8%.
What happened?
Declines across the cryptocurrency market began in mid-November 2021, as Bitcoin and other cryptocurrencies retreated from record highs.
The broader cryptocurrency market dropped lower last week on news that the Fed would soon increase interest rates and shrink its massive balance sheet.
Bitcoin has lost around 40% of its value since hitting an all-time high of $68,990.90 in November 2021. Ethereum reached a high of over $4,800 in the same month and is now down around 37%.
How top cryptocurrencies are doing over the last 24 hours
Here's how some of the top cryptos have fared over the last 24 hours as of Monday afternoon. Prices are accurate at the time of this writing.
Bitcoin (BTC). Down 2.88%
Ethereum (ETH). Down 5.23%
Litecoin (LTC). Down 5.33%
Polkadot (DOT). Down 7.81%
Solana (SOL). Down 8.31%
Binance Coin (BNB). Down 5.19%
Tether (USDT). Up 0.01%
Cardano (ADA). Down 7.08%
USD Coin (USDC). Down 0.09%
XRP (XRP). Down 5.28%
At the time of publication, Matt Miczulski owned BTC and ETH.
Information on this page is for educational purposes only. Finder is not an advisor or brokerage service, and we don't recommend investors to trade specific stocks or other investments.
Finder is not a client of any featured partner. We may be paid a fee for referring prospective clients to a partner, though it is not a recommendation to invest in any one partner.