Finder is committed to editorial independence. While we receive compensation when you click links to partners, they do not influence our content.
Best companies for Cuba cruises
Find out what all the fuss is about with these cruises that'll have you sailing into Havana.
Cuba is like nowhere else on earth — 60-year-old cars still used for getting around, colorful colonial towns, streets devoid of advertising and sun-kissed beaches mirroring the Caribbean image from your dreams. The narrow island is ideal for exploring by ship, with excursions allowing you to visit even inland cities.
Best cruises to Cuba
Make sure you get the most of your Cuban experience with these cruise and tour companies.
G Adventures
Best for a balmy, budget getaway
Not your typical cruise experience, G Adventures helps you get to the heart of Cuba with its eight-day catamaran journeys around the island. Economically priced at around $200 per day with discounts often on offer, you'll be able to get away for much less than you thought.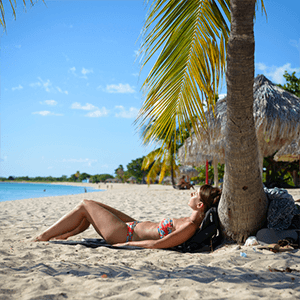 Intrepid
Best for an intimate small-ship adventure
Explore Cuba in style as you spend your days exploring the cities and beaches of Cuba and your nights in comfort aboard a spacious catamaran. Sleeping no more than eight guests, you'll get to visit a variety of destinations that big ships simply can't get to.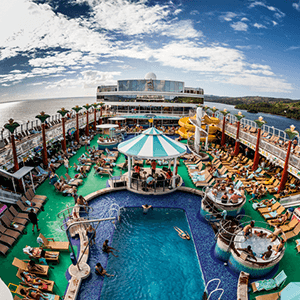 Marella Cruises
Best for families
A midsize ship with a large roster of facilities and entertainment to help keep everyone engaged when not onshore. Onboard you'll find seven restaurants, two pools, a kids' club, baby center, a high-tech show lounge, virtual reality experience, casino, rock climbing wall and open-air cinema.
Sea Cloud Cruises
Best for a luxury voyage
Step back in time on an elegant old-world tall ship complete with beautifully appointed cabin and cozy luxurious atmosphere. You could be tempted to stay on the ship but luckily, Sea Cloud's crew balances the enjoyment of being at sea with exciting excursions to help you discover Cuba.
How we picked the best cruises.
When choosing cruises for this list, we looked at the quality of routes available from each cruise line, prioritizing well-paced itineraries with port stops at key destinations around Cuba.
We also considered dining onboard, weighing the number, variety and overall quality of restaurants against passenger reviews. Finally, we weighed cabin amenities against each price point, looking for cruise lines that are known to deliver the highest value.
Additionally, we sought out customer reviews on travel websites and personal travel blogs, considering first-person experiences and each company's overall reputation
Can American citizens cruise to Cuba?
No. In June 2019, the Trump administration banned tourist travel to Cuba. This means that US citizens can't purchase tickets to a cruise that stops in Cuba. Even if you book through a foreign company, you'll likely receive a notice similar to this one from G Adventures:

However, American citizens can still visit Cuba under a general licence granted for certain circumstances, including family visits, educational or religious activities, humanitarian projects, support for the Cuban people and more.
Why did the US government ban tourist travel to Cuba?
Treasury Secretary Steven Mnuchin stated in a June 2019 press release that "Cuba continues to play a destabilizing role in the Western Hemisphere, providing a communist foothold in the region and propping up US adversaries in places like Venezuela and Nicaragua by fomenting instability, undermining the rule of law, and suppressing democratic processes."
Restricting American citizens from traveling to Cuba keeps US dollars away from its economy. In theory, this is meant to block the flow of money from supporting the Cuban regime — and its military, intelligence and security services, which are in conflict with US foreign policy.
All information obtained from treasury.gov in February 2020.
When is the best time to cruise to Cuba?
Cruising to Cuba happens year-round with the peak period being December through March. If you can, plan to be there during one of the country's biggest cultural events such as the Havana International Jazz Festival in mid-January or Santiago de Cuba's carnival in July.
Best weather. Mid-November to April is the best time to visit when you can expect blue skies and dry, sunny days.
Wet season. August to October brings high humidity and the most amount of rain. There is also a risk of tropical storms and even hurricanes so make sure to consider cruise travel insurance if you're planning to visit during this time.
What are the must-do cruise excursions in Cuba?
Cuba is certainly one of the most interesting destinations in the Caribbean and is packed full of must-do cruise excursions. Here are some of the most popular to include on your visit:
Classic car tour of Havana. See Havana in style in a classic 1950s era convertible and check out must-see sights along the way.
The Malecón. Take a stroll along the seafront in Havana, lined with attractive and important buildings, as you take in the impressive views. A visit at sunset is exceptional and you can take the chance to mingle with the locals as they come out for the show.
Tropicana Club. An important part of Cuba's heritage, the nightly shows at this cabaret features elaborate costumes and a large orchestra playing original Cuban rhythms.
Viñales Valley. Head for a ride into the countryside where you can visit coffee and tobacco farms, learn how cigars are made and go horseback riding or hiking through the valley.
Rum Museum. Experience the rum-making process first-hand before you head to the tasting room for a sample.
Bottom line
Cuba's rich culture is changing every year and it's unlikely to maintain its old-world charm forever. A visit sooner rather than later should be the top of your bucket list. Make it happen with these top cruise deals that'll have you experiencing everything Cuba before you know it.
Frequently asked questions