Finder is committed to editorial independence. While we receive compensation when you click links to partners, they do not influence our opinions or reviews. Learn how we make money.
What is a Schumer Box and how do I read it?
A quick glance at a credit card's need-to-know rates and fees.
A Schumer Box is a small table that contains some of the most important rates and fees associated with a given credit card. Though it's meant to offer you a quick look at important card terms, not all relevant credit card information is necessarily included.
Important things to look for on a Schumer Box
A standard Schumer Box typically includes information on two main areas of your credit card: the interest and interest charges, and various card fees.
Interest rate information
The interest rate portion of the Schumer Box will at least contain the following information:
APR for purchases, balance transfers and cash advances.
These can be listed out as a range if the APR depends on your credit score.
Penalty APR.
Expect to see an explanation of the penalty terms if your card features a penalty APR for late payments or other financial mishaps.
Interest grace periods.
This lets you know how long you have to make a payment before your balance starts incurring interest.
Interest charge terms.
Any unique terms related to interest charges, such as the minimum charge, are included here.
Card fees
The card fee section of the Schumer Box lists the most common fees you'll want to know, including:
The annual fee.
This includes the revert annual fee if the card has an intro APR
Penalty fees.
Including fees for late payments and returned payments.
Transaction fees.
You'll find fees for balance transfers or cash advances here.
Schumer Box red flags
The Schumer Box gives you a great opportunity to quickly sniff out whether a particular credit card is something you should stay away from. Here are some things to look for:
High APR. While you should be paying off your balance in full each month, a particularly high purchase APR can serve as a warning flag that the card might not be the best choice available.
Excessive fees. Most credit cards feature a few fees, such as late payment fees. If you notice some unusual fees listed in the Schumer Box, such as monthly maintenance fees, you'll want to take a closer look at the rest of the card's rates and fees as well.
Small or non-existent grace period. It's easy to assume that most credit cards offer a grace period, but you might find some with a particularly short period – or none at all.
An example of a Schumer box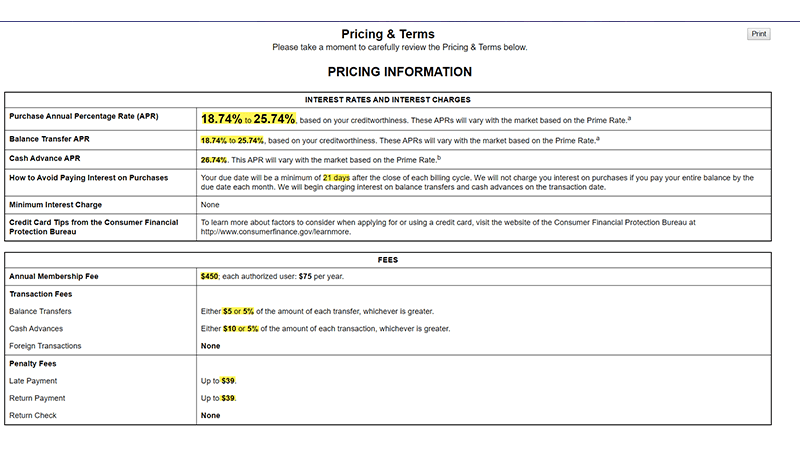 Why is it called a Schumer Box?
The Schumer Box was named after congressman Chuck Schumer. Schumer was instrumental in introducing the 1988 legislation that required credit card issuers to clearly and plainly list card fees within the promotional material of every credit card.
Compare credit cards
Even though a Schumer Box offers a high-level view of a credit card's terms, they're typically not enough to help you make a final decision on a credit card. You'll want to compare credit card options by credit card type and other features before taking a look at the finer details.
Bottom line
The Schumer Box is a great place to start assessing a card once you've narrowed down card competition to a few choices. If the data in a Schumer Box seems concerning or promising, take a closer look at the full terms and conditions.
Start comparing credit cards now to find one that best suits your financial needs.
Frequently asked questions