Finder is committed to editorial independence. While we receive compensation when you click links to partners, they do not influence our content.
Cowboy boots buying guide
Tip your hat to American history with a stylish pair for cowpokes and kids.
These boots aren't only for cowboys and cowgirls. Show off your rugged individualism with top pairs fit for galloping, moseying and just about anything to suit your fancy.
Best cowboy boots
Best cowboy boots for women
Ariat Legend
Your reason for strutting in cowboy boots will differ from the next lady's. Some wear them for riding horses or working the farm, while others simply love the look.
With their 2-inch heel, square toe, four-row stitch pattern and Duratread outsole, Ariat Legends are as functional as they are stylish. Wear them around the ranch for a night on the town!
---
Best cowboy boots for men
Ariat Rambler
The Rambler is the quintessential American cowboy boot that's all about versatility. Whether you're on the farm, at your jobsite or on the streets, these boots satisfy with a classic look that's available with a steel toe.
---
Best cowboy boots for girls
Smoky Mountain Girls' Monterey Western Boots
If you've got a little cowgirl on your hands, you need a boot that holds up to mud puddles, running and playing. The ideal boots for kids is easy to break in without feeling stiff or hard to walk in. And who could forget lots of bright colors to choose from? This pair checks all the boxes!
---
Best cowboy boots for boys
Swift Creek Boys' Cowboy Boots
These boots are perfect for rough-and-tumble boys who want to dress just like Daddy. Durable synthetic leather, easy-on pull tabs and colorful stitching make this pair a must-have for your mini cowboy.
---
Best cowboy boots for babies
John Deere Johnny Popper Baby Boots
Let your cowboy or cowgirl in training sport that western style you love. Grip-pad soles make these crib shoes perfect for crawling infants. They're soft and comfy, and they come with easy-open Velcro backs.
---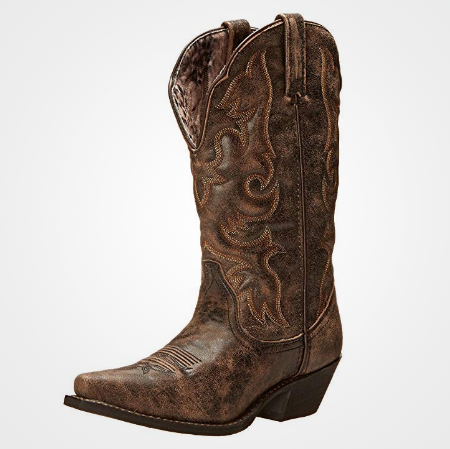 Best cowboy boots for wide calves
Laredo Access Cowgirl Boots
You want your boots snug, but not constricting. This chic pair comes in medium and wide sizes along with a selection of three colors. Online reviews for the Laredo Access rave about its perfect fit for wider calves and ankles.
---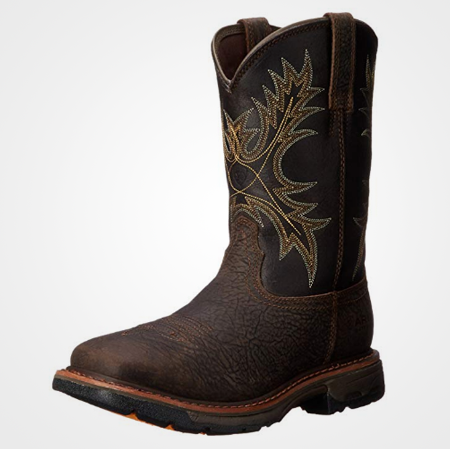 Best cowboy work boots
Ariat Men's Workhog Waterproof Pro Work Boots
This is a solid, well-built work boot that's waterproof, slip-resistant and shock-absorbing. Its sole is half an inch, versus the one to two inches standard on other cowboy boots, making it easier and more comfortable to move around on the job.
---
Best budget cowboy boots for women
Country Love Pointed Toe Women's Cowboy Boots
Looking for a pair of boots for a special occasion, like a friend's barn wedding or for a costume? This pair is a mix of value and quality. For under $50, you'll get a classic cowboy look with western-style stitching and your choice of two colors.
---
Best budget cowboy boots for men
Justin Men's 10" Roper Boots
Justin is among the best-known boot brands around. But you don't have to shell out your life's savings for a pair. Roper runs around $70, yet it's made to the same quality standards as the brand's higher-end models.
---
What is the purpose of cowboy boots?
Traditionally, cowboy boots were designed for riding horses and ranching in the American West. The heel is designed to keep your foot stable in stirrups while horseback riding, and the tall leather shaft keeps your legs protected when rubbing against stirrup leathers and the horse's side.
Today, you'll find many types and styles of cowboy boots. People still wear them to ride horses, rope cattle and do farm and ranch work, while others sport cowboy boots for the statement they make.
When choosing the type of cowboy boot to buy, consider what you plan to wear them for. Popular boot types and uses include:
Ropers. These boots have a shorter heel than many other boots. They make the job of the rodeo cowboy much easier, helping them to quickly mount and dismount their horses when roping cattle.
Stockmans. These boots most closely mimic the classic western look and typically have fashionable stitching. Stockmans also have a noticeably deeper scallop than other types. This refers to the cut around the top edge of the boot shaft, which rests at the highest point on your leg.
Western work. As the name suggests, these boots are primarily for practical work, resulting in less flare than other boots. While the sole material can vary, most western work boots have some tread for increased traction.
Buckaroo. Buckaroos boast the most flare and style of any cowboy boot, and they also have a longer shaft. In some styles, the shaft can come up to your knees to ensure your entire leg is protected during a rodeo. The heel is usually two or more inches high, making the boots excellent for riding — but not as efficient for walking or standing.
Compare the best cowboy boots
Bottom line
Cowboy boots are versatile footwear for pardners and ladies looking to saddle up, work the farm and get out into town. Compare how you'll wear this iconic style when deciding on materials, fit and price.
How did we choose these products?
To choose the best cowboy boots in each category, we researched features, versatility, materials, and prices online, including in customer reviews.
Frequently asked questions
How much does a pair of cowboy boots cost?
Prices can range from $50 to $300 for adult sizes. Custom cowboy boots can set you back $1,500 to $5,000.
What is the best cowboy boot brand?
It depends on your lifestyle and how you plan to wear your boots. Popular boot brands include:
Ariat
Chippewa
Corral
Dan Post
Did Boot Barn buy Sheplers?
Yes, Boot Barn acquired the 116-year old company in 2015, assuming the Sheplers brand.
Top footwear deals and discounts
It looks like we don't have any coupons at the moment.
It looks like we don't have any coupons at the moment.
More guides on Finder