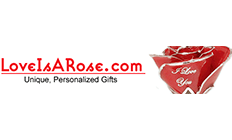 Love is a Rose coupon codes
A sweet keepsake that'll last a lifetime.
How do I use my coupon code?
Why is my code not working?
Only one discount code can be used per order. Check to make sure your coupon isn't expired, case-sensitive or unavailable for the items in your cart. Contact Love is a Rose customer service for help with a specific code.
Can I get free next-day delivery?
No. Love is a Rose doesn't offer free shipping, unless you have a promo code or there's a special promotion. Cost of next-day, two-day or three-day shipping depends on your delivery location.
When's the next sale?
You can almost always find discounted gifts on the Love is a Rose sale page. Filter your search by item type, or browse everything that's discounted across the site. You can also enter your email address to sign up for the company's newsletter and receive a coupon.
Top competitor coupon codes
Still searching for the perfect gift item for that special someone? Check out our top deals and sales:
Frequently asked questions