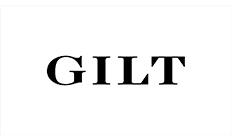 Gilt promo codes
Flash sales and limited quantities help you save on designer finds.
It looks like we don't have any coupons at the moment.
How do I use my coupon code?
We know you'd love a coupon, but Gilt doesn't offer traditional coupon codes. Instead, the company occasionally adds what it calls "promotional credits" to your Gilt account. If you have any credits, they'll automatically be applied to your order at checkout. To see if you have any available credits, log into your Gilt account and click the
Credit
tab under your account.
Can I get free next-day delivery?
No. Expedited delivery is extra. Most items ship for a flat rate of $9.99 to the continental US. With Gilt Unlimited, shoppers score free standard shipping for 30 days after paying once for flat-rate shipping. And Gilt Unlimited Annual members pay $50 for unlimited free shipping for the year.
When's the next sale?
Check Gilt's homepage for the latest flash sales and discounts. You can usually find markdowns on everything from designer clothes to home decor. Promotional credits may be added to your account as part of special sale events, so make sure you enter your correct email when creating your Gilt account.
Frequently asked questions