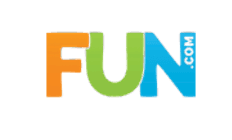 Fun.com promo codes
Shop costumes, collectibles, gifts and more.
Can I get free next-day delivery?
No, next-day delivery costs $17.99.
When's the next sale?
Instantly save 15% on your first order by signing up for the Fun.com email list. To view a list of other deals and sales, browse the
Exclusive
and
Sale
pages on the company's website. You can sometimes find items marked down by 90% or more on these pages.
Frequently asked questions