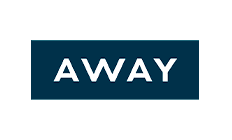 Away Luggage promo codes
Gabrielle Pastorek
Last updated:
Simplify packing and charge your phone battery on-the-go.
Plan your trip
Travel now pay later
It looks like we don't have any coupons at the moment.
Can I get free next-day delivery?
No. The fastest delivery option costs $50 per suitcase, or $20 per smaller accessory. If you choose this option, your order will arrive in one to two business days. Otherwise, all orders ship standard ground for free and usually arrive in two to seven business days.
When's the next sale?
Away doesn't have frequent sales, but you might be able to snag a promo code throughout the year. You can also refer a friend to get $20 off your next purchase.
Frequently asked questions
Yes! All full-size Away luggage comes with a lifetime warranty, excluding electronic parts. The Mini comes with a one-year limited warranty.

Yes. Away ships anywhere in the US — including Alaska and Hawaii — as well as Canada, Australia and most of Europe.

Yes, all non-personalized items are eligible for a 100-day trial. If you don't love your bag at any point during this time, contact customer service for a free return shipping label.
Gabrielle Pastorek is an SEO specialist at Finder. She has also written more than 800 articles on the site and is a quoted expert in Best Company, HuffPost, Reader's Digest, MSN, and MarketWatch. Additionally, she has secured interviews with key stakeholders in the consumer insights industry, including a senior director at the National Retail Federation. Gabrielle had edited several creative manuscripts and holds an MFA from the University of Pittsburgh, as well as BAs in English and French from Ohio University.