How one couple is using real estate to achieve FIRE by 45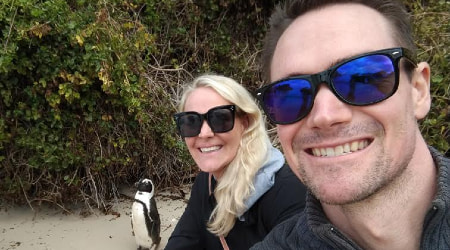 Another strategy they're using? Finding jobs overseas that pay for their housing.
Our new series highlights stories from real people who've joined the financial independence, retire early (FIRE) movement. Some have successfully reached FIRE, while others are on track to do so over the next few years. Answers are edited for length and clarity.
Name: Brian Davis
Age: 39
Time in FIRE movement: 4.5 years
When do you plan to achieve FIRE: In the next 5 years
Investment strategy: Real estate investing and index funds
I'm a real estate investor and cofounder of Spark Rental, where we focus on financial independence and passive income through real estate investing. My wife Katie and I are also aggressively pursuing FIRE ourselves.
How long have you been involved in the FIRE movement?
We've been vaguely on the FIRE journey for around four-and-a-half years, but we've only gotten really aggressive with savings in the last year and a half. In the first two years of my Spark Rental business, we put every last cent into getting it off the ground.
What inspired you to join the movement?
I've always loved the idea of not being dependent on a full-time job to make a living. I initially had the dream of living entirely on rental income in my 20s, and promptly went out and overpaid for a bunch of properties at the height of the housing boom. I lost a bunch of money in my brashness.
What is your investment strategy?
Around five years ago, we decided to move abroad — both for the adventure of it and to save money. Katie is a school counselor, and we spent four years living in Abu Dhabi, where her school provided us with free housing, excellent health insurance and free flights home to the US every year. We were also able to share one car between us in Abu Dhabi.
Last summer we moved to Brasilia, the capital of Brazil. One reason we chose the school here was that in addition to the same perks she received in Abu Dhabi, the school and our apartment here allow us to forego having a car entirely. We walk and bike everywhere, and on the occasions when we need a car, we take an Uber.
Living overseas, we also pay greatly reduced US income taxes through the foreign earned income exclusion.
So, we live entirely on Katie's income, which allows us to live a very comfortable lifestyle despite her modest salary, since we get free housing, have no car or healthcare costs, pay far lower income taxes and get free flights to the US each year. We put all of my income toward savings and investments.
I own an online business based out of the US, Spark Rental, along with a US-based partner. This allows me to live anywhere in the world and continue earning income and growing our business.
Half of our money goes into stocks …
Beyond investing a great deal of money back into growing the business, my personal investing strategy involves balancing the growth of stocks with the income of real estate. I put about half of our money into stocks, in the form of US and international index funds.
It's a completely passive strategy, requiring no work on my part. In fact, every single part of it is automated through Schwab's robo-advisor, including a biweekly transfer of funds into the account.
… and the other half goes into real estate investments
The real estate side requires more labor and skill, but provides more predictable returns and immediate income. I spread my money between rental properties, private real estate investment trusts (REITs), private notes and a rather unique investing model that my business partner and I are about to launch that we're calling co-investing.
In it, we'll be partnering with local real estate investors around the country to buy rental properties, and then open part of the ownership to our audience to join us as minority partners in the deal. It's a way to open direct real estate investing up to people with very little money to invest, but who want to participate and learn as part of a real estate deal.
When do you expect to achieve FIRE?
My wife Katie and I expect to reach FIRE within the next five years. While my business partner and I may also sell our business in a similar time frame, I'm not counting on business sale proceeds in our FIRE calculations.
Katie's and my FIRE plan hinges primarily on income from real estate and my business, plus some post-FIRE gigs we plan on doing for fun. We plan to leave our stock portfolio untouched to continue compounding. But we can always tap into the dividend income if needed.
Advice for others interested in FIRE
Three pieces of advice for others interested in FIRE include:
Get extremely aggressive with your budgeting and savings rate.
Yes, you can score some quick wins by ditching bills like cable TV, but the real savings potential lies in your top three expenses: housing, transportation and food.
These make up between two-thirds and three-quarters of the average American household's spending. I recommend house hacking to reduce or eliminate your housing payment, and choosing a home where you can either share a car or go carless entirely. Both of these can help boost your savings rate significantly.
Automate your savings and investments.
Set up automated transfers to your savings to take place every time you get paid. Ideally, set up automated stock investments through a robo-advisor. Get aggressive with your asset allocation: all stocks, no bonds and a blend of US, foreign developed countries and emerging markets index funds.
If you plan FIRE well, you can avoid sequences of returns risk through a combination of alternative investments (like real estate) and fun post-FIRE gigs, allowing you to leave all your paper assets in stocks and not settle for the poor returns of bonds. Which ties in the next point …
Plan for diverse post-FIRE income.
Dividends from stocks are great, but you need more than that. I obviously love real estate. If you're genuinely interested in learning how to invest in real estate — great, learn rental investing (which my website can help with).
But if not, don't invest directly in real estate, but instead invest indirectly through private REITs, private notes, real estate crowdfunding sites and so forth. Also, plan on some kind of post-FIRE gig that you feel passionate about, both to keep you engaged and to bring in some extra money.
Photo credit/source: Brian Davis