A driver's license/prepaid card combo may be coming soon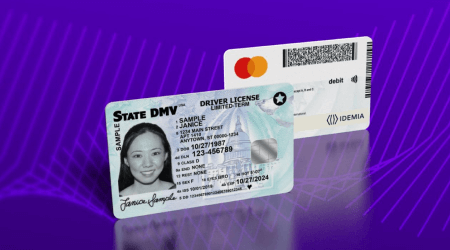 With Converged Card, you could get government benefits faster than you would with a paper check.
IDEMIA, the #1 provider of driver's licenses in the US, recently announced that it's developing a Converged Card in partnership with Mastercard. This new payment solution will allow individuals — especially those with limited or no access to financial services — to receive government benefits faster than if they had to wait on a paper check.
"This card will address the foundational issues of financial inclusion, allowing all citizens to have access to financial services via a prepaid card, in an affordable and timely way, which will create a new and improved process to disburse state government funds," said Megan Heinze, president of financial institutions for North America at IDEMIA, in a keynote address at MoneyFest.
IDEMIA already supplies driver's licenses to 75% of the states in the US and is talking with multiple state leaders about the possibility of bringing the Converged Card to their residents.
How it works
Converged Card is a digital driver's license and prepaid card combo that will support government programs, such as unemployment benefits, tax refunds, housing assistance and more. It'll function exactly like a regular prepaid card, allowing individuals to pay bills and shop online and in person.
"As digital transformation changes the way we live and interact with one another, our shared goal is to build solutions that ensure all consumers receive funds and make payments in a way that meets their specific financial needs," said Kathleen Tobin, head of global strategic partnerships at IDEMIA.
What a Converged Card means for the unbanked
The Federal Reserve estimates that there are 55 million unbanked or underbanked individuals in the US. The Converged Card will give these adults the opportunity to safely shop for everyday necessities without needing an account from a financial institution. It will also provide them a way to receive government benefits and financial assistance in a timely manner.
Take the coronavirus pandemic for example. Millions of unbanked Americans were in desperate need of financial assistance but had to wait weeks or months for a paper stimulus check to come in the mail. Meanwhile, individuals with a bank account were able to set up direct deposit and receive their money within a matter of days.
With Converged Card, those without a bank account would have the same opportunity to get their funds soon after they're released. Plus, it would eliminate the all-too-common mistake of having benefits sent to the wrong address. Instead, these state-funded programs could deposit money directly onto the individual's Converged Card.
"We see a massive opportunity for the convergence of identity and finance," said Eric Jorgensen, director at the Arizona Motor Vehicle Division. "This solution creates an easy way for our citizens to access financial services to receive payments, including unemployment insurance benefits and tax refunds, or to make payments including vehicle registration fees, income taxes and professional licensing fees. This creates a more secure environment for both citizens and the state, as we can confirm that payments are going to real and eligible customers."
Backed by Mastercard
The Converged Card is created in partnership with Mastercard through its City Possible program.
"This Converged Card solution is the result of Mastercard's strategic partnership with IDEMIA, established in 2018 through City Possible, a unique global network for urban co-development. City Possible allows members to draw on the collective expertise and resources of all stakeholders in order to scale innovative solutions that address pressing global challenges. Over the past two years, we have collaborated to develop solutions that would enable financial inclusion worldwide," said Miguel Gamiño Jr., executive vice president for Mastercard's Global Cities Enterprise Partnerships.
Photo: Supplied