Which money app will be king of the finance world?
You can demand more from your money now than you could a year ago.
Technology has changed the way we store, move and invest our money. But it's only in the last few years that new developments like blockchain, digital currencies and neobanking have come together for the average user.
A new generation of money apps let you do things with your dollars that used to be impossible outside of a bank. But it's tough to nail down the cutting edge when things move so quickly, and when apps have different ways of approaching similar goals.
Let's try anyway.
Skip ahead
Uphold
Uphold is a cloud-based financial services platform.
One of its most striking features is that it acts like a fully collateralized bank, transparently holding assets for users while allowing them to seamlessly transact across the Uphold digital world.
The end result is an extremely smooth and cost-effective experience within the quickly expanding Uphold ecosystem.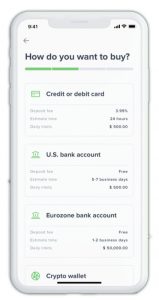 Move money
Uphold might be one of the best money-moving apps around with its combination of fee-free movements among members and support for a wide range of currencies and precious metals.
Send money to other Uphold users or to email addresses. When emailed, your recipient is invited to create an Uphold account to receive the funds.
Uphold accounts themselves are also free, as is transferring money to your account through a bank transfer or cryptocurrency.
Costs come in the form of exchange fees that start at 0.65% when converting to USD, EUR or GBP and reach 1.4% for less common currencies. These fees are easy to find, which is a nice contrast to other apps that more opaquely pull from spreads instead.
Unique to Uphold is the ability to store value as precious metals — specifically gold, silver, palladium and platinum — in your account. You can move this value as you would any other money, but exchange fees tend to be higher than for currencies.
Withdrawing funds from Uphold is still a point of friction, even if it's only a small flat fee: You'll pay $2.99 when using crypto or $3.99 for bank transfers. Third-party costs may apply.
A plus for security: Uphold is fully collateralized. It holds slightly more than 100% of all user funds and assets. This level of transparency is unusual, and you won't get the same level of security from other money apps.
While Uphold uses a lot of cryptocurrency technology itself, you don't need to worry about losing your funds due to the loss of private keys and backup phrases. And Uphold offers account recovery procedures if you lose your phone or computer.
Make money
Uphold is rolling out a system to return 2% to 5% on digital assets held, which could go a long way toward putting everything you needs all in one app.
The wide range of assets in the app itself — currencies, cryptocurrencies and precious metals — paired with fast, seamless exchanging between them, means there might be opportunities for speculative profits.
And although fees can vary depending on what you're buying or selling, they tend to be competitive with the other apps we compare.
The app is pushing ahead of competitors with a clearer portfolio view, additional pricing data for assets and other quality-of-life features introduced in a recent update.
The catch might be that elements like interest earnings are still largely oriented toward digital assets, which means it's still relatively risky. However, that risk is mitigated by features like collateralized stablecoins, which let eligible customers hold funds as USD-pegged cryptocurrencies to earn the interest on it, without all the volatility risk of something like bitcoin.
Having a wide range of digital assets in the same app, including nonvolatile stablecoins, gives you flexibility in investing. Uphold is also making movements toward security tokens, likely with the intention of letting people hold and trade stocks, equity and other financial products in the app.
There's still a way to go, but Uphold appears set to shine in this area.
Use money
Uphold offers a growing range of options in this area — one of the most distinctive is loans for users collateralized by their digital assets. This perk could allow a savvy user to use margin-trading strategies from their Uphold account without signing a contract with an overseas CFD exchange.
Uphold also supports merchant services that allow for payments for goods and services, and it plans to offer a traditional payments card in 2019. Once you can seamlessly spend money from your Uphold account, you won't necessarily have to ping-pong funds between your bank account, which might cut down on transfer costs.
⚖️ Overall verdict
A main downside to Uphold is that you can't yet do everything in the platform. You'll need to bounce funds to the outside periodically and incur fees in the process. It's a nominal fee, but one that limits the usefulness of the app for someone who needs to quickly and frequently cash out small amounts of money.
However, it's quickly getting to the point where you you'll have everything you need within the app itself. Its already huge but growing global base is a notable ecosystem of users who can buy and sell among one another through Uphold.
Back to top
Abra

Abra is an app focused on payments and seamless money exchange.
It stands out with a system that leverages bitcoin as an underlying asset while letting you hold funds in any combination of available currencies and cryptocurrencies you'd like.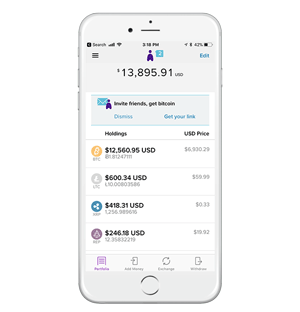 Move money
Abra succeeds resoundingly on domestic money transfers, letting users in the US make no-fee transfers through phone numbers or to other Abra users.
It offers a standout international money transfer experience too. It doesn't charge fees, although you'll incur some costs on the currency spread. You won't find published guidelines on the kind of spread that Abra charges on currency conversions, which makes it hard to know how much you'll pay before sending money.
You may be able to dodge those spreads by transferring cryptocurrency. No fees are involved with transferring money or making payments through the app or moving funds in or out of it.
When fees are involved, it's typically the other bank or payment provider you're using to deposit or withdraw funds that charges them. US-based users will pay a fee equal to 4% of the transaction for funding their wallet from an American Express card.
Potential drawbacks: Your recipient must also have an Abra wallet, and they might need to withdraw the funds after receiving them, and options for doing so are limited in some places.
Make money
Abra's options for making money through the app are limited to buying or selling currencies and cryptocurrencies and hoping their value goes up relative to another. So it's not great on that front.
Volatility might provide some opportunities. But if that's your game, you may want to go somewhere with advanced trading features. If you're not interested in the risks associated with forex or cryptocurrency markets, Abra might have little to offer on this front.
At the same time, it also charges spreads on currency exchanges — even within the app — which might further detract from the benefits.
Use money
Abra doesn't offer much here either, although its underlying bitcoin system is worth a closer look.
When you use an Abra wallet, its actual value in it is bitcoin, regardless of the currency you choose to hold in it. But you won't lose money when bitcoin prices fall, unless you specifically choose to hold your funds as bitcoin.
This is because Abra automatically adds more bitcoin to your account to compensate for any drop relative to your chosen currencies. Conversely, it subtracts bitcoin from your account when prices rise.
This exotic system is the secret to its cheap and quick transfers. But it raises concerns about how well Abra might cope if bitcoin drops to zero. Plus the blockchain smart contracts powering the system aren't open to public scrutiny.
In the end, Abra's account is still a bitcoin wallet. You are responsible for the security of your private keys and the backup password that comes with your new account. If you lost them, you're nearly guaranteed to permanently lose the funds associated with your wallet.
⚖️ Overall verdict
Abra has a lot to offer for moving money quickly and freely. But unless you're keen on crypto — and familiar with how it works — you may want to be cautious.
Back to top
Circle
Circle describes itself as a "the new shape of money." It's a major player in the cryptocurrency world, and it's still growing fast.
It's best known for facilitating quick, easy and — above all — cheap money transfers while maintaining strong security.
You don't have to use cryptocurrency to use Circle though. Use USD, euros or GBP while letting Circle handle the technology on the back end.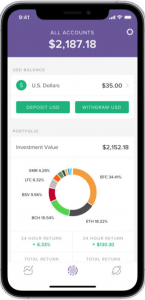 Move money
Circle lets you move money fast and with no fees. And you can't get much better than that.
It works using a bitcoin-on-the-backend system that's similar but less convoluted than Abra's. It also lets you send funds through texts or email, which is nice for ease of use.
Among its biggest perks is its enormous selection of more than 100 currencies, letting you move funds nearly anywhere in the world.
Circle charges a small fee of about 0.25% on the spread, making it competitive even among a field of high-quality contestants. Any direct fees incurred for depositing or withdrawing funds from Circle generally come from other institutions.
Make money
Circle's options for making money are limited to cryptocurrency speculation, although it aims to offer tools to this end.
But you can no longer buy and sell cryptocurrency through the Circlepay app. Instead, you'll need the separate Circle Invest app.
Circle Invest is still under construction, but it plans to offer coin bundles, recurring buys, low minimums and quick transfers from bank to app to make things easier. Reports whisper of a 2% spread, however, which might be worth being wary of.
Circle also owns Poloniex, which could suit those looking for advanced trading options, but its not part of the Circle app itself.
Use money
Circle stands out as a secure and tightly regulated platform. No need to worry about handling your own keys or irrevocably losing all your funds to, for example, a house fire that takes your backups.
Also, the funds you hold in your Circle account as US dollars are held in custodial accounts covered by the FDIC for up to $250,000 in most cases.
As for using that securely held money, Circle doesn't offer many options. It doesn't provide merchant services, so you're left to buying crypto or sending money to friends.
⚖️ Overall verdict
Circle Pay is an outstanding social payment app offering some of the quickest and cheapest payments. But there's little beyond that.
Costs are low compared with other options, the spread on currency exchange can take a bite out of large transfers.
Back to top
Coinbase
Coinbase is one of the better-known names in the US crypto space.
It's predominantly about buying and selling cryptocurrency but plans to expand features to offer more.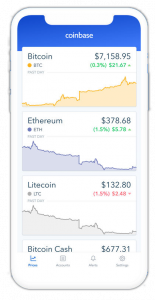 Move money
The Coinbase app lets you send money as cryptocurrency, similar to other payment apps, but that doesn't extend to local currencies.
You won't pay a fee to transfer crypto to another Coinbase wallet, which is a rare feat. And you can do it through email or Coinbase crypto wallet addresses.
However, fees associated with getting funds into your wallet and then converting them to crypto might undermine its usefulness as a straightforward payment app.
If you're simply looking to move money as USD, Coinbase might not be your best possible option. If you're looking to move crypto though, it provides a potentially useful combination of the benefits of bitcoin with the benefits of a reliable institution to help you use it.
Make money
Coinbase is more about letting people buy and sell cryptocurrencies easily.
But there's not a whole lot to do in Coinbase beyond buying and selling cryptocurrency, where you're also hampered by relatively high fees for converting between crypto and fiat and 1% spreads for crypto-to-crypto conversions.
Fortunately, you can also link your Coinbase account to Coinbase Pro, which offers more seamless options for serious cryptocurrency trading and advanced features. Not many other apps can boast this luxury.
Use money
Your USD holdings in Coinbase are insured by the FDIC for up to $250,000. But you're on your own if something happens to your crypto.
Coinbase also offers a managed wallet experience, so no worry about your funds becoming irrevocably lost if you lose your password or phone or private keys. The recovery process might be arduous, but by necessity.
As for using your money, you can convert crypto to gift cards and find Coinbase payment options in some stores.
But once again, these features find friction in the form of unwanted fees. Use Coinbase heavily, and costs build up over time.
In the long run, the key upside might be Coinbase acquisitions that offer genuinely unique options for using your money. Coinbase's Earn.com, for example, lets you earn crypto by responding to email or offer crypto to boost email engagement, while other yet-to-come services like Coinbase's Compound might go a long way toward turning Coinbase into a complete one-stop destination for everything money.
But it's not there yet.
⚖️ Overall verdict
Coinbase has found a practical niche in the cryptocurrency world. And it's expanding its range over time to include unique ways of actually using your money.
But it doesn't deliver some of the more immediate benefits of other options, such as efficiently sending US dollars around the world. And those fees …
Back to top
Revolut
Revolut is one of the new breed of completely digital neobanks.
Hailing from the UK, it's made waves with its combined bank account and payment card system that helps you spend a wide range of currencies, including some cryptocurrencies, with low or no fees all around the world.
Unusually, Revolut doesn't use digital currencies, which makes for as a different set of pros and cons compared with other apps.
The most distinctive element of this might be that it relies on a "freemium" model, where it offers limited features for free while reserving the best for its paying subscribers.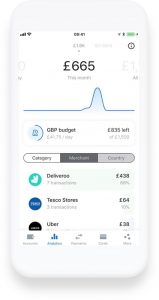 Move money
Revolut's system for international money transfers involves giving customers their own international bank account number, which makes for more effective international transfers across 20 currencies.
Transfers work much like a bank's in that they can take several business days to go through and, in some situations, involve hefty flat fees.
Revolut doesn't charge for moving money. But you can expect considerable and unpredictable fees for international transfers, often in the $20 to $40 range, plus a 0.5% currency exchange fee on transfers over your international allowance.
It lets you "Turbo-boost" your transfers for a fee, cutting times to only a day or so, although the upgrade is free with the subscription-based Premium or Metal tiers.
Usual for SWIFT payments, intermediary banks might take a cut of the money en route so that what arrives is less than the amount sent. It's easy to send funds to other Revolut users, but many of the same problems will still remain.
While Revolut might make transfers easier than more traditional options, there's still a clear gulf for most users.
That said, it's still possible to purchase cryptocurrencies through the Revolut app, and this can then be freely sent to other Revolut users at no charge. It might be a good way of ducking some of the transfer fees.
However, converting the cryptocurrency to and from "real money" will involve a 1.5% fee.
There's still a gulf between Revolut and other apps which actually use digital currencies themselves on the back end, and it's a very long way from the dream of instant zero free international transfers.
It's mostly designed for travellers in mind, presenting a way of avoiding the worst currency exchange fees while travelling.
Make money
There's nothing here.
Revolut lets you round up transactions to sweep the change into a "Vault," but you don't earn interest on those funds so it seems a bit pointless.
At the same time, Premium and Metal users will still be paying the subscription fee associated with their account.
Although it's worth noting that Metal card users can get 0.1% (in Europe) or 1% (outside Europe) cashback on all eligible card purchases, which could help deliver some savings, delivered in the currency of your choice.
You can also purchase cryptocurrencies for speculation, but that 1.5% fee makes it a little underwhelming in a field that aims to be among the world's best.
Use money
This is where Revolut stands out.
It offers MasterCard payment cards and you'll generally be able to use your money with relative ease all around the world.
Beyond that it offers convenient extras like device insurance and travel insurance, the aforementioned cashback for Metal users, waived ATM fees up to a certain limit and a concierge service with the highest tier plan.
It's still primarily about the exceptional multi-currency functionality which might prove exceptionally useful for frequent international travellers.
Unlocking the best features isn't free though. Revolut premium is $8.99 a month or $92 a year, while Metal is $15.99 a month or $160 a year.
⚖️ Overall verdict
The Revolut app can definitely deliver benefits, relative to traditional banking, for the right customers. But most people might not be the right customers.
The usefulness of cryptocurrencies might be quite apparent when you look at Revolut next to other apps.
Back to top
Robinhood
Robinhood is an investment-centric app. Downloading the app isn't entirely dissimilar to having a zero fee stock broker in your pocket.
It's also branched out to cryptocurrencies, and recently unveiled plans to offer more bank-like services like checking and savings accounts.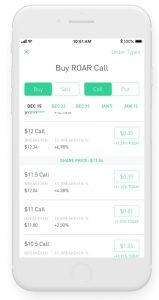 Move money
Robinhood doesn't let you do this… yet.
Make money
This is what Robinhood is all about, as a freemium platform that lets people trade stocks, options and cryptocurrencies with a range of bells and whistles like margin trading.
It uses a freemium model with three different account types. The Robinhood Instant is the default which allows instant deposits and extended hours trading, while the Cash account is similar but without the instant deposits and settlements.
Margin trading comes with the Robinhood Gold account. Essentially, it's where Robinhood lends you money to trade with. This is potentially quite lucrative, but also much riskier than just buying and selling stocks.
Between stocks, options and cryptocurrencies, Robinhood might satisfy a reasonable range of investors, although all are relatively risky and it's not necessarily a safe place to park money.
Use money
Robinhood doesn't let you use money except in the context of the investing in the previously mentioned financial products.
Although it's well worth mentioning that it plans on changing that. It's not clear how long this will take though.
In mid December 2018 Robinhood announced plans to offer low and no-cost checking and savings accounts – the latter with a competitive 3% interest rate – for customers, but regulators were quick to hose it down, and it's still not clear where Robinhood stands on that front.
⚖️ Overall verdict
If it offered a range of bank services, the Robinhood app might be a serious contender for the king of money title.
But it's still a long way from providing the kind of all-in-one experience that might characterise the new front line of financial services.
Back to top
Disclaimer: This information should not be interpreted as an endorsement of cryptocurrency or any specific provider, service or offering. It is not a recommendation to trade. Cryptocurrencies are speculative, complex and involve significant risks – they are highly volatile and sensitive to secondary activity. Performance is unpredictable and past performance is no guarantee of future performance. Consider your own circumstances, and obtain your own advice, before relying on this information. You should also verify the nature of any product or service (including its legal status and relevant regulatory requirements) and consult the relevant Regulators' websites before making any decision. Finder, or the author, may have holdings in the cryptocurrencies discussed.