Commercial insurance prices up 6% from a year ago
A strong economy and a complicated political scene helped to raise the cost of commercial insurance in 2019.
US commercial insurance prices grew more than 6% in the fourth quarter of 2019. Per risk advisory firm Willis Tower Watson's Commercial Lines Insurance Pricing Survey, this growth is a continuation of growth seen in the previous quarters. Lines, such as commercial auto, property and excess/umbrella liability, all increased by double digits, with large and middle-market accounts seeing larger price increases than small accounts.
This increase in insurance prices may translate into higher prices for consumer goods and services, such as groceries, clothing and household goods. As the insurance cost on freight shipments and freight fleets is growing, this cost will likely be passed on to the consumer.
"Call it what you will: a firming market, a challenging market, a seller's market, a disciplined market, an unconventional hard market — North American businesses are paying more for insurance," Willis Tower Watson wrote in its "Insurance Marketplace Realities 2020" report. "The extent will vary, as always, depending on the business, its risk profile and its strategy for risk management, but the story that emerges in the pages that follow is clear. We are predicting increases, many sizeable, for more lines of insurance than we've experienced in recent memory."
Willis Tower Watson predicts that insurance prices will continue to rise through 2020 and 2021, although a sense of normalcy may return for some lines, such as property. "We expect a more orderly market to emerge by mid-2020, especially for property," the report reads. "By that point, the bulk of the re-underwriting by some major property insurers should be largely complete. Pricing will most likely continue to rise as insurers seek profitability, but those increases and market capacity for most risks should be more predictable than they have been during the past two quarters."
Requests for clarification from Willis Tower Watson went unanswered at the time of publication.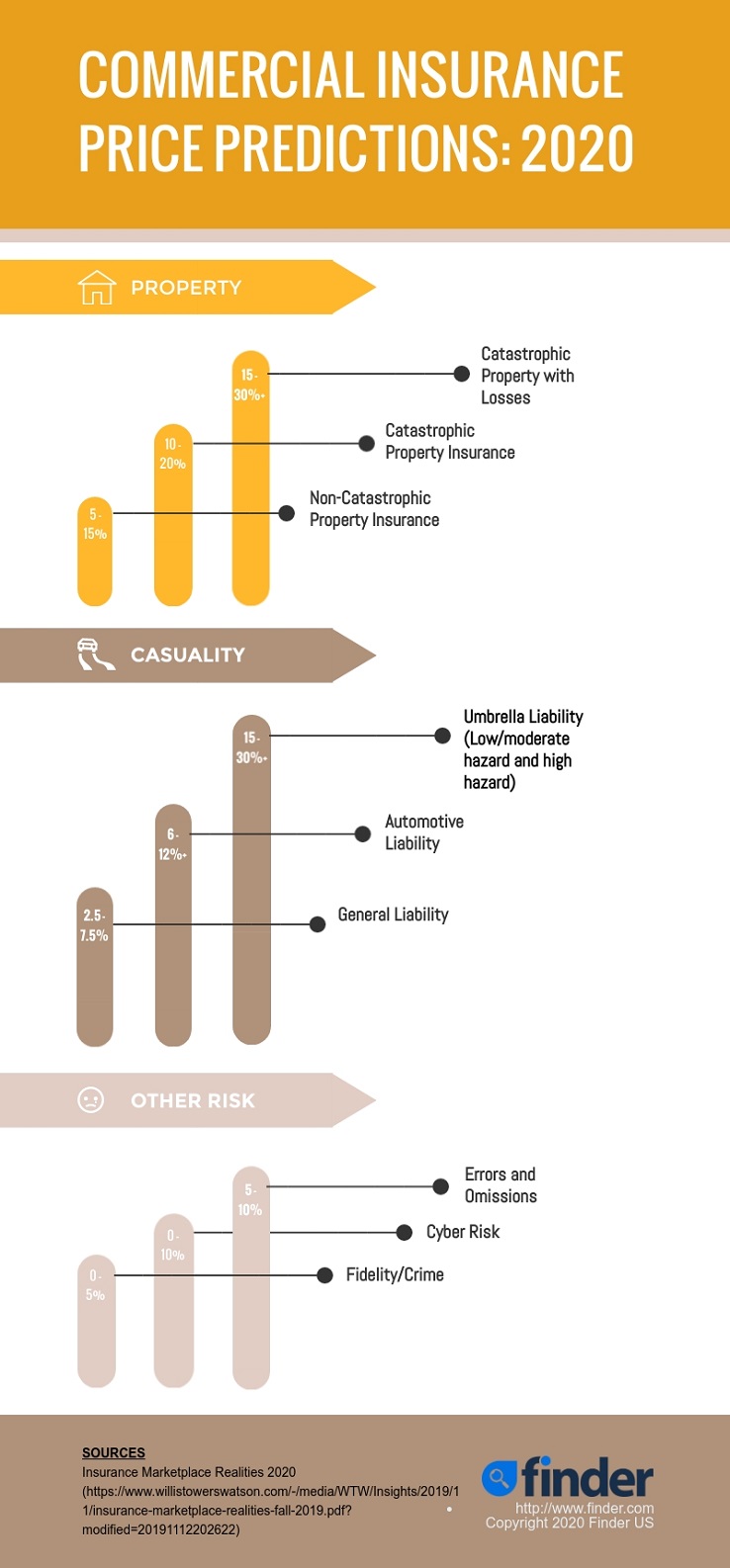 What to do about rising premiums
While prices across the industry may be headed up, the cost of individual policies can vary significantly depending on a number of factors. If your business insurance premiums have jumped up, consider comparing quotes from other insurers to see if you're still getting a good deal.
When shopping around, Finder advises you compare key aspects like coverage limits, payment terms, the location of the nearest office or agent, and whether discounts are available for bundling with other forms of insurance.
New challenges
There is a wide range of factors that are blamed for contributing to the rising risk. Politically, factors like Brexit, where the United Kingdom has left the European Union without a concrete trade agreement, have left the future of international trade with the UK an open question. The United States' strong economy pre-pandemic is encouraging more trade, increasing the numbers of freight trucks and international shipments in place. More trucks mean more driving hours, leading to more possible accidents.
Weather conditions are also to blame for the increased insurance risk, Willis Tower Watson argues. The increase in size and number of major hurricanes and storms, for example, is driving up property-casualty rates. Climate change may also be fueling the increased rate of wildfires, flooding, coastal erosion and hailstorms — all increasing the amount of property damage being reported. Willis Tower Watson's property rate increase predictions are expected to be twice as high as the company's spring 2019 predictions.
"As the market seeks a new equilibrium, there are reasons for optimism: the alternative capital market is showing some renewed enthusiasm for the reinsurance market after a year or so of tepid interest, the overall industry has more capital than ever, insolvencies are a rarity, InsurTech companies seem to have largely abandoned their bad-boy disruptor image and are now working with insurance market participants to improve the client experience by helping us all be smarter, cheaper and faster, and the inexorable laws of supply and demand still apply to our industry," Willis Tower Watson argues.
"This challenging market will not last forever."
Photo credits: Wikimedia