Most college students are going back to school — but half aren't prepared for the cost of a degree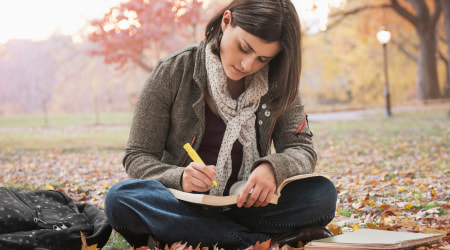 Most students could stand to plan for a semester from home and future financial aid.
Some 78% of college students plan on returning to their current campus this fall, a Sallie Mae and Ipsos study found. The annual How America Pays for College report found that only 7% of students planned on taking time off or switching campuses due to COVID-19.
The study also found that the percentage of students prepared to pay for a full degree was at an all-time high. But even then, only 52% had a plan. That leaves nearly half unsure of how they will pay for school in the years to come.
Fewer federal aid applications
How America Pays for College also found that the percentage of students who had completed the Free Application for Federal Student Aid (FAFSA) was down during the 2019-2020 academic year. This echoes another recent analysis by the Associated Press, which found that FAFSA applications were down 45% this spring, compared to the same time last year.
Why didn't more students apply? Some 43% of those said they didn't think they would qualify for federal aid. But they could be missing out.
Filling out the FAFSA is required to receive federal loans, work-study and grants. And it's required for many other scholarship and grant programs, which rely on information from the FAFSA when processing your application.
You may find out that even if you don't qualify for federal aid, completing the FAFSA could open you up to another type of assistance.
How to plan for the fall semester
Most students are prepared to go back to school in the fall year. But they should be prepared to make some major adjustments. Many schools have announced that they will be fully or partially moving courses online.
And with coronavirus cases on the rise, it's possible that more campuses will fully shut down for the fall semester. There are a few steps you can take now to lessen the blow of college from home.
Set up a study space
First, make sure that you have a designated study space. This is key to separating your coursework from other parts of your life when you're stuck inside. If possible, set up a desk in your room or claim a spot on the dining room table that you exclusively use for classes and studying.
Make sure you have the technology you need — a laptop and headphones are usually essential. And don't underestimate the importance of a comfortable chair.
Get the software you need now
Also make sure that you have access to all the software you need to attend classes and complete your coursework. Check if relied-on programs are available through your school, as well as if they are offered for download for free. If not, many companies like Microsoft and Apple also offer discounts to students.
Adjust your financial aid package
Financial aid doesn't just cover tuition and fees. It covers the full "cost of attendance", which includes living expenses and transportation. Sometimes, your dorm and meal plan can account for close to half of your semester's cost.
If you're staying at home this fall, your expenses are likely different. Reach out to your school's financial aid office to see if you can make any adjustments to your cost of attendance. You might not need to borrow as much to cover rent, utilities and food expenses from home.
How to plan for next year's cost of attendance
Having a plan for how you're going to pay the next few years can help you avoid taking more loans than you need. Go over your family's assets and figure out how much you can realistically afford to pay out of pocket. And have a game plan when it comes to free aid, like scholarships and grants.
Most scholarship and grant programs open in the fall before the academic year they fund. So you might want to start researching the summer before — in other words, now.
These often have limited funds, and applications are likely to be even more competitive due to COVID-19. Getting yours in early and applying to multiple programs increases your chance of getting approved.
While you're applying, make note of programs that you aren't eligible for now but might be later. And if you get approved, make note of which programs will cover the rest of your degree and which require another application. In some cases, a scholarship or grant will only cover one year.
Only consider taking out student loans after you've exhausted your free options. Graduating with high levels of student debt can restrict your options after college. And having student loans can make other types of credit more expensive.
Photo: Getty Images