Finder is committed to editorial independence. While we receive compensation when you click links to partners, they do not influence our opinions or reviews. Learn how we make money.
7 top scholarships for theater students
To be or not to be … in debt from your performing arts degree.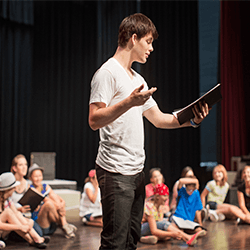 Have a passion for the stage? Luckily for you, there are a variety of scholarship opportunities catered toward students pursuing the arts.
How we chose these scholarships
When choosing these scholarships, we looked for programs that offered high amounts, were open to the widest range of theater students and could be renewed. However, not all of the scholarships listed hit every criteria.
Princess Grace Foundation Awards Program
The Princess Grace Foundation offers national scholarships to theater, dance and film artists who are in the early stages of their career and enrolled in a qualifying program. They're based on merit and open to a wide variety of applicants. The maximum award amount is also significantly higher than most theater scholarships. Students must submit their application along with samples of their craft by late spring to be considered.
The Walt Disney Company UNCF Corporate Scholars Program
The Walt Disney Company UNCF Corporate Scholars Program is geared toward underserved black and African American students interested in pursuing a career in entertainment, including those in performing arts and theater. Applications are accepted on a rolling basis, with 100 recipients chosen each year. Preference is given to students attending a historically black college or university (HBCU).
Bob and Marti Fowler Future Theater Educator Scholarship
The Bob and Marti Fowler Future Theater Educator Scholarship is designed specifically for students interested in pursuing a career in theater education. It's a one-time scholarship that can be used to pay for tuition and fees. You'll need to submit an essay explaining what you feel the characteristics of an exceptional theater educator are and how your accomplishments qualify you for the scholarship.
American Theater Organ Society (ATOS) Scholarship Program
If you're interested in pursuing theater music — specifically the organ — the ATOS Scholarship Program provides a unique opportunity. Not only is it open to international students, but you're also eligible even if you're not attending an accredited program.
To apply, you must submit an essay on why you feel you should be awarded the scholarship along with your interpretation on the different applications and musical styles in which theater and classical organs are used. You also need to provide proof of your amateur status as a theater organ musician to be considered.
Archibald Rutledge Scholarship Program
Offered through the South Carolina Department of Education, the Archibald Rutledge Scholarship Program is open to high school seniors in South Carolina who plan on attending college in the state. Five scholarships are awarded each year for multiple disciplines of the arts, including creative writing, dance, music, theater and visual arts. Theater students are required to submit a one-act original play thats between eight and 15 minutes long along with their application.
Grand Rapids Combined Theater Scholarship
The Grand Rapids Combined Theater Scholarship is geared toward theater arts majors with experience performing at community theaters in Grand Rapids, Michigan. As a merit-based scholarship, you must demonstrate ability, talent and dedication in the field of theater arts. Though the scholarship can be renewed once, returning recipients are still required to complete the full application.
Hope College Distinguished Artist Award
This merit-based scholarship is open to Hope College students with strong academic records and outstanding creative abilities in art, dance, music, theater or creative writing. The scholarship is renewable once, and over 60 awards are given out each year. On top of submitting an application, students are required to perform an on-campus audition and interview with a faculty member in November.
How else can I pay for school?
Scholarships are a great way to fund your education, but they aren't the only option. Here are a few other ways to cover college costs:
Federal Pell Grant. This need-based grant of up to $6,195 is offered through the Department of Education to undergraduate students. To apply, you must submit the Free Application for Federal Student Aid (FAFSA).
Federal Work-Study Program. With this need-based federal program, students work a part-time job on- or off-campus in exchange for money to go toward your cost of attendance. You also must submit the FAFSA to be considered.
Student loans. If you've exhausted all of your options for free aid, student loans are another way to cover expenses. You might want to consider federal loans first, since they typically come with lower rates and more flexible repayment options, before turning to private lenders.
Compare private student loan offers
Bottom line
Aspiring actors and actresses have a slew of scholarship opportunities to pursue their passion without breaking the bank. And if you need even more funds, you can check out our A-to-Z list of scholarships or our guide to student loans for more ways to pay for your theater degree.
Frequently asked questions