Finder is committed to editorial independence. While we receive compensation when you click links to partners, they do not influence our content.
Citibank Plus Transaction Account
Take advantage of no foreign transaction fees or overseas ATM withdrawal fees and free international money transfers when using Citibank Global Transfers.
Citibank's Everyday Plus account is completely fee-free, meaning you don't pay for international purchases or ATM withdrawals, and account-holders can also enjoy free international money transfers to any account, anywhere in the world. With this and a host of other features, the Citibank Plus Everyday Account is worth a look.
What are the features of the Citibank Plus Everyday Account?
No foreign transaction or ATM withdrawal fees. Save the fees you'd typically pay with a debit or credit card.
Linked Visa debit card. Shop online and in stores in Australia and overseas.
Large ATM network. Access your money at more than 3,000 ATMs across Australia with no ATM fees.
Account tracking. Keep track of your spending with regular SMS notifications through Citi Alerts.
Free wine at eligible restaurants. Included is the Citibank Dining Program, where you'll receive a free bottle of wine every time you dine and pay with your debit card at participating restaurants.
Free international money transfers with Citibank Global Transfers. Pay no transfer fee when sending money overseas.
How does Citibank Plus Transaction Account compare to other services?
Our table lets you compare the services you can use to send money abroad. Compare services on transfer speeds and fees, then click Go to site when you're ready to send.
How does Citibank Plus stack up against 28 Degrees?
Citibank Plus
Account type: Transaction account
Card type: Visa
Fees for international money transfer: $0
Fees for international ATM withdrawal: $0
Monthly/annual fees: $0
Covered for fraud? Yes, by Citibank Fraudshield (if conditions of use are followed)
Offers credit? No
Exchange rate offered? Visa exchange rate at time of purchase
28 Degrees
Account type: Credit card
Card type: Mastercard
Fees for international money transfer: $0
Fees for international ATM withdrawal: 3% of the cash advance or $4 (whichever is higher), pus cash advance interest rate if applicable. If funds are preloaded onto the card interest will not be charged, but fees still apply.
Monthly/annual fees: $0
Covered for fraud? Yes
Offers credit? Yes
Exchange rate offered? The Mastercard rate at the time of purchase
---
How does the free international money transfers feature work?
Citibank offers a wide range of international money transfers with this account, but it's important to understand how they work to avoid fees and charges. When you transfer funds in any currency from your Citibank Plus account to any other account in the world, you will not be charged a transfer fee.
When you send money between Citibank accounts in participating countries, your money arrives instantly. When you transfer your money online to any other bank account, your payment is processed in three to five business days.
Terms and conditions in simple English
Citibank Global Transfers are available when you transfer money from Citibank Australia to an eligible Citibank account in the selected countries listed below. A daily transfer limit applies, and funds are converted to the destination amount specified by before the transfer. The exchange rate includes a commission for the conversion service. Depending on local regulations, transfers typically reach the destination account immediately but can take up to 24 business hours.
Citibank Global transfers are available to:
---
How does this account help when I'm traveling?
If you use Citibank or any partner-branded ATMs overseas, you won't pay an ATM fees. With the Visa debit card, you can also shop using your own money when you're traveling, and the account offers unlimited fee-free transactions.
---
How much will I pay in fees and charges with this account?
The Citibank Plus Everyday Account charges no monthly fees and no fees for international transactions or ATM withdrawals at supported banks. If you withdraw from an ATM in Australia that isn't a Citibank or Westpac Group ATM (Westpac, St. George, BankSA and Bank of Melbourne ATMs), you'll pay ATM owner fees, which depend on the ATM you use.
---
How can I apply for the Citibank Plus Everyday Account?
You can apply for the Citibank Plus Everyday Account by following the "Go to Site" link on this page. Once you agree to Citibank's terms and conditions you can confirm the type of account you want to open. You'll need to provide the following basic details:
Proof that you're 18 or older.
Two forms of ID — your Australian driver's license, Medicare card or passport.
Residential and contact details, including your email address.
Once you're approved for an account, you'll receive account details and your Visa debit card soon after.
My account has been set up — how do I send money overseas?
Go to Payments and Transfers and click Add a Payee. Then follow the prompts on the page.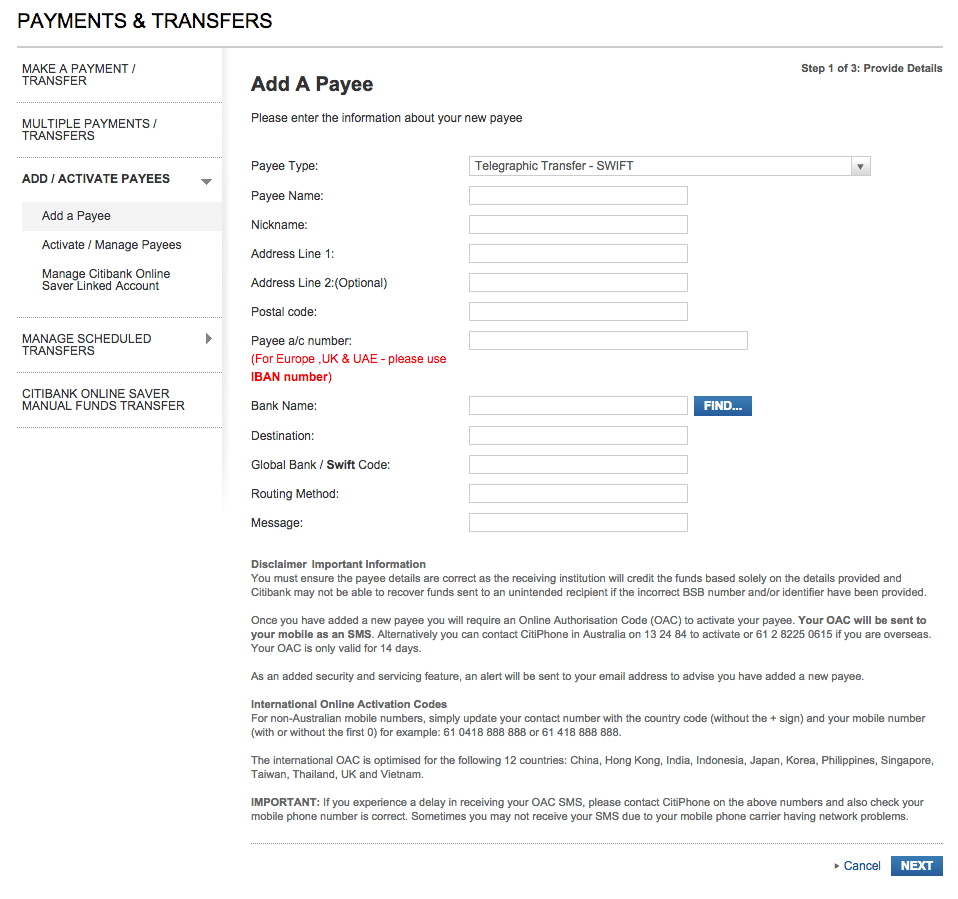 More guides on Finder