How to prequalify for Citi credit cards
Until online prequalification returns, check at your local bank branch or look for a targeted offer in the mail.
Citi is one of several banks that allow you to prequalify for a credit card before you apply, but you can no longer do it online. Instead, you must either receive a targeted mailing offer from Citi or talk to a rep in person at your local bank branch, giving you a leg up on success if you choose to apply. (Citi is a Finder advertising partner.)
How do I prequalify for a Citi credit card?
It's a shame you can't prequalify online, given the simplicity of checking in on your odds of acceptance from your couch. Until it's back, you'll need to head to your nearest Citi branch or keep an eye on your mailbox for a targeted offer.
Prequalify in person
If you live near a Citi branch, walk in and ask a representative if you qualify for a credit card offer. Unlike a mailer targeted for a specific card, you may find you're eligible for more than one — especially if you already bank with Citi.
Prequalify by mail
Citi invites potential cardholders to apply for targeted cards through prequalification mailers. If you receive one, go to Citi's site listed on your mailer and enter the invitation number to get started with your application. Just be sure not to chuck it into recycling with the penny savers!
Prequalify online
As soon as it's back, Citi's online prequalification is the simple, straightforward way to go for learning about cards you may be eligible for:
Visit Citi's credit card prequalification page.
Enter your name, address and last four digits of your Social Security number.
Select which card benefit matters most to you from the Which card benefit? dropdown.
Tick the Acknowledgment checkbox and select Get your card offer.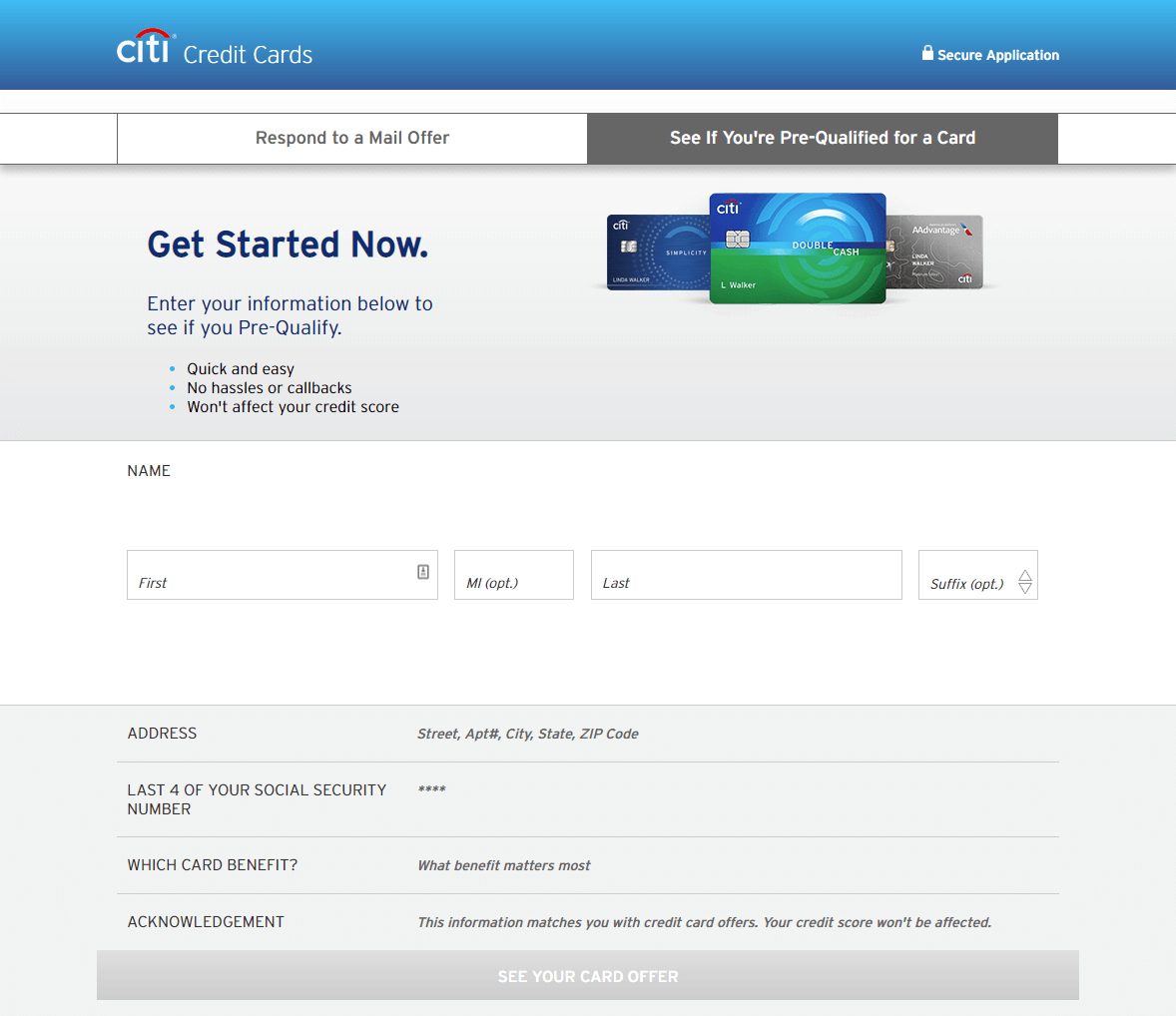 After submitting your information, you'll see — and can apply for — cards that match your credit profile.
What are the benefits of a Citi prequalification?
You're not guaranteed approval with prequalification, but it does give you a good shot at getting the card you're recommended by the bank.
Consider recommended cards.
Prequalification can help you narrow down a range of credit cards — and even see cards you didn't think you'd qualify for.
No obligation to apply.
You don't have to take Citi up on the cards you're prequalify for. You can use what you learn to look for similar cards from other banks and providers.
Doesn't lower your credit score.
Citi checks your credit with a soft pull, so you won't lose points from your score with prequalification.
Alternatives to Citi prequalification
Both Chase and American Express offer prequalification on select cards and products, while USAA offers prequalification to its members.
Prequalify yourself for credit cards
When checking for prequalification, Citi looks at your finances and performs a soft pull of your credit to match your financial history against its card requirements. But you don't have to wait for a bank to tell you whether you're creditworthy.
With a little handiwork, you can get your free credit score from any of the three major credit bureaus — Experian, Equifax or TransUnion — and match your credit score against the range required of an eligible credit card. For Citi, that's the credit requirements we've listed in the table on this page.
If you have a history of responsible borrowing and a credit score that rests comfortably within the required range, odds of application approval are in your favor.
Does Citi prequalification include store cards?
Yes. Cobranded cards like the Costco Anywhere Visa and AT&T Access Card from Citi are eligible for prequalification.
What credit score do I need to prequalify?
You'll likely need a good credit score of at least 670 to prequalify, though some banks prequalify potential cardholders with fair credit of at least 580.
However, prequalification comes down to the credit requirements of a particular card more so than your credit score. A prequalification offer means the bank or provider has reviewed your borrowing history through a soft pull of your credit and thinks you might be a match for its financial products.
What if I no longer want to receive prequalification offers?
Under the Fair Credit Reporting Act, you have the right to opt out of offers for credit or insurance that aren't initiated by you. Visit the Consumer Credit Reporting Industry Opt Out Prescreen site and identify whether you want to exclude your details from such offers for five years — or forever.
Bottom line
If you're thinking about applying for a Citi credit card, prequalified can set you up for approval success. Until prequalification returns online, you'll need to ask about your options at a branch or wait for a targeted offer to hit your mailbox. Or look to other credit card prequalification options to find the best fit with your spending habits and credit history.
Compare Citi credit cards
You can prequalify for Citi credit cards with a fair credit score, though the best offers — like those for cashback and rewards cards — go to those with good to excellent credit. Narrow down a card that fits your needs, and ask about prequalifying at your local Citi branch.
Images: Shutterstock