Finder is committed to editorial independence. While we receive compensation when you click links to partners, they do not influence our opinions or reviews. Learn how we make money.
How to prequalify for Citi credit cards
Get a better sense of your approval odds.
Prequalification is typically a great idea, no matter which card provider you choose. After completing a quick form, you can see what your odds of approval are for a Citi product. (Citi is a finder.com advertising partner.)
How do I get prequalified for a Citi credit card?
Visit the Citi credit card prequalification page.
Enter your name, address and last four digits of your Social Security number.
Under the Which card benefit? section, select which card benefit matters most to you from the dropdown menu.
Under the Acknowledgement section, click the checkbox to show you understand the terms of Citi's prequalification tool.
Click Get your card offer.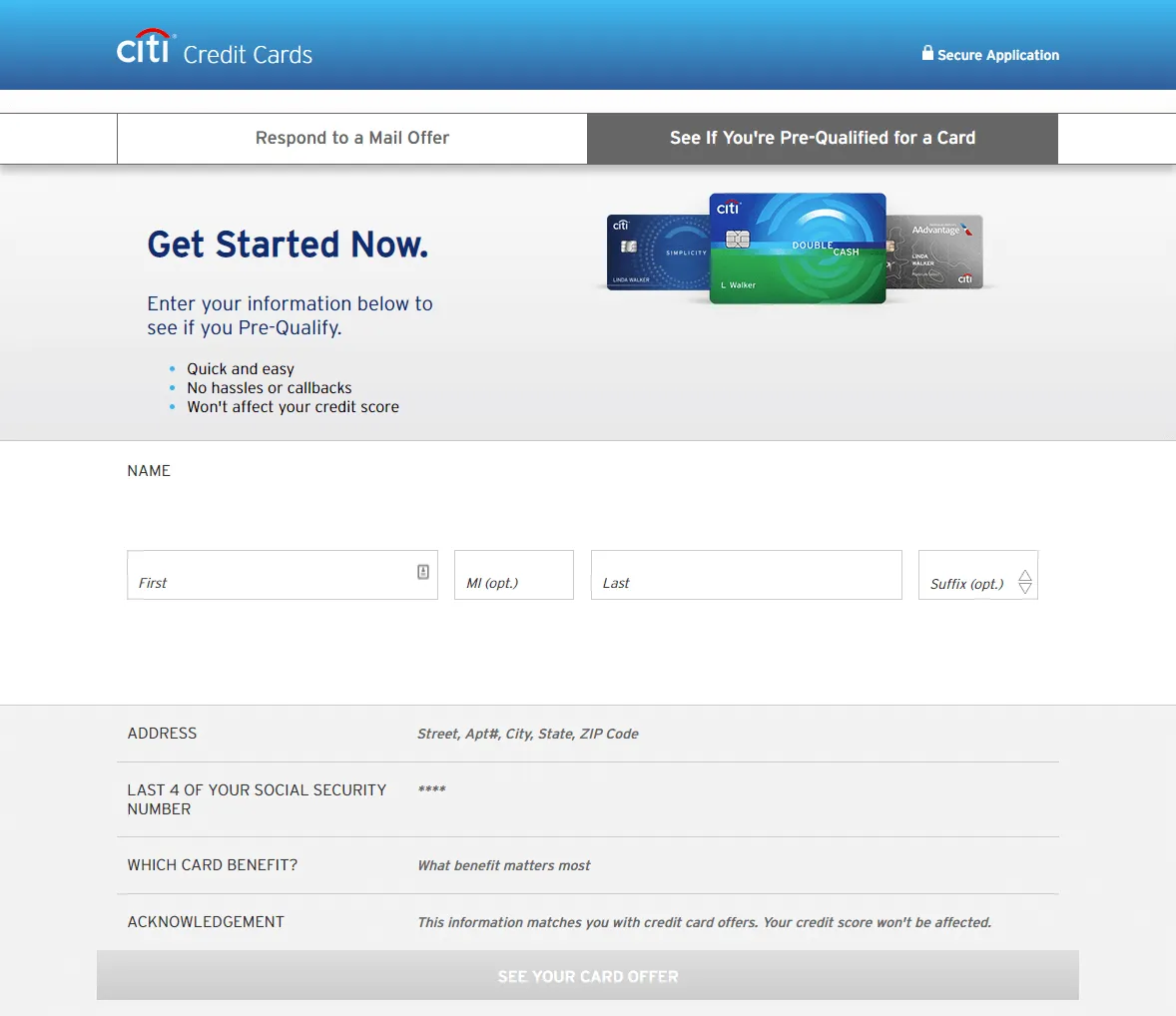 After you submit your information, Citi show you cards that match your credit profile. If there are products available, you can apply for them.
Consider these cards if you're prequalified
What does prequalification mean?
During prequalification, a bank will check your credit through a soft pull. This helps the bank determine whether you qualify for any of its credit cards.
Chances are if you prequalify for a card you have very good chances of being approved — perhaps as high as 80% to 90%.
There's a caveat: Approval is never guaranteed. You may still be denied if your credit profile isn't sufficient. Your annual income may be too low, for example, or your debt too high.
Still, there's little harm in prequalifying. You'll get a better picture of your approval odds before applying, and you might find a card recommendation you didn't expect.
Compare Citi credit cards
What are the benefits of a Citi prequalification?
Strong approval odds.
You're not guaranteed approval, but you'll have a very good shot at getting the card it recommends to you.
See recommended products.
This can help you narrow candidate cards and even see cards you weren't originally searching for.
No obligation.
You don't have to apply for the cards you're prequalified for. You can look for cards from other providers.
No credit score impact.
Citi checks your credit with a soft pull, so you won't lose points from your credit score.
After you apply for a card, your provider will initiate a hard pull on your credit
A soft pull is a background check to see if you're a fit for a bank's products. Though it's a credit check, it won't lower your credit score.
A hard pull is a credit check providers run when you apply for a lending decision — for example, when you apply for a credit card. It temporarily lowers your credit score by a few points.
An occasional hard pull won't lower your credit score by too much. However, avoid several hard pulls within a short time. This is a red flag to lenders, who might see you as desperate for credit.
Bottom line
Getting prequalified is a great idea when you're thinking about applying for a Citi card. If you're not sure a Citi card is right for you, see if you qualify with different providers such as Chase, American Express, or USAA.
Frequently asked questions
Images: Shutterstock
More guides on finder