Finder is committed to editorial independence. While we receive compensation when you click links to partners, they do not influence our opinions or reviews. Learn how we make money.
What is Citi Entertainment
This free perk gets you access to tickets for sporting events and festivals.
Use your card from Citi — a finder.com advertising partner — to purchase presale or preferred tickets. You can even use it to buy VIP packages for live events. However, not all events are included, and some events might limit the number of tickets you can get.
What is Citi Entertainment?
Citi Entertainment, previously called Citi Private Pass, gives you access to presale tickets and exclusive experiences for concerts, sports events, dining when you purchases tickets with your Citi card.
The program offers four ticket types:
Presale.
Citi cardmembers can sometimes get a presale window of around two or three days before the tickets are available to the general public.
Preferred tickets.
Sometimes Citi sets aside tickets for cardmembers and are available for a limited time.
Complimentary tickets.
Reserve complimentary tickets for special events and experiences while they're available.
VIP package.
This ticket package comes with benefits, like premium seats, merchandise, meet the artist or special access within the venue.
Note: Sometimes you could be redirected to LiveNation.com or Ticketmaster.com. If these sites request a passcode, use your first six digits of your Citi credit card unless stated otherwise.
Is Citi Entertainment worth it?
This program comes with all Citi cards. Citi Entertainment is worth it if you often purchase tickets to events and want special access.
Here's an example of events you can access through Citi Entertainment:
Concerts
New York Mets experiences and tickets
Von Miller Football ProCamp
Le Dîner en Blanc – Los Angeles
NYC Autumn Wine and Food Festival
New York Film Festival
Dancing with the Stars tour
New York comedy festival
Stand-up comedy events
Are Citi Preferred Tickets good seats?
Ultimately, this depends on which event you're buying tickets for. Oftentimes, you'll find a mix of seats — some close to the stage, some farther back, such as for these Halsey and Chris Stapleton concerts: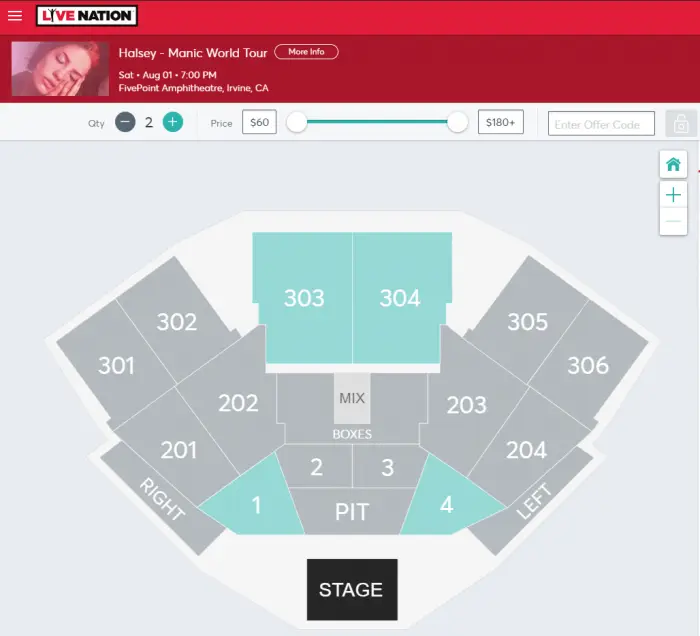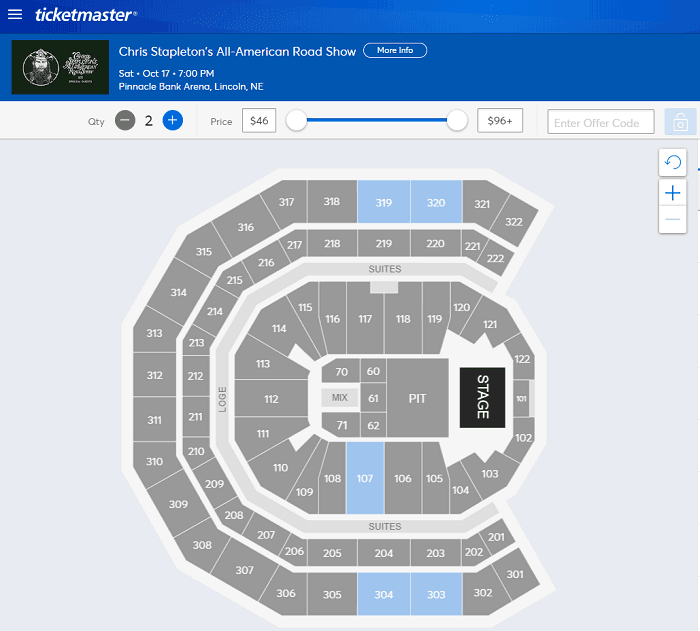 Sometimes, however, you'll find many more seats farther away from the stage, such as for this The Decemberists concert. In this diagram, Citi Preferred seats are in darker blue.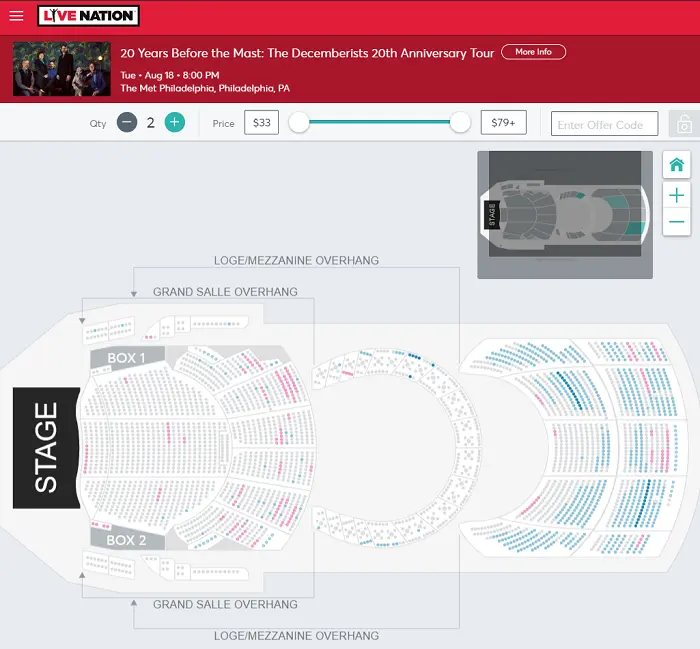 Are Citi Presale tickets worth it?
Citi Presales can often give you access to better seats than you'd find through Citi Preferred. However, you'll need to catch the presale windows, or you might have fewer choices later on.
At these Jeff Dunham and Def Leppard shows, for example, you can find seats throughout the venues using Citi Presale.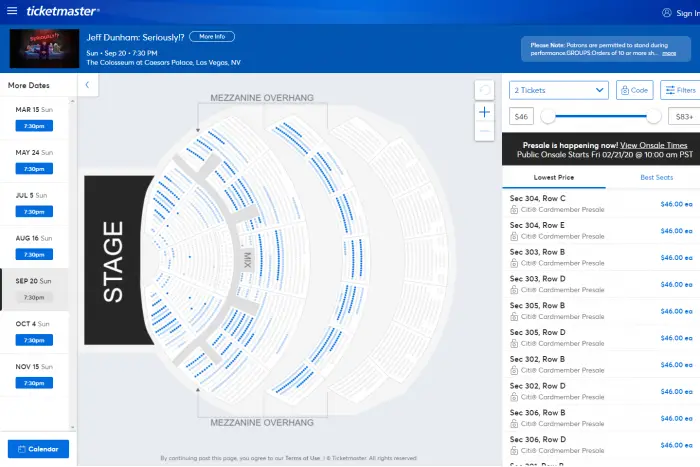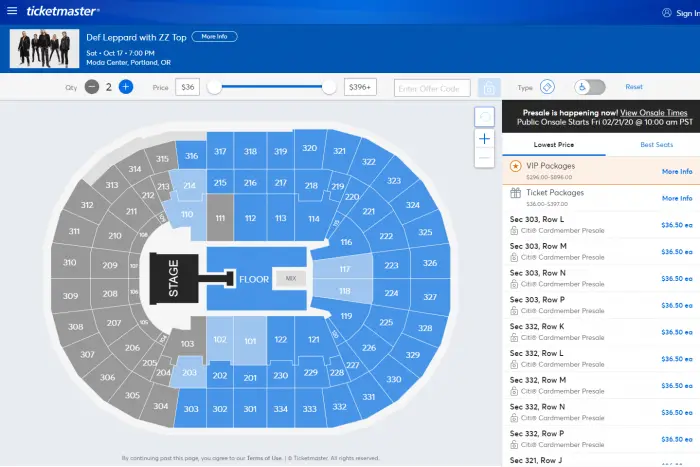 Our pick for a Citi Entertainment card
Compare cards with this perk
All Citi cards come with Citi Entertainment, so compare things like rewards, fees and APRs when deciding on the right card for you.
How does Citi Entertainment work?
To use this program you can:
Visit citientertainment.com.
Look for events that you're interested in.
Use your Citi credit card to purchase tickets.
Case study: Seeing a concert with Citi Entertainment
Let's say you want to find a show through Citi Entertainment for later in the year. Here's how you might go about doing that:
First, visit the Citi Entertainment website.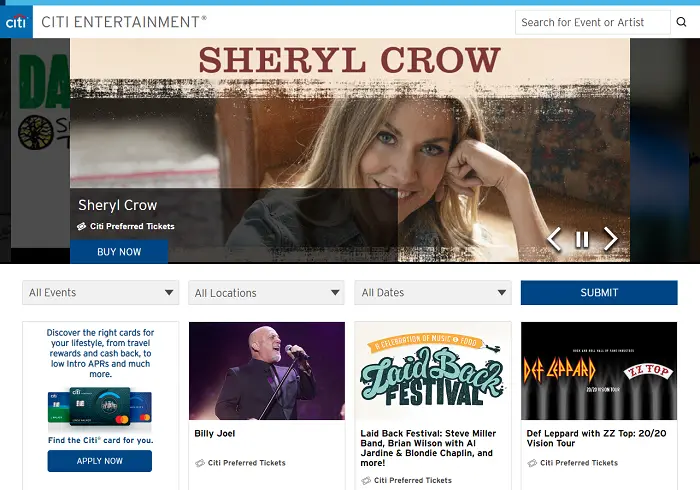 Scroll down to browse the events list. When you find an event you're interested in, click Buy now.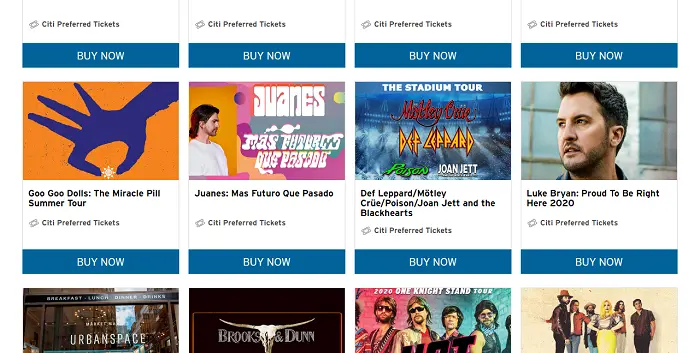 Let's say you want to attend a Goo Goo Dolls concert. On its event page, you'll see a list of dates. Here, there are a variety of events for which you can buy Preferred Tickets.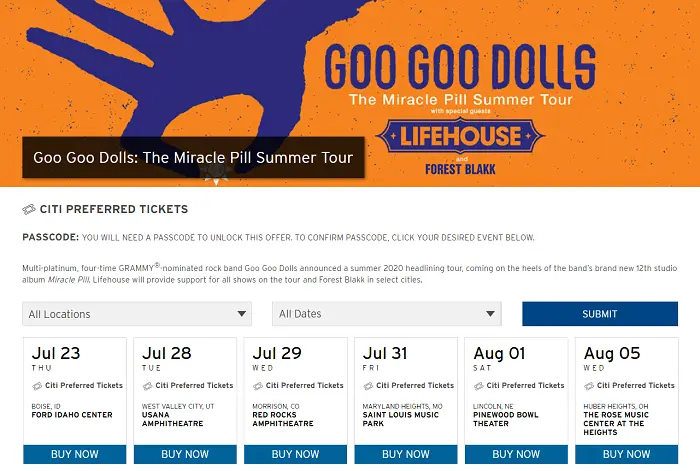 On the ticket sales page, you'll see a filter bar where you can select how many tickets you want, what price point you're looking for and the type of tickets you want. Enter your Offer Code — that is, the first six digits of your Citi credit card.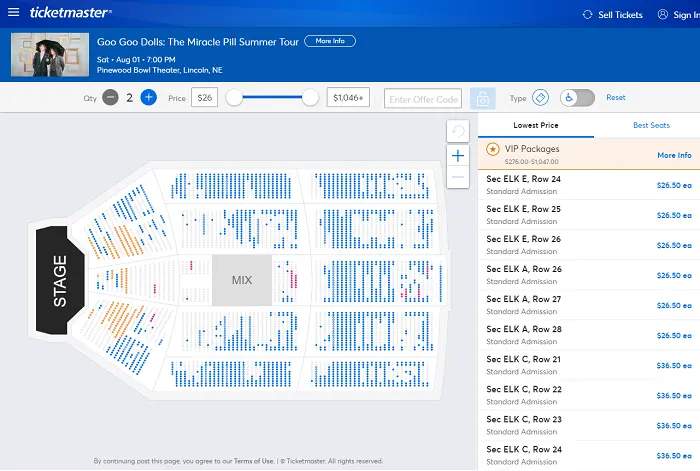 You'll see a message saying Citi Preferred Tickets have been unlocked. On the seat diagram, you'll now see Preferred Ticket seats highlighted in a darker color. You can also scroll through seats in the right-hand section.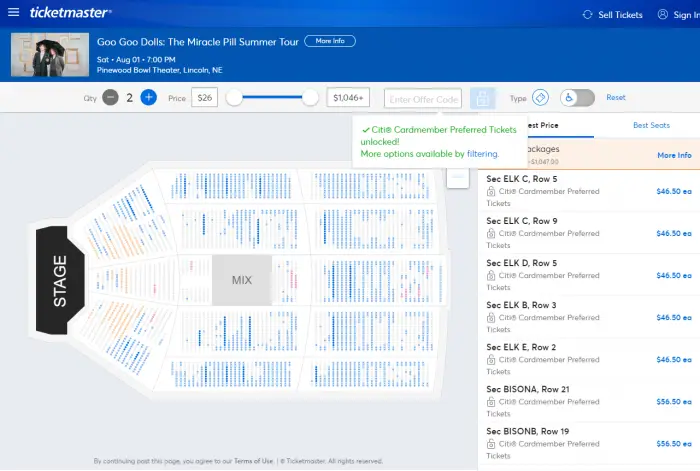 Select the seats you want. You'll see them on the seat diagram, so you can confirm where you'll be sitting during the concert.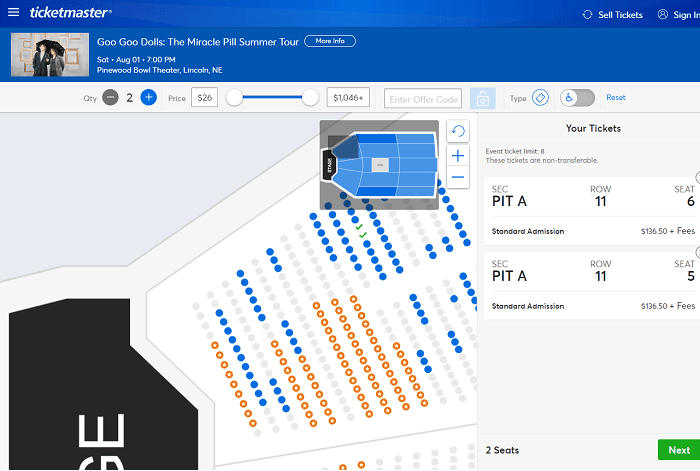 If those are the seats you want, click Next. Then proceed through the checkout process by using your Citi card to purchase the tickets.
Restrictions to watch out for
Getting your tickets via Citi Entertainment comes with some restrictions. Be sure to read the terms and conditions to avoid surprises.
Ticket limits.
Some events limit the number of tickets you can buy.
Events restrictions.
Some events are only available to select Citi credit cards.
Bottom line
The Citi Entertainment program can be a useful perk if you enjoy attending entertainment events and you want to make sure you get tickets on time. Just use your Citi credit card to purchase the tickets.
But if you can't find a Citi credit card that appeals to your needs, compare American Express or Chase credit cards as they also offer an entertainment program.
Frequently asked questions
More guides on Finder