Finder is committed to editorial independence. While we receive compensation when you click links to partners, they do not influence our content.
Christmas market river cruises in Europe
Browse through festive street fairs and participate in holiday traditions.
Imagine: You're sailing down a sparkling river, with castles and silent townships around every bend. Soon you see bright lights and a city overflowing with Christmas cheer. You've arrived at your destination and within it, some of the most traditional Christmas markets on the continent.
It's all part of the Christmas market river cruise experience — enchanting and unforgettable.
Top river cruise companies
Top Christmas market river cruise itineraries 2021
Grand Christmas and New Year's Cruise
Sail south on the Danube, from The Sound of Music locations in Salzburg to Gothic churches and landmark markets along the banks.
Cruise length: 13 days
Countries visited: Three
Cities visited: 10
Check availability
Danube Waltz
Depart from illuminated Budapest, the "Paris of the East," and sail to Bratslava, Vienna, Krems, Linz and Passau.
Cruise length: Eight days
Countries visited: Four
Cities visited: Six
Check availability
Christmastime on the Danube
Kick off with a culinary tour of the Advent Markets, and bookend your cruise with a stroll through Prague's colorful christmas markets.
Cruise length: Nine days
Countries visited: Three
Cities visited: Six
Check availability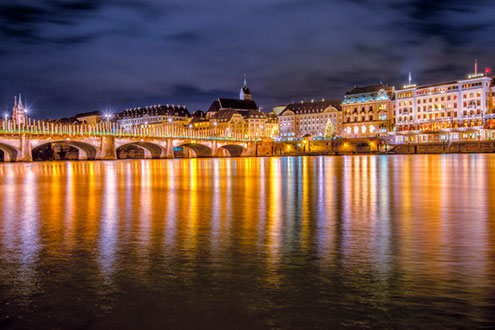 Christmastime from Prague to Basel
Leave from Prague to one of the world's oldest Christmas Market in Nuremberg. Explore Rüdesheim, Breisach and more before docking in Switzerland.
Cruise length: 12 days
Countries visited: Four
Cities visited: Eleven
Check availability
Rhine Christmas Markets
Depart from Cologne, Western Germany's cultural hub, and sail to Mannheim and Mainz, stopping in Strasbourg, France along the way.
Cruise length: Five days
Countries visited: Twwo/li>
Cities visited: Four
Parisian Royal Holiday
The City of Lights is aglow during Christmastime. Go on a festive journey to Versailles, Rouen and Vernon, wandering through markets to ring in Noël.
Cruise length: Eight days
Countries visited: One
Cities visited: Four
European Holiday Markets
From Nuremberg, the Gingerbread Capital of the World, you'll cruise south through Germany and Austria, stopping at enchanting markets along the Danube.
Cruise length: Eight days
Countries visited: Two
Cities visited: Eight
Top cities with Christmas markets to visit
Budapest. Its main Christmas markets are in Vörösmarty Square and beside the Basilica where you can enjoy Hungarian delicacies and unique handcrafted gifts.
Vienna. Christmas markets fill almost every square in central Vienna. Go ice skating in the huge Rathausplatz market and listen to the choirs on Maria-Theresien-Platz.
Nuremberg. Germany's most famous Christmas market, the Nuremberg Christkindlesmarkt dates back at least as far as 1628. The market fills the square with 200 stalls with food, hot mulled wine, traditional crafts and gifts.
Mainz. The market in this historic square is a spectacle of lights, food and music, not to mention the 36-foot high Christmas Pyramid and the life-sized, hand-carved crib figurines standing in front of St. Martin's Cathedral.
See the Top 10 European Christmas Market Tours
Popular Christmas market river cruises routes
The Rhine. The Rhine stretches from the Swiss Alps to the Netherlands, where it flows into the North Sea. Take in the stunning views as you pass cities, villages and castles.
The Danube: Austria and Germany. From Germany's Black Forest all the way to Vienna, Austria, history flows as deep as the river. Pass the remnants of the Habsburg Empire while sampling regional cuisine and beers.
The Danube: Hungary, Slovakia and Austria. This section of the Danube flows from Eastern to Western Europe, and the transition is fascinating. Experience history, landscapes, cultures and architecture from Budapest to Vienna.
Explore Danube and Rhine river cruises
Top deals on Christmas market cruises
Compare flights to Europe
Bottom line
See some of Europe's most shimmering cities all dressed up and decked out for the holidays on a Christmas river cruise. Browse promo codes, coupons and special travel deals to book your overnight boat ride for less.
Frequently asked questions