Finder is committed to editorial independence. While we receive compensation when you click links to partners, they do not influence our content.
How to wrap your Christmas presents creatively
Scrap using the same tired wrapping paper year after year. Here are some great ideas for how to spice things up!
If you've followed our advice and bought all your Christmas presents on Black Friday, you should be expecting some deliveries soon that will need wrapping. After all, once they're wrapped there's far less opportunity for sneaky people to go hunting for their gifts!
Wrapping gifts doesn't have to be a chore, and with these exciting methods, you can definitely breathe a bit of life into your Christmas presents. Surprise your friends and family with your skills!
---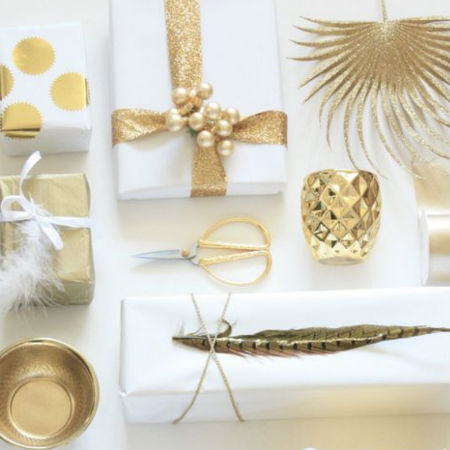 Image: Pinterest
1. Embrace metallics
We all know that red and green are the typical Christmas colors, but don't be afraid to add a sophisticated edge by incorporating silvers and golds. White paper with gold ribbon is gorgeous and gives off a snow-like vibe.
Image: Pinterest
2. A sprig of green
'Tis the season to dig around in the garden for a dash of extra greenery! Holly, pine, and rosemary are great accessories for a ribbon-encased gift, or if you're feeling particularly daring you could wrap your sweetheart's gift with a sprig of mistletoe – you never know what kind of luck that might bring!
Image: Pinterest
3. Wrap using book pages
Now, we know that it might feel wrong to tear your books apart, but if you head to a secondhand bookstore you can pick up an old copy that won't break your heart to dismantle. This is perfect for book lovers, and you can even customize the gift by choosing pages from a book that means a lot to your recipient!
Image: Pinterest
4. Incorporate your decorations
Who said that tinsel and ornaments were just for the tree? We like to operate under the guideline "go hard or go home", so we're all for incorporating your tree decorations onto your gift wrapping. Whether it's using tinsel or fairy lights instead of ribbon – or even just adding a little bell – it's bound to impress.
Image: Pinterest
5. Use brown paper and twine
Sound of Music fans will already know: brown paper packages tied up with string are definitely one of our favorite things! You'd be surprised how effective and rustic-looking it can be to wrap your gifts with twine and brown paper. It's the simple touch that will make the gift inside seem all the more exciting!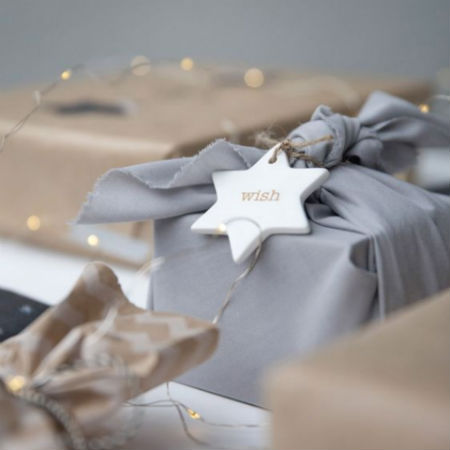 Image: Pinterest
6. Experiment with cloth
Paper wrap is definitely not your only option. Using cloth means not only can you use funky patterns and exciting prints, but you can also transform the gifts into makeshift Santa sacks that add an extra element of Christmas fun to the unwrapping process.
Image: Pinterest
7. Wrap travel gifts in a map
Got visitors coming from overseas this Christmas? Wrap your gifts fo them in a cute little map. The colors make for interesting patterns and frankly it could totally be functional afterward if they're careful with the unwrapping!
Even better if the gift inside is travel related!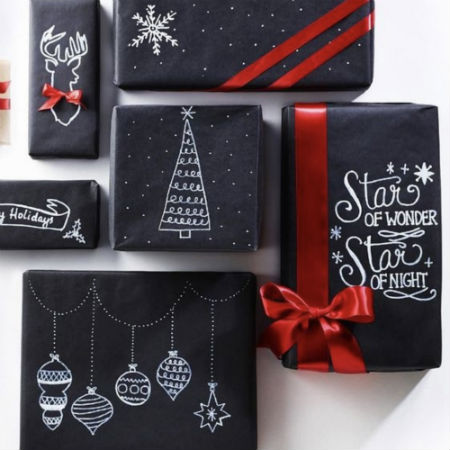 Image: Pinterest
8. Contrast with black paper and white markers
Think chalkboard chic – black paper with white or silver markers is a really cool effect that will be extra eye-catching under the tree. Some people shy away from black paper because it's not as jazzy or exciting, but to those people, we say: not a chance! You can easily draw on and decorate the gift for fun.
Image: Pinterest
9. Sing the praises of sheet music
Musicians and Christmas lovers alike will love this method of wrapping your gifts. For an extra-joyous effect, use Christmas carol sheet music to wrap it in and then you can even have a cute family/friends sing-along after the presents have all been handed out!
Image: Pinterest
10. Go wild with Washi tape
Anyone who's ever done craft of any kind knows that Washi tape is a miracle piece of equipment that hides all manner of sins.
Not great at the actual wrapping part? No matter! Cover the package in decorative Washi tape and we guarantee the package will stay together AND look awesome.
Image: Pinterest
11. Sew up the packages
This one might require a little extra DIY know-how, but if you're a secret sewing savant you'll totally have this covered. Using a solid cardboard or even just a firm fabric, cut out your desired shape (stars and stockings are easiest) and pop your goodies in the center. Sew around the edges of the material, sealing up the present and making it all the more intriguing underneath the Christmas tree!
Image: Pinterest
12. Turn them into reindeer
If you really want to get into the Christmas spirit, then turning your presents into reindeer is actually really simple and cute. We've all seen those googly eyes at the shops, and all you need is some red and brown colored cardboard to cut out the nose and antlers. You can even name them after Santa's reindeer if you have enough! Dasher, Prancer, Dancer, Vixen, Comet, Cupid, Donner, Blitzen, and Rudolph!