Finder is committed to editorial independence. While we receive compensation when you click links to partners, they do not influence our opinions or reviews. Learn how we make money.
Find the perfect credit card for Christmas shopping
Get rewards on spending, 0% APR and more when you Christmas shop.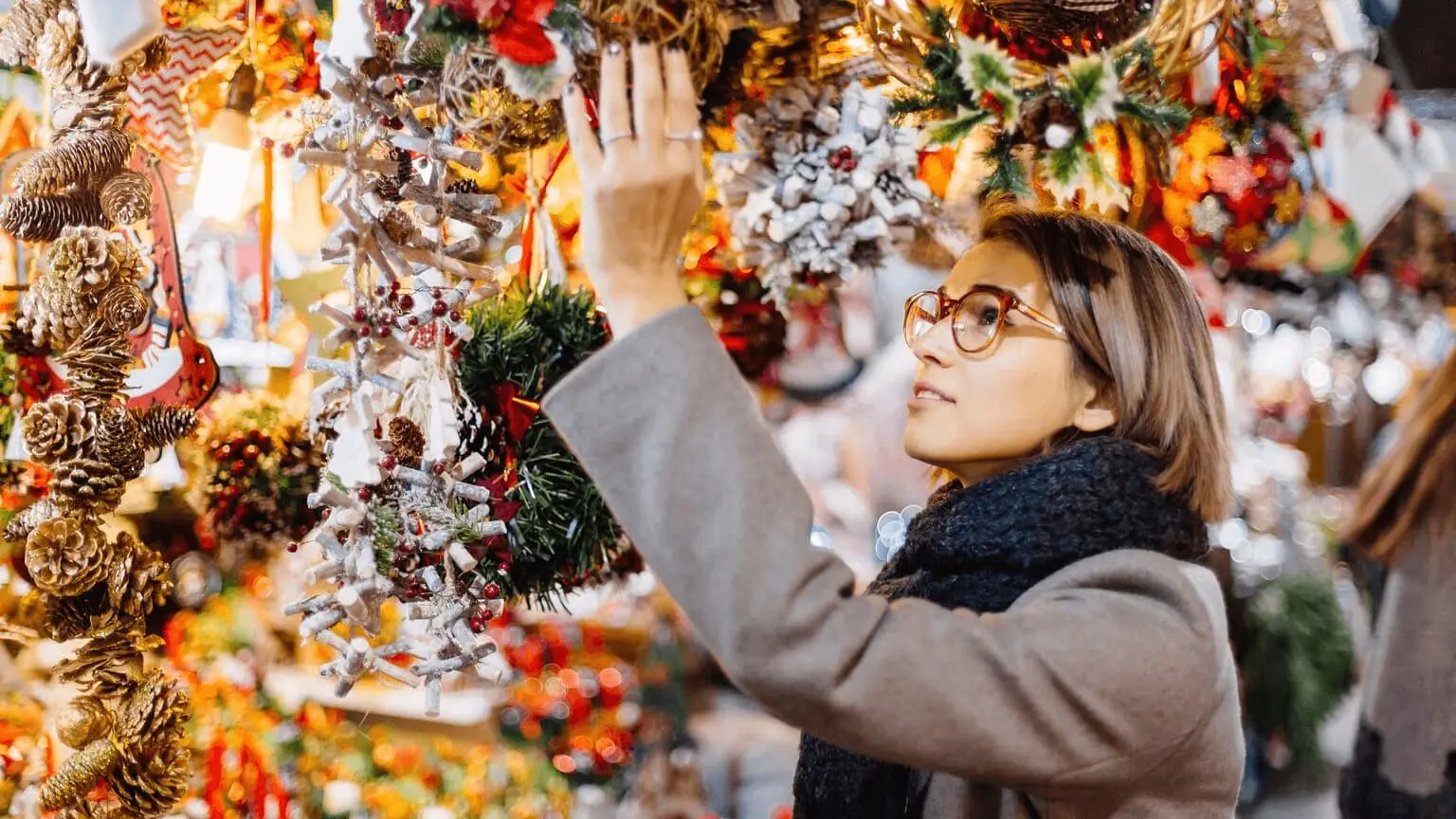 Christmas is the season for giving. It's also when many of us turn to credit cards to pay for gifts, food and everything needed for this special time of year with family and friends.
What if you took control of your Christmas spending before it got out of hand? It's simple to do — and it starts with knowing your options.
Best credit cards for Christmas shopping
Best holiday card for welcome offer: The Platinum Card® from American Express
There's no better time to pick up a credit card with a welcome offer than the holiday season. Not only are you likely to quickly meet a card's spending requirements, your point windfall can be put to use for additional gifts.
The Platinum Card® from American Express is our pick for a holiday card with a welcome offer. This card offers a lucrative welcome offer of 60,000 Membership Rewards points for spending $5,000 in purchases in the first 3 months of account opening. Under most circumstances, this is a relatively large figure to reach. But your holiday travel and gifts are a perfect opportunity to knock out most or all of this requirement.
Best holiday card with 0% intro APR: Blue Cash Everyday® Card from American Express
You can save on interest with a card that offers 0% APR on your purchases for the first 12 to 15 months after you open your account. With these cards, you get up to a year to repay your holiday spending without unnecessary interest on your purchases. At the end of your intro, any debt remaining on the card accrues interest at a higher revert rate. These cards offer a great way to stretch out a thin holiday wallet, provided you pay off your purchases before the end of your intro APR.
Our pick for a holiday 0% intro APR credit card is the Blue Cash Everyday® Card from American Express (see rates & fees). Not only will you enjoy a 15 months 0% intro APR followed by a variable APR of 13.99% to 23.99%, but you can earn above-average cashback rewards at US supermarkets, US gas stations and US select department stores.
Best holiday card for dining out: Capital One® Savor® Cash Rewards Credit Card
If you plan to treat visiting friends and family to scrumptious feasts outside the home this holiday season, consider a card that rewards you for dining where you live and on the road. Look for rewards rates of or more on fine dining, fast food, coffee and treats — even food trucks.
Best of all, Epicureans who spend a lot eating out can earn cash back and benefits well beyond the Christmas season.
Our pick for holiday dining card is the Capital One® Savor® Cash Rewards Credit Card credit card. This card earns an excellent unlimited 4% cash back on dining and entertainment purchases. This card also comes with a few travel perks, such as no foreign transaction fees and travel insurance, making it a great choice if you also plan on traveling to meet your loved ones for the holidays.
Best holiday card for everyday purchases: Blue Cash Preferred® Card from American Express
If you expect to host plenty of Christmas gatherings this year, consider a grocery reward card. Many cards are designed to offer exceptional rewards on food and supplies you purchase at grocery stores. What's more, these everyday cards are useful for more than the holiday season: They pay those same dividends over the rest of the year.
The Blue Cash Preferred® Card from American Express makes our list once again, this time for everyday purchases. This card has one of the biggest cashback rates on groceries around. You'll earn 6% at US supermarkets on up to $6,000 per year before reverting to 1% cashback. And new this year is 6% cashback on select streaming services — perfect for when your family gathers to stream the burning of the yule log.
Best holiday card with no foreign transaction fees: Hilton Honors American Express Card
Traveling abroad for the holidays — or have somebody on your list with a taste for overseas goods? A card that waives foreign transaction fees might help you keep your Christmas costs down. These fees can equal 2% to 3% of your transaction.
Our pick for a holiday credit card with no foreign transaction fees is the Hilton Honors American Express Card (see rates & fees). On top of no foreign transaction fees, you can earn 75,000 Hilton Honors points when you spend $1,000 in eligible purchases within the first 3 months. You'll also earn additional points on eligible categories. This makes it a great value card if you're traveling abroad for the holidays and stay at Hilton hotels.
Best holiday cashback card: Citi® Double Cash Card
With a cashback or travel credit card, you can turn your holiday gift purchases into a vacation trip or a little extra cash in your wallet. Our pick for a holiday cashback card is the Citi® Double Cash Card. You'll get 1% cashback on all holiday purchases and another 1% cashback when you pay it off. This makes it a great option if you never know just what sort of gifts you'll be purchasing this year.
Best holiday card for balance transfers: HSBC Gold Mastercard® credit card
If your Christmas wish is to better manage your debt in the new year, start your search for a balance transfer card.
It's no surprise the holiday season can lead to a fair amount of debt. Applying for a balance transfer card can let you transfer over your Christmas spending and any other eligible debts and let you pay them off without accumulating interest over a set period.
Our pick for a holiday balance transfer credit card is the HSBC Gold Mastercard® credit card. This card sports one of the longest 0% intro APRs on purchases and balance transfers available at a hearty 18 months. After the intro period, you'll have a variable APR of 13.99% to 23.99%.
Best holiday credit card for poor credit: Credit One Bank® Unsecured Visa® for Rebuilding Credit
While you might not have the best credit card options available to you if you have poor credit, there are still credit cards out there that can help you earn back a little on your holiday shopping.
Our pick for holiday credit card is the Credit One Bank® Unsecured Visa® for Rebuilding Credit. This credit-building card earns 1% cash back on eligible purchases, pending Credit One's discretion. While these categories may not necessarily include the gifts you intend to buy for Christmas, they can include gas, groceries and other necessities you'll need throughout the holiday month.
Quick look: Best Christmas credit cards
How we selected our top cards
When choosing this year's top Christmas credit cards, we compared a number of factors potentially important to Christmas consumers, including balance transfer opportunities, introductory APRs, annual fees, welcome offers and any additional rewards or perks offered. We highlighted cards that stood out in one or more of these categories.
What's changed in 2020
The Capital One® Savor® Cash Rewards Credit Card joined the list this year thanks to a serving as a great way to earn rewards during your holiday festivities and travel, including a more than solid 4% back on dining. It's joined by the HSBC Gold Mastercard® credit card, which offers a terrific 0% APR introductory period for those who need to carry a holiday balance.
See card offers matched to your credit
See Rates & Fees
Should I apply for a new credit card for Christmas?
First, re-evaluate your existing credit cards. Do they provide the tools you need for your upcoming Christmas shopping? If not, here's what to consider:
Do you want to pay off your purchases over time? If your current credit card doesn't have an intro APR period on purchases, consider applying for a card that does. As an alternative, you can use your current credit card to make large purchases and later apply for a balance transfer card. Once you move your balance to your new card, you can enjoy an interest-free period to pay off your debt.
Do you want to earn rewards? If your current cards don't have a rewards program, now is the time to consider applying for such a card. If you intend to use your card for everyday purchases, a cashback card would be a good choice; if you travel often, a travel credit card should be at the top of your list.
Have you cleared the signup bonus? If you have already earned the signup bonus on your current credit card, now you have the chance to do it again with your new card. You'll rarely find a time of the year where it's easier to hit the spending limits required for signup bonuses and earn extra rewards than during Christmas.
When should I apply for a Christmas credit card?
Generally, you should apply for your Christmas credit card when you intend to do the bulk of your shopping. Here are a few factors to consider:
Signup bonus periods. Most credit cards require you to meet the spending requirements for a signup bonus within a few months of opening your account. This means if you plan on shopping early in the year, you'll want to apply appropriately.
Earning bonuses. Some rewards cards have a revolving selection of bonus categories throughout the year. The Chase Freedom, for example, rotates to several stores common for Christmas shopping during the last quarter of the year.
Application time. Depending on the issuer, it can take up to 10 days to find out if you've been approved for your card. Generally, you can expect to receive your credit card 7 to 10 business days after approval.
How to use a credit card for Christmas shopping
Get the most out of your credit card this Christmas by taking advantage of your interest-free grace period. Nearly every credit card offers a grace period on your spending that can give you time to pay off what you owe without putting a penny toward interest.
With most cards, you qualify for the grace period only if you've paid your statement in full for the previous month. To take advantage of your grace period for holiday spending, plan to pay off any balance due on your card by November.
After that, use your card to pay for gifts, food and other holiday-related needs throughout December. Those purchases will likely qualify for your card's interest grace period and, after your December billing cycle closes, you'll have 20 days or more to pay off your new balance before interest accrues.
Learn more about your credit card's interest grace period by reading the terms and conditions, looking for a section like:


How does credit card interest work?
How do I compare Christmas credit card offers?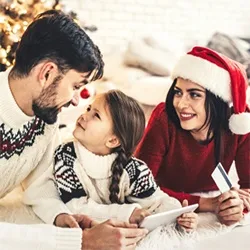 Weigh key details of your credit card options, such as:
Intro APRs. Many cards offer an intro 0% APR on purchases, balance transfers or both. Note how long the intro offer lasts so you know how long you can wait to repay your debt without interest.
Interest rates. Confirm each card's typical interest rates for purchases and balance transfers. These rates apply as soon as any 0% APR periods end — and could add a lot to your credit card bill if you're carrying a balance. This is important to know if you don't think you'll be able to pay off your holiday spending in full by the end of the intro period.
Annual fee. You can pay as low as $0 and as high as a few hundred dollars a year to use your card. Some cards reduce or waive your annual fee altogether for the first year.
Signup bonus. Many cards offer enticing bonuses just for signing up. These extra miles, points or cash back could mean hundreds of dollars for the holidays, if you qualify. Confirm the offer requirements, as you may need to spend a set amount in the first few months before you can get your bonus.
Earned rewards. When evaluating a rewards card, look at the cash back, points or miles you'll earn for each dollar spent. Learn about any caps on rewards or spending, and browse the provider's site to learn when and how you can redeem your rewards.
The extras. Complimentary travel insurance, extended warranties, airport lounge access and concierge services can help you get more value from your card. Think carefully about whether you'll use them, and weigh them against any annual fee or other costs.
Is it worth using after Christmas? While you'll be using this card during the Christmas shopping season, is it a card you would consider using afterward? For example, are the rewards rates good year-round and do they align with your spending habits? Or will you use the reward points in the future?
Ideas for managing holiday credit card debt
Keep the warm, fuzzy spirit of Christmas alive well into the new year with tips to staying on top of your spending and budget.
Make large payments right away. Especially helpful if you have a 0% APR period, paying off as much as you can each month reduces the balance that accrues interest after your intro rate ends.
Set goals you can reach. It can take only a month or two to land into holiday debt, but it can take longer to get out. Create a budget to schedule consistent payments to get you back on your feet quickly.
Bottom line
A new credit card can help you get through the holidays. But before you apply, consider what you're looking for — whether that's cash back, a low-interest intro period, no foreign transaction fees, no annual fee or other rewards.
Compare your credit card options to narrow down the right card to guide you through the yuletide season.
Frequently asked questions
Back to top