Here's what you need if you're joining a protest
Resources and supplies to help you speak up peacefully and safely.
Protests against racism and police brutality following the death of George Floyd have spread from coast to coast. As unrest grows and the COVID-19 pandemic rages on, take measures to protect yourself when joining the fight.
How to maintain social distancing and other precautions
In close quarters with other protesters, social distancing becomes impossible to follow. Wearing a N95 or KN95 respirator may provide the most effective protection from the spread of disease. But if you're unable to locate one, a cloth mask or disposable mask offers protection.
During the protest, take time to sanitize your hands frequently. Minimize touching your face or wiping your eyes or nose. And avoid hugging or shaking hands with friends or other protestors.
To keep from removing your mask to shout your support, consider carrying a sign that can speak for you or bring along a whistle, drum or other noisemaker.
What to wear and carry for safety
Protect yourself and stay healthy by keeping these items on you or in a hands-free bag:
Personal protective equipment (PPE) like face shields and face masks
Sunglasses, goggles or a similar barrier to protect your eyes
Earplugs or other protection against noise
A hat to protect from the sun and potential projectiles or chemicals
A handkerchief or multipurpose scarf to cover your face or help with cleanup
A set of gloves, hand sanitizer or wipes to keep your hands and surfaces clean
A first-aid kit that includes bandages, gauze pads, scissors, tweezers, water and saline
Durable clothing and shoes, along with a change of shirt and pants
Snacks, fruit and a bottle of water
A day's worth of prescriptions and pain-relief tablets
A smartphone with a working camera
Emergency cash and your ID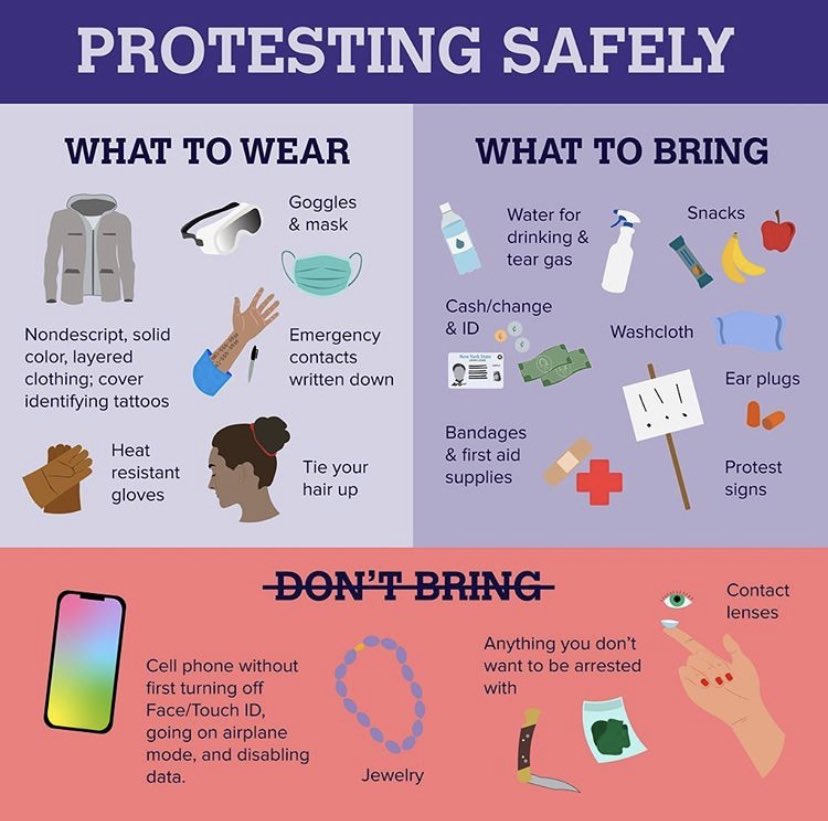 After the protests
Take a shower and wash your clothes once home. Leave your shoes at the door, wiping them down later when you can.
Health officials in Minneapolis, Philadelphia and many other cities urge protestors and anybody involved in cleanup to seek out a COVID-19 test within five to seven days of the event, even if you aren't experiencing symptoms. If you do begin feeling ill, visit a doctor or clinic immediately for a test — and do not participate in other protests.
Until you hear otherwise, experts say it's a good idea to assume infection and take precautions to avoid exposing others by self-quarantining for 14 days after your last march.
Resources for protestors
These organizations offer resources and support for citizens exercising the First Amendment:
Photo credit: Getty Images and AOC Team