Major changes are coming to federal student loan servicing. Here's what to expect.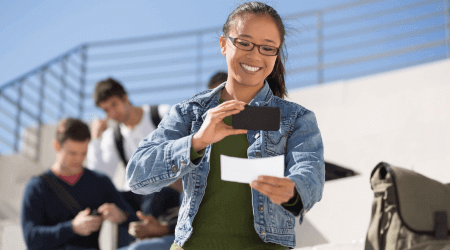 Only five companies will handle repayments on one centralized platform. Here's what you need to know.
The company you're paying back your student loan to may be changing, as well as the website you log in to in order to manage your student loan payments, all thanks to new contracts between the Department of Education's office of Federal Student Aid (FSA) and five servicing companies that were announced on Wednesday. FSA also announced it will launch a new central loan processing platform to handle all student loan repayments.
The federal government renewed contracts for Edfinancial Services, Missouri Higher Education Loan Authority (MOHELA), Maximus Federal Services (also known as Default Resolution Group), Trellis Company and F.H. Cann & Associates.
It did not renew contracts with servicers like Nelnet, Great Lakes, Navient and FedLoan.
The changes will hopefully make it easier for borrowers to find their servicer. And it will likely make it easier for the government to regulate the companies that handle student loan repayments.
"This is another major step toward our commitment to improving customer service and holding our contractors accountable for their performance," US Secretary of Education Betsy DeVos said in a statement. "Students, parents, borrowers and schools deserve a world-class experience when dealing with FSA, and I'm confident that FSA has hired the companies with the knowledge, experience and expertise to deliver that."
But some servicers disagreed with the department's decision.
"We are frustrated and disappointed by this decision and the lack of transparency in the process and will pursue every legal avenue available to ensure that students have the high-quality service they've come to expect from us," Nelnet CEO Jeff Noordhoek said in a statement. "The federal student loan program is very complicated to administer, and to simply throw away the training and experience of Nelnet, Great Lakes and our dedicated associates is a recipe for an implementation disaster that will negatively impact borrowers."
But even if Nelnet is able to successfully sue the Department of Education, all federal student loan borrowers can expect to see some changes in the near future.
More training for better service
In addition to launching a new platform, FSA will provide contact center training and help make sure that all servicers are up to date on FSA programs.
All new contracts include 41 agreements to help hold the servicers more accountable, according to an FSA statement. This includes taking steps to ensure that it only takes one call or email to resolve an issue.
Many federal student loan borrowers have run into problems trying to resolve an issue with their student loan servicer. In fact, some 70% of complaints against federal servicers involved issues dealing with a student loan servicer, according to a 2019 Consumer Financial Protection Bureau report.
The majority of these complaints went to companies that did not have their contracts renewed — namely Navient, American Educational Services and Nelnet. But nearly all servicers have received complaints about customer service.
Will my servicer change?
Not necessarily. If your current servicer had a renewed contract, it's likely that it'll continue to handle your student loan repayments.
But if the Department of Education didn't renew your servicer's contract, your student loan will be transferred to a new servicer. This means that you'll make repayments to a different company.
The Department of Education didn't specify when or how these new changes would be implemented. But usually servicers reach out to new customers over the phone or by mail or email once when they take over the loan.
Once you know who your servicer is, you'll likely need to link to your bank account and re-enroll in autopay. But you'll have until September 30, 2020, to do so — the Coronavirus Aid, Relief, and Economic Security Act suspended all repayments until that date.
What about the new platform?
The launch of a new centralized service platform means that all borrowers will be able to go to one place to make repayments and adjustments to their repayment plans. It also means that you won't be able to use your servicer's website.
The idea of having one new platform is to make it easier for all borrowers to reach out online. Some smaller servicers have limited online capabilities. This makes it particularly difficult to get in touch during a pandemic, when customer service lines are frequently overwhelmed.
A centralized service platform will standardize this experience. All borrowers should be able to reach out to their new servicer. You'll be able to get in touch by email, phone, live chat, mail and even social media.
What steps should I take now?
Massive overhauls like this unfortunately can have hiccups. In this case, it could mean losing important records of your student loan repayments and incorrect reporting.
While you're still able to log in to your current account, print out all important information relating to your student loans. This can include payment history records and any correspondence with your current servicer. Have it on hand, in case you need to correct any errors.
If you do need to get in touch, try to stick to written correspondence, like email or live chat. Most servicers have notifications on their websites warning borrowers that customer service lines are busier than usual due to COVID-19. As the servicers adjust to this new system and bring on more borrowers, it may be more difficult to reach out.
How will this affect PSLF?
All borrowers who have signed up for Public Service Loan Forgiveness (PSLF) will have a new servicer. FedLoan Servicing, which currently handles PSLF applications, didn't get a renewed contract.
The Department of Education hasn't specified which servicer will handle the popular loan forgiveness program yet. But you should receive an email, phone call or letter in the mail notifying you when your servicer changes.
Hopefully, the centralized platform and efforts to keep servicers up to date will make it easier to get approved for this program. Some 99% of the first round of applicants were rejected, many because they received incorrect information from their servicers.
Photo: Getty Images