Finder is committed to editorial independence. While we receive compensation when you click links to partners, they do not influence our content.
Netflix during isolation: How to keep watching with friends and family
This Chrome extension enables you to watch Netflix with loved ones even when social distancing.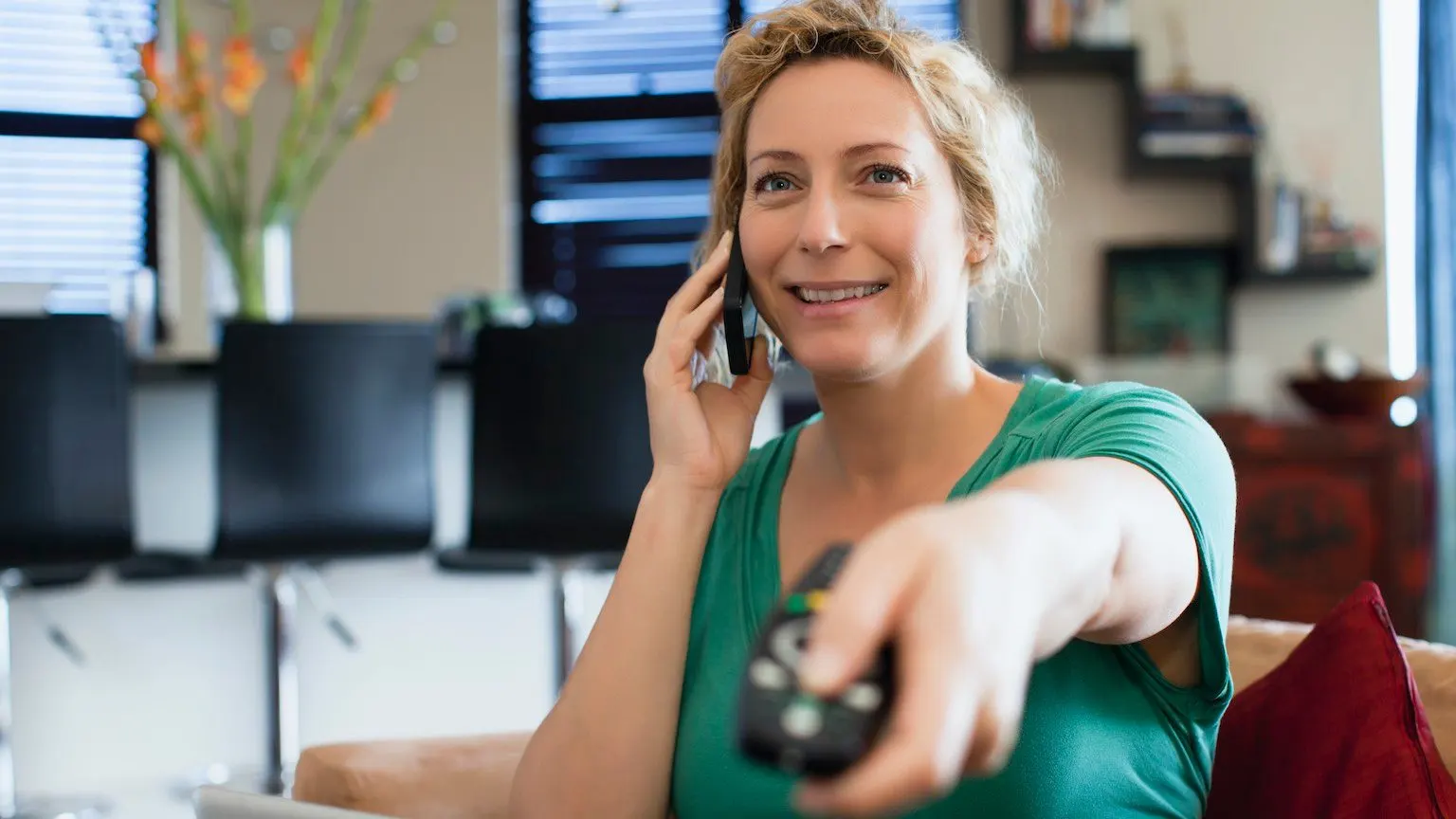 With the world going through the coronavirus pandemic, social distancing has become the new normal. Everyone is advised to stay in as much as possible, events are cancelled and more people than ever are working from home. This is a good thing since prevention is key when it comes to stopping the virus from wreaking even more havoc. However, it also makes keeping in touch with loved ones challenging.
That's where Netflix Party comes in. The Chrome extension has been around for a while but is currently enjoying a surge in popularity thanks to a now-viral tweet. It's easy to see why, because it lets you host virtual watch parties with friends and family, so it's a useful tool to rely on when everyone is stuck in their homes.
The idea behind Netflix Party is pretty straightforward. The extension synchronises video playback and adds group chat to your favourite Netflix content. In other words, you no longer have to worry about mistimed cues.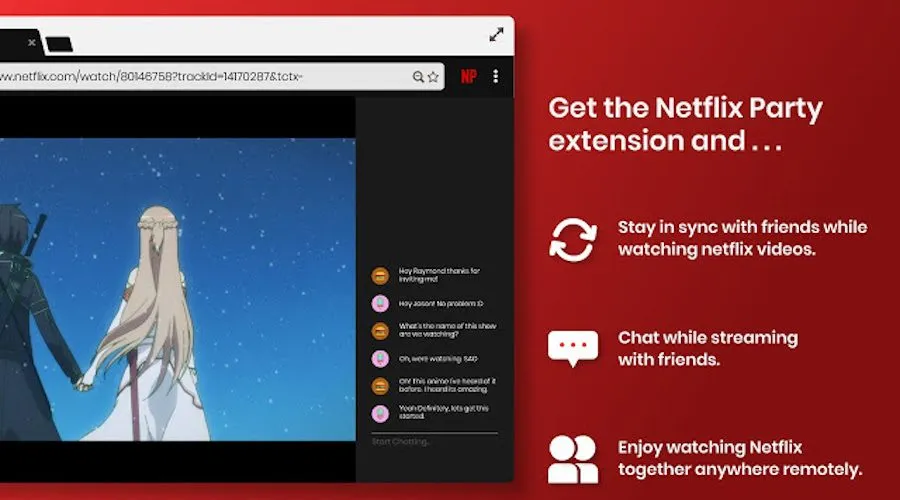 As someone who previously tried to watch movies with friends over the phone, I know how difficult it can be to synchronise streams and make sure you pause at the exact same time when someone needs to use the bathroom. No more. Netflix Party does all the heavy lifting for you.
How to install Netflix Party
In order to enjoy the perks of Netflix Party, you need a Chrome web browser. Additionally, everyone you invite to join your watch party needs to have their own Netflix account – or, at least, access to a Netflix account. Here's how to get started:
Step 1. Go to the extension's page in the Chrome store. You can also access NetflixParty.com and click on "Install Netflix Party".
Step 2. Select "Add to Chrome" then "Add Extension" in the pop-up window. The extension will install and you'll be able to see the Netflix Party icon in the toolbar.
Step 3. Go to Netflix, find something to watch and click on the Netflix Party icon in the toolbar.
Step 4. You will receive a unique link you have to copy and send to everyone you want to join your virtual watch party. This is also when you decide if you're the only one who wants control over the stream or if you're willing to enable everyone to pause or skip around.
Step 5. Once people join, you can all chat in a window that appears on the right side of the screen. You can click on the icon in the top right to set a nickname for yourself.
Step 6. Sit back and enjoy. Once you pause the video, it will pause for everyone. The same goes if you skip around. They will see what you see.
If you function better with visual aids, this TikTok does a great job at explaining how the Netflix Party Chrome extension works.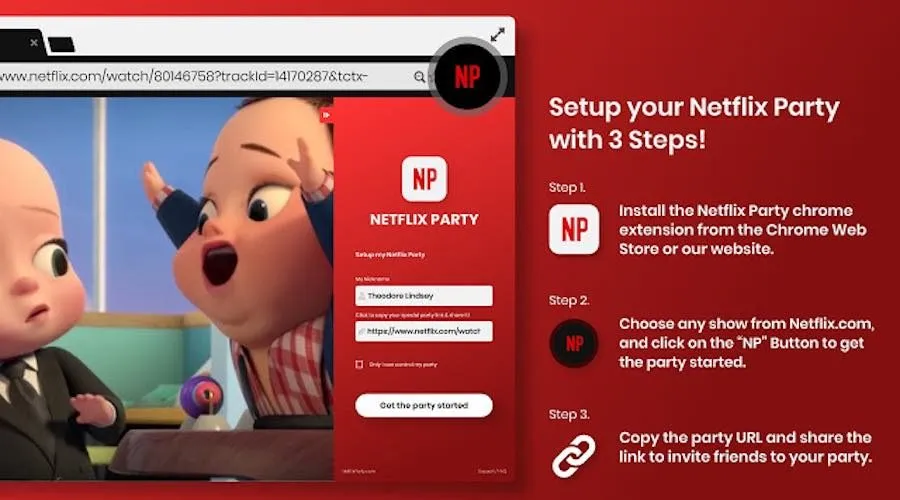 When should I use Netflix Party?
Whenever you want. Or, more exactly, whenever you and the people you want to watch stuff with are free.
While Netflix Party is a brilliant tool for anyone currently self-isolating due to the coronavirus pandemic, it's useful to have around in general as well. It should appeal to people in long-distance relationships or with loved ones who aren't close by. It helps you stay social even if you can't or don't feel like leaving the house.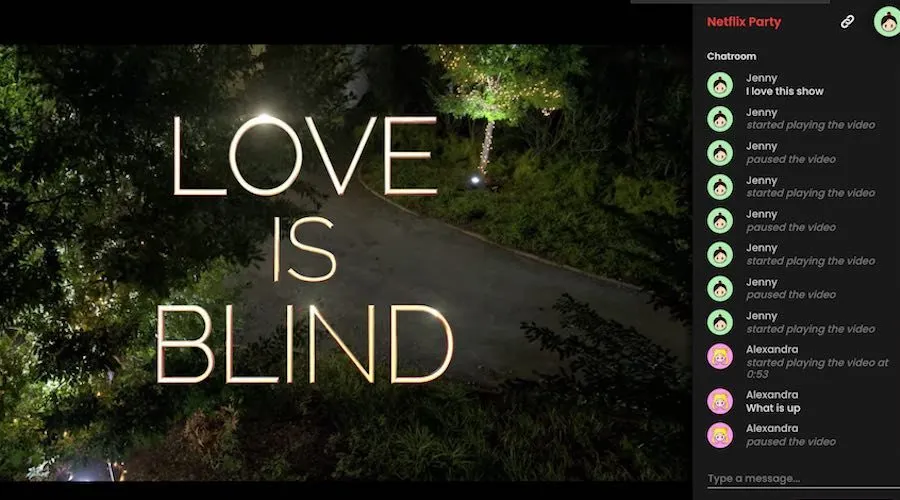 As amazing as streaming services are, their popularity also makes it so that nobody watches shows and movies at the same time. With few exceptions, appointment television isn't really a thing anymore. When you chat about a new show, you have to check everyone's progress on it to avoid spoilers.
Netflix Party lets you make television a social pursuit again. It doesn't beat having loved ones over to watch something together, but it's the next best thing.
What should I watch with Netflix Party?
Ideally, you should discuss this with the other watch party guests in advance to avoid wasting time once said party kicks off. That being said, we recommend you start with our lists for TV shows on Netflix or catch up with Netflix's original movies.
Subscriptions to Netflix in Switzerland start at CHF 11.90 per month. You can also check out Disney+, which has just launched in Switzerland.
Image source: Getty
More guides on Finder