It just got easier to take out a payday loan you can't afford. Here's how to protect yourself.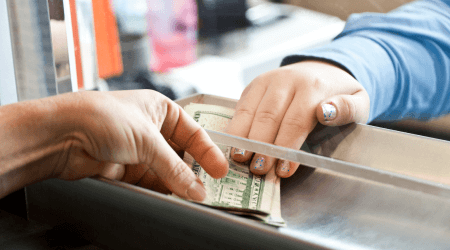 Just because you can get a loan without proof of income doesn't mean you should.
The Consumer Financial Protection Bureau (CFPB) announced on Tuesday that it will no longer require short-term lenders to ask for proof of income on applications.
The CFPB revoked a 2017 rule that stated payday and other short-term lenders must verify a borrower's income on short-term loan applications. It said there wasn't enough of a legal basis or other evidence to support keeping it in effect.
And it claimed that the move was intended to make short-term loans more widely available to consumers, especially in light of the coronavirus outbreak.
"A vibrant and well-functioning financial marketplace is important for consumers to access the financial products they need and ensure they are protected," CFPB Director Kathleen L. Kraninger said in a statement. "Our actions today ensure that consumers have access to credit from a competitive marketplace, have the best information to make informed financial decisions and retain key protections without hindering that access."
What this mean for you
This means that getting approved for a payday loan may have gotten a lot easier — if you live in a state where they're legal. But so did getting caught in a cycle of debt.
Payday loan renewals and the cycle of debt
Most payday loans are designed to be a last-resort option when you have an emergency expense — like repairing a car you need to get to work. You agree to repay the loan, plus a fee of around $10 to $15 per $100 you borrow when you get your next paycheck.
While this is expensive, the upfront fee is not where the real cost of payday loans lie. But a 2014 CFPB study found that some 80% of borrowers roll over the loan within 14 days of borrowing.
Also known as renewing a payday loan, rolling over gives you more time to pay it back — for an additional fee, sometimes as high as the original fee you paid when you took out the loan. And it makes it easy to end up owing several times more than you originally borrowed — and more than you can afford to repay.
Balloon payments and the cycle of debt
The new CFPB ruling also makes it easier to get an installment loan with a balloon payment at the end without verifying that you can afford all repayments.
Installment loans are high-interest loans with short terms of around 3 to 18 months. Some lenders charge a large, one-time balloon payment at the end of the term to keep the monthly cost low for the rest of the term. But if you can't afford it, you might have to refinance the balloon payment into a new installment loan — which might also include a balloon payment.
With rates that can easily reach 300% APR, even refinancing once can significantly increase the cost of an installment loan. And you can find yourself ultimately paying several times the amount you borrowed in loan fees and interest.
What you can do to avoid a cycle of debt
Without a federal law in place to require lenders to make sure you're able to repay a loan, that responsibility now falls on you. Some states might have laws that require lenders to verify repayments. And others might pass new payday lending provisions in response to the new CFPB policy.
But even if you're protected by your state, you might want to take these steps to protect yourself from a cycle of debt.
Consider all alternatives first
Payday loans are meant as a last resort and should be treated that way. Make sure you've exhausted all other options before you apply.
For example, many local banks and credit unions offer low-interest payday loan alternatives with more flexible repayment schedules. Need something faster? Pay advance apps sometimes offer advances on wages you've already earned, usually in exchange for an optional tip.
Some local and industry organizations are also offering grants to individuals who have lost work due to the coronavirus outbreak.
Set a budget
Go over your finances to figure out exactly how much you can afford to repay when your loan is due. Use this as a guide for when you're choosing a lender. If you aren't sure what your income is going to look like in a month, it's best to not take out a loan at all.
Price shop
Compare pricing from multiple lenders before you apply for a loan — and make sure you're aware of the full cost of the loan. If a lender won't tell you how much it costs before you apply, move on to the next option.
Most payday lenders will charge the maximum the state allows. But if you're working with a tribal lender, which doesn't have to follow state lending laws, there's a chance they'll charge even more.
Read the contract and stay on top of your account
Make sure you fully understand how repayments work and when they're due. And don't just link your bank account and assume your loan will automatically be repaid. Even automated systems can fail, and you might become delinquent or accidentally have your loan rolled over.
Contact customer service as soon as possible if you see anything you don't understand on your account.
Who benefits from the new CFPB rule? Unbanked Americans
This new ruling might make it easier to take out a loan you can't afford. But it isn't all bad news. Americans without bank accounts who get paid in cash might actually benefit.
Lenders often require applicants to submit pay stubs or recent bank statements as proof of income. But if you receive most of your income in cash, you would have had few options for getting a loan under the old rule. Even if you did have the income to support repayments.
But while this opens up more credit to unbanked Americans, they're still just as vulnerable to taking out a loan they can't afford. They still need to take steps to make sure they have the means to repay before taking out a loan.
Photo: Getty Images