Is Cathie Wood's ARKK fund signaling a rough year for tech?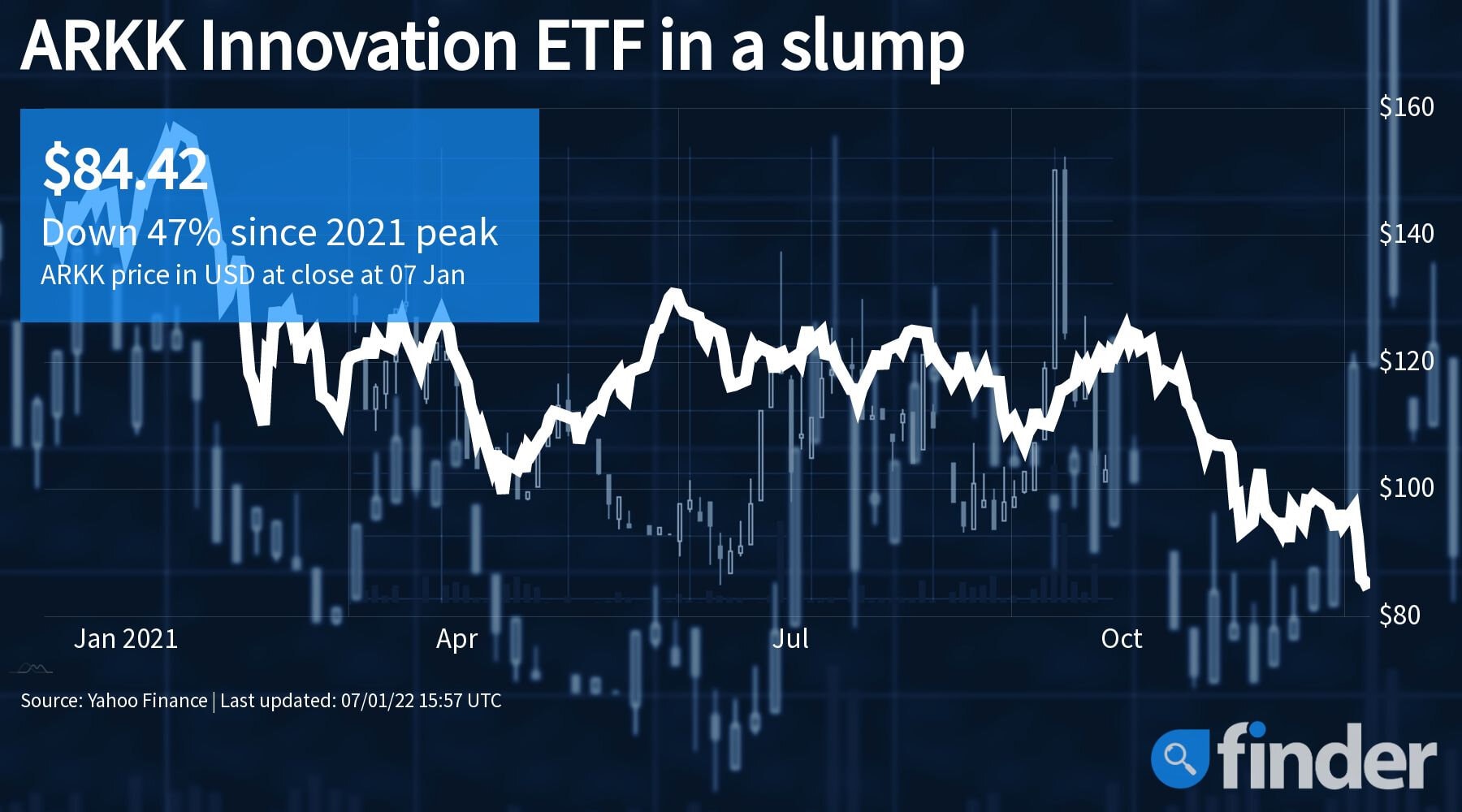 Though famed investor Cathie Wood's flagship is down by nearly half from its peak, she still says tech is a buy right now.
Investors are selling technology winners and buying consumer cyclical stocks that could grow post-COVID as the Federal Reserve shifts to inflation fighting.
Among those tech specialists having a poor run is Ark Invest's founder, CEO and CIO Cathie Wood, who's taking some criticism for poor performance. Wood's flagship Ark Innovation ETF (ARKK) is down about 11% in five days and at about $85 — 47% down from its 52-week high of $159.70. Her other funds are also losing ground.
Meanwhile, anti-ARKK ETF Tuttle Capital Short Innovation ETF (SARK) launched in November and is off to a fast start. It's up 12% over five days and 30% since its launch. The fund bets against ARKK's positions.
If the tech stocks Wood specializes in continue to struggle in 2022, Wood could face a tough year. So is Ark becoming the canary in the tech coal mine? If so, how should investors react?
The story so far
This has been a rollercoaster ride for investors in Wood's funds.
During 2020, technology stocks outperformed and Ark Invest had stellar numbers. Wood's flagship ETF, ARKK, returned 150% to investors and became one to watch as a tech bellwether.
But as investors banked gains from adventurous and often unprofitable technology stocks and moved their money into consumer cyclicals in 2021, Wood's strategy started to underperform. She stood by those stocks publicly and vocally as plays for the future.
So far, 2022 has been worse.
At its lowest point during Thursday's trading, the ARKK ETF was down 48% from its February 2021 all-time high — its worst drop since the pandemic-induced market rout of March 2020.
On Friday, it was hovering a bit above that low, near $85 a share.
Its top holdings all struggled in this week's tech pullback. They include Tesla (TSLA), down 11%; Roku (ROKU) down 21%; and Teladoc Health (TDOC), down 9%.
Tech entering prime time
Wood has remained bullish on her disruptive innovation strategy and she is adamant investors who sell will miss out on game-changing returns.
Wood previously predicted the technologies she specializes in have entered prime time and her fund will quadruple in the next five years. To achieve this, she said the 40% annual growth estimate compares to a projection of 15% that her team targeted in March.
"If we're right that autonomous taxi networks are going to evolve during the next five to ten years, then that involves the convergence of three major platforms: robotics, energy storage and artificial intelligence. And all are scaling dramatically," Wood told CNBC recently.
Is it time to buy?
Depending on your strategy and your thoughts about technology in general — and ARKK in particular moving forward — this is either a great opportunity for investors or the start of something worse.
CNBC's Jim Cramer is one of those investors who does not believe this is an opportunity to get in.
"The performance of Cathie Woods ARKK is so atrocious that even though it is not a hedge fund and it can't be shot against, it is a pall over every holding. Tempting to discuss opportunities but hard to find… It's such a tough streak…," he said recently on CNBC
Unsurprisingly, Wood has a different take on this.
In a recent CNBC interview, she said much of the innovation work for the techs she follows has been going on for two decades and is now beginning to scale exponentially.
She believes these innovative stocks will enter prime time over the next couple of years.
"Now they're about to flourish and people are running away," she concludes.
At the time of publication, Cameron Micallef owned shares in ARKK ETF
Information on this page is for educational purposes only. Finder is not an advisor or brokerage service, and we don't recommend investors to trade specific stocks or other investments.
Finder is not a client of any featured partner. We may be paid a fee for referring prospective clients to a partner, though it is not a recommendation to invest in any one partner.