Cathie Wood's ARKK ETF roars back: Is the slump over?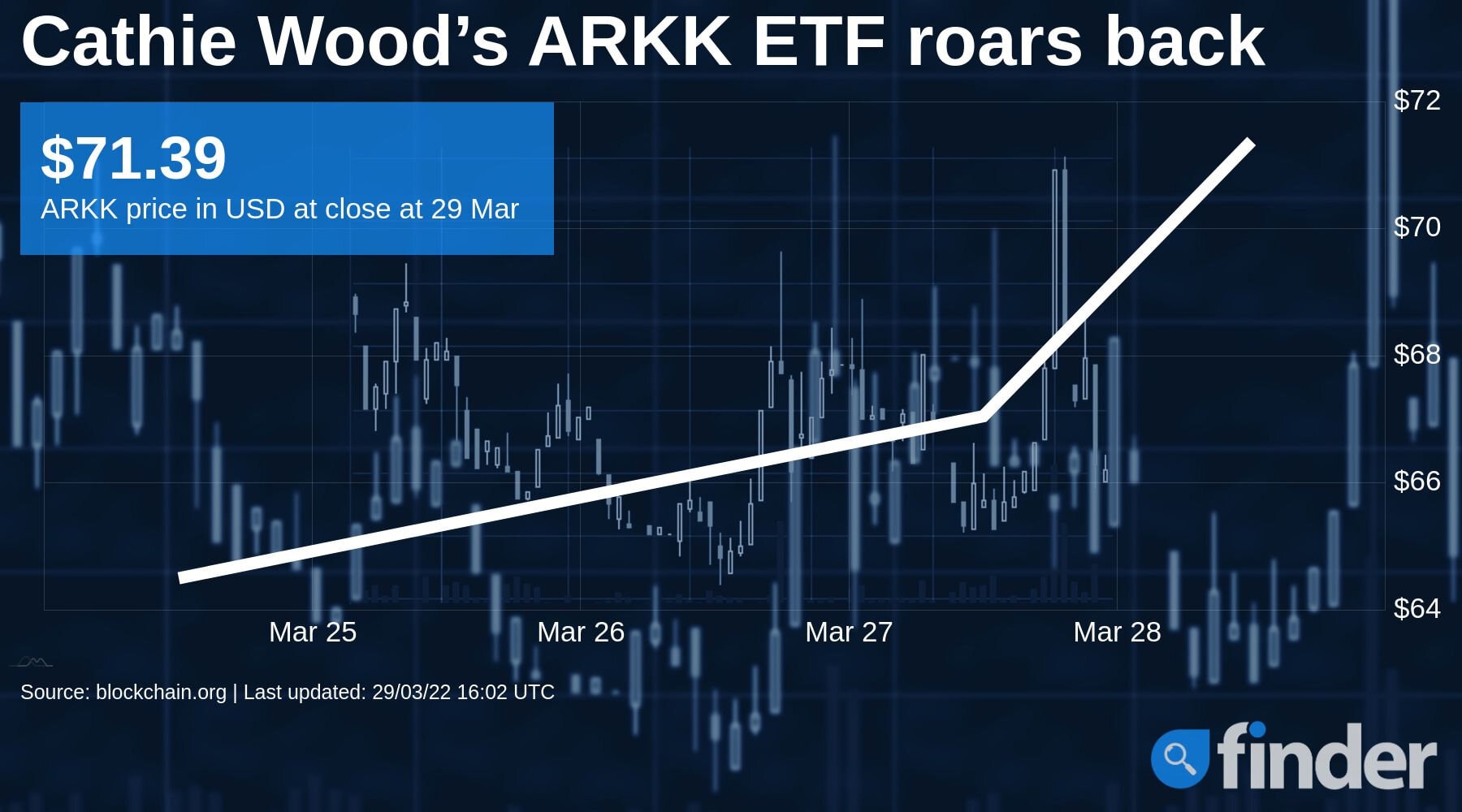 The widely followed Ark Innovation ETF has jumped more than a third in two weeks as the Nasdaq rallied. Is the tech-focused correction ending?
The Nasdaq correction may not be over, but many techs are coming back. And one important bellwether, the widely followed Ark Innovation ETF (ARKK) run by manager Cathie Wood, is bouncing even faster.
That fund invests in what Wood calls "disruptive" tech stocks including Tesla (TSLA) and Coinbase (COIN) that she sees as leading the way for years to come. But her showcase fund has been in a pullback for months as fear of inflation and interest rate hikes steered investors away from high-growth stocks like the ones she favors.
But in the last two weeks the Nasdaq Composite has gained nearly 16% and ARKK is up 36%. Like a lot of her stocks, Wood's fund remains well off its high point. But a continuation of this trend would prove her and the investors who bet on her correct.
Why we know ARKK
Founded in 2014, the fund's share price had roughly doubled by March of 2020, when COVID emerged as a market force. Holdings included what became known as stay-at-home stocks like Zoom Communications (ZOOM) and Roku (ROKU), which surged. Shares of ARKK went from about $37 to a peak above $132.
Along the way, Wood took a very visible role via TV interviews and social media. And her company, Ark Invest, ran ARKK and its other funds openly, publishing every trade in real time.
However, since that peak in June 2021, ARKK has struggled, hitting a low close of $52.29 on March 14. And in interviews
like this one on CNBC
, Wood maintained her portfolio was undervalued and would pay off within five years.
The turnaround
March 14 was also the recent low for the Nasdaq — since then, it has traded up to within 10% of its November high. That's the edge of an official correction, between 10% and 20% down.
ARKK has soared, as have many of its biggest holdings. On Tuesday alone, ARKK added 6.7%. A few examples.
Tesla is up 43% from its March low to $1,101, just 10% from its all-time high.
Roku has climbed 34% in two weeks to above $138, still way off its 52-week high near $500.
Coinbase, one of the newer holdings, is also up about 33% to $205. That's more than 50% below its two week high.
Those past highs could signal they have room to run, but there's no guarantee any stock or fund will return to past highs. With the ETF, of course, you get a large basket of stocks, which is safer than trying to pick the best one or two.
Investors should remember that with an actively managed fund like ARKK, you're ultimately betting not just on the manager's market view, but on the manager's ability to pick the right set of stocks.
As Yahoo recently reported, new money has kept coming into ARKK despite its slump. So many investors are still ready to bet on Cathie Wood.
Ready to open an account or considering a new broker? Find the best online brokers for your needs. Or check out fees and features in our comparison table to find a better deal today.
Information on this page is for educational purposes only. Finder is not an advisor or brokerage service, and we don't recommend investors to trade specific stocks or other investments.
Finder is not a client of any featured partner. We may be paid a fee for referring prospective clients to a partner, though it is not a recommendation to invest in any one partner.