How to finance a Caterham
While traditional car loans may be off the table, you still have options.
Almost every Caterham Seven model comes with the option to assemble it yourself, helping to add to each car's unique look. But because they're sold as a kit, financing your new vehicle with a traditional car loan can be difficult. Instead, you might want to consider your personal loan options.
How can I finance a Caterham?
Because Caterhams aren't delivered preassembled, it may be more difficult to qualify for a traditional car loan. Instead, you might want to look into taking out a personal loan or line of credit from a bank, credit union or online lender. Many don't place restrictions on how you use your funds — making them a good choice to finance a car kit.
Another option may be financing directly through Caterham. It doesn't specifically state if it offers in-house financing options on its website, so reach out to your nearest authorized dealership for more information.
Whichever you choose, how much you're eligible to borrow will depend on your credit score and current financial situation. For loans above the $50,000 mark, you'll need a near-perfect score and low debt-to-income ratio to qualify with most lenders.
Compare personal loans to finance a Caterham
What will a new Caterham cost me?
Each version of the Seven is sold as parts — which makes it difficult to pinpoint an overall cost. The amount you pay will depend on the chassis, engine block, paint and accessories you order. Your car will be a unique build, so reach out to Caterham for specific information on the price of each component that goes into your Seven model.
You can also browse Caterham's inventory page for preassembled new and used options. In the past, models were available from $44,500 to $69,000.
Choose a type of vehicle
Caterham 270
Top speed: 120 MPH
Weight: 1,212 lbs
0 to 60 MPH: 4.9 seconds
Caterham 310
Top speed: 127 MPH
Weight: 1,190 lbs
0 to 60 MPH: 4.9 seconds
Caterham 360
Top speed: 130 MPH
Weight: 1,179 lbs
0 to 60 MPH: 4.8 seconds
Caterham 420
Top speed: 136 MPH
Weight: 1,235 lbs
0 to 60 MPH: 3.8 seconds
Caterham 620 S
Top speed: 145 MPH
Weight: 1,345 lbs
0 to 60 MPH: 3.44 seconds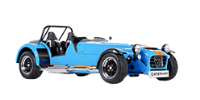 Caterham 620 R
Top speed: 155 MPH
Weight: 1,202 lbs
0 to 60 MPH: 2.79 seconds
Car insurance costs that come with driving an exotic car
Does a new Caterham come with a warranty?
No, Caterham doesn't offer any warranties or maintenance programs for its vehicles.
Bottom line
If building a race car has always been your dream, Caterham can deliver. Compare your personal loan options to find a competitive deal that gets you closer to the quick speed a Seven offers.
Frequently asked questions
Pictures: Getty Images and Caterham's Official Page