Finder is committed to editorial independence. While we receive compensation when you click links to partners, they do not influence our content.
Carmack vs. Kojima – The Legacies Compared
Hideo Kojima and John Carmack are two of video gaming's greatest minds and most iconic developers. Both have enjoyed decades-long careers with big name studios, but both have also just left their posts. We reflect on their parallel careers thus far.

We suspected it was going to happen for months, but with his latest blockbuster – Metal Gear Solid V: The Phantom Pain – safely released, it was time to make it official. Hideo Kojima has left Konami. For 29-years, he was the effective face of the Japanese publisher, but the relationship has ended and from the outside looking in, it appears the break-up was messy. Who knows what's next for him personally, and his beloved baby, Metal Gear Solid.
Check out more Xbox content on finder

He is not the only big name, rusted-on developer to dramatically leave his post in recent times. Not even two years ago, John Carmack, the founder of iconic developer id Software, shocked fans by departing the studio to follow his passion in virtual reality. After 23-years with the studio, and a number of years before that releasing titles under his own name, it was hard to comprehend a world in which "Carmack" was not attached to the developer.
Both these men are above-the-title personalities who have earned loyal followings that extend beyond the studios and game series for which they are known. Both can lay claim to founding a genre, and inspired the works of hundreds, if not thousands, of other developers. One is from East, the other from the West. One made their name on consoles, the other on PCs. They've stood toe-to-toe for over two decades, but never really crossed paths. But if you had to choose one tomorrow as the most influential – of having left the biggest legacy – who would it be? Let's look at the facts.
Kojima Fact File
Kojima's Notable Awards
Lifetime Achievement MTV Game Awards (2008)
Lifetime Achievement Award GDC (2009)
IGN's Sixth Best Game Creators of All Time.
Carmack Fact File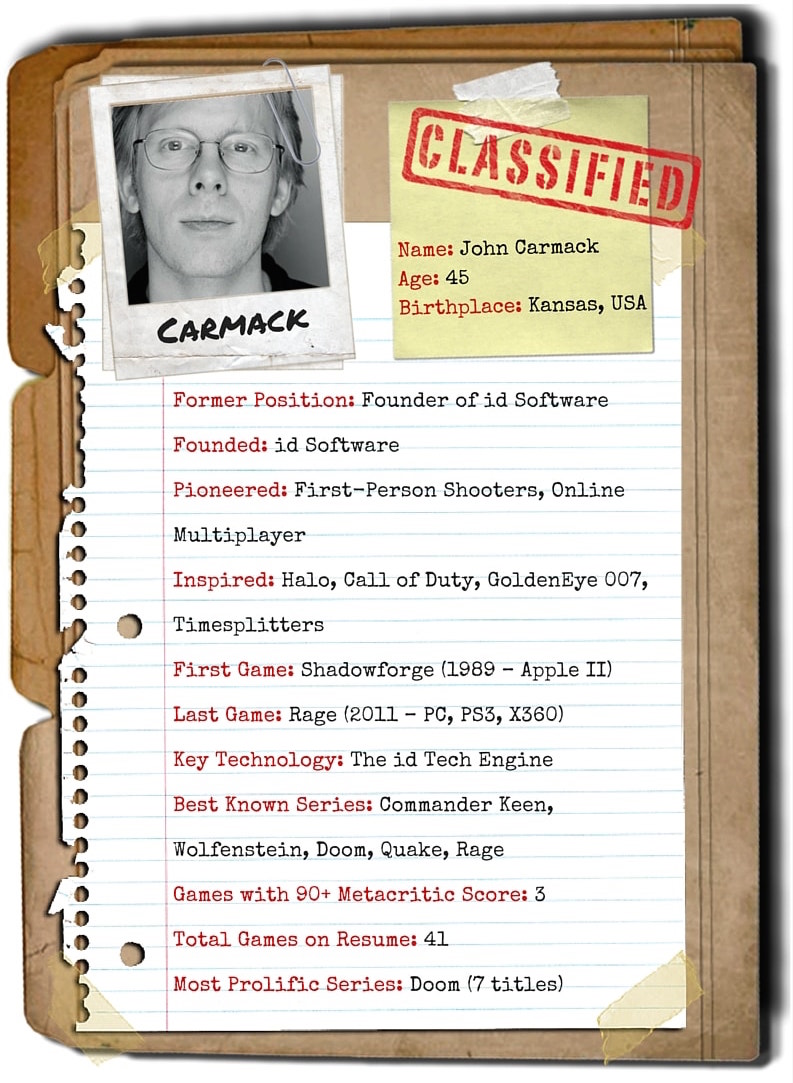 Carmack's Notable Awards
Inducted into Academy of Interactive Arts and Sciences' Hall of Fame (2002)
2 x Emmy Awards (2007)
Lifetime Achievement Award GDC (2010)
IGN's Tenth Best Game Creators of All Time.
Our Take
Few series have such devoted fans as Metal Gear Solid, and while even those who have played every second of every game can't really follow the overarching story, there is no denying the magic of Kojima as a creator of characters and refined, fun gameplay. He has also been more adept than Carmack at venturing outside his core genre, experimenting with action, adventure and RPG genres, as well as partnering with other developers on occasion (such as Castlevania: Lords of Shadow). He helped popularise the console in the late nineties and early 2000s, too, after a decade of PC dominance.
However, that decade of PC dominance was spearheaded by John Carmack. As the founder of the company that defined the first-person shooter genre with seminal classics Wolfenstein 3D and Doom, and later online first-person shooters with Quake, he not only facilitated PC gaming's popularity during the nineties, but the technology driving it. He was an influential force behind user-created content such as mods and maps, too, and actively opened the doors to his tech discoveries to other developers.
The main reason, however, why we give John Carmack the nod, is that the FPS has become the dominant genre in gaming. Not only are the majority of the biggest selling game series of all time first-person shooters, but they often include large multiplayer components – the perspective and the lessons paved by Carmack and his crew on these fronts have also been adopted by almost all other genres in some form or another over the years. So as much as we love stealth, Solid Snake and the work of Kojima, few legacies can rival that of Mr. John Carmack.
Your Take?
Let us know on social media; tag #finder and #carmackvkojima so we can tally your vote.
More guides on Finder