Car payments hit record high as prices increase — here's how to avoid paying more than you have to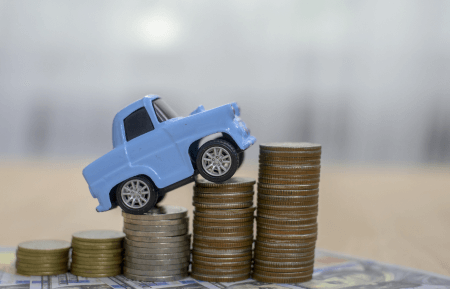 Americans borrowed an average of $1,552 more than last year to buy a car, but it's still possible to find a good deal.
The average US repayments climbed to a record high of $569 per month on new cars and $397 per month on used cars, according to Experian's State of the Automotive Finance Market Report of the first quarter of 2020.
Only used car loans from independent dealerships didn't reach record highs in monthly repayments and total prices — though it still saw the average repayment rise $7 since last year, to $383.
And lease payments also increased at $466, up from $457 in the first quarter of 2019.
Why are car loans more expensive? It's not because of high financing costs. Car prices are up, and Americans are spending more on vehicles. The average car loan for new vehicles also reached a record high of $33,739, according to the report. That's $1,552 higher than the average car loan one year ago.
Are cars becoming unaffordable?
The average new car loan now clocks in at just over half the typical household income in this country. Americans make a median income of $60,293 according to the most recent US Census numbers — which covers the years 2014 to 2018.
And that number is likely to be lower in June 2020, after the economy entered a recession and thousands of Americans were laid off or saw pay cuts due to the coronavirus outbreak.
Many lenders have responded to the economic downturn by tightening credit requirements. This makes it more difficult for borrowers to qualify for an affordable rate on a loan — if they can qualify at all.
And there may be fewer options to compare. Wells Fargo, one of the largest auto financing providers in the country, recently pulled out of contracts with its independent dealerships. Traditionally, lenders consider financing through independent dealerships to be more risky than franchise dealerships.
To find a deal, shop around with a fixed budget in mind — and be flexible
Dealerships were offering an unprecedented rate of 0% APR on loans and coronavirus discounts on the sticker price. But these likely won't be around for long. It's still possible to find a discount even when dealership discounts dry up by comparing your options and negotiating down prices.
Shop around to find a vehicle and financing that fits your budget and don't commit to one vehicle until you've seen what's out there. And if you go in with a strict monthly budget in mind, you can avoid overspending.
If you're considering a used car, don't just look at the vehicle price. You may need to repair the vehicle, and used car loans typically come with higher rates. If you can't pay cash upfront or are considering a long term, a new car might be more affordable in the long run.
Consider getting preapproved for financing
Dealerships sometimes offer great deals with in-house financing. But you won't know how it compares to third-party financing from a bank, credit union or online lender unless you shop around for a loan first.
Look at rates, terms and loan amounts that give you a repayment that fits your budget. And once you've narrowed down your choices, consider getting preapproved with a lender. You can bring your preapproval offer to a dealership and use it as if you were paying cash, which often makes it easier to negotiate down the price.
Negotiate prices down
Once you have an idea of what's out there, negotiate with the seller to see if you can get a better deal. It helps to do a little research beforehand by looking up average prices in your area on sites like Edmunds or Kelley Blue Book.
If you're trading in a car, negotiate that price after the new vehicle. If a dealership is giving you a good deal on the trade-in, it might offer a higher price on the car you're purchasing.
Tune up your car before trading it in
Take your current vehicle to a mechanic first to make sure it's in top shape. This can bump up the trade-in price and reduce how much you have to borrow to finance a new vehicle.
Reducing your loan amount can help you qualify for a better rate and also means you'll pay less in interest, which is based on your loan balance.
Avoid the temptation of a long term
An increasing number of Americans are using a long loan term to shoe-horn a car outside of their budget into monthly repayments they can afford.
Experian found that the average loan for new vehicles increased by around a third of a month to 69.17 months — though the average used car term slightly decreased. Car loans with long terms of 61 to 72 months were the most popular across the board.
Long terms can significantly increase the cost of your loan, since interest adds up over time. It also increases the risk that a car loan will become upside down — where you owe more than your car is worth. Insurance policies only cover the value of your car, meaning you'll have to pay more if you get into an accident.
But you can avoid this by getting the shortest loan term that fits your budget.
Photo: Getty Images