Car loan rates drop to lowest level in 7 years — but won't stay that way for long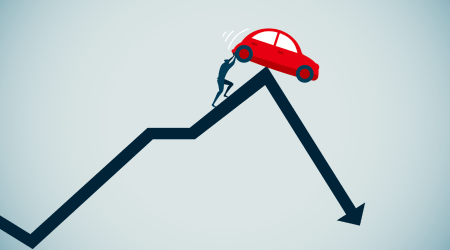 Summer could see an uptick in rates as 0% APR deals drop and banks pull out of used car financing.
Car loan interest rates on new vehicles dropped to 4% in May — down from 6.1% a year ago, an Edmunds study found. Used car rates dropped to 8.3% from 8.7% in May 2019.
But rates likely won't stay low for long. The low average rate was driven in large part by by 0% APR promotions, which dealers typically use to move cars off the lot. As inventory thins out over the summer, these deals will likely be less common in the next few months.
Used cars might also see a bump in rates, as banks pull out of partnerships with independent dealerships.
Why are car rates so low?
A combination of factors led to new car loan rates dropping to the lowest level in seven years. The Federal Reserve cut interest rates by 1% to target a range of 0% to 0.25% on March 16, 2020, in response to the coronavirus outbreak.
The fed rate influences how much it costs lenders to fund a loan and fed rate cuts typically see a drop in auto loan interest rates.
On top of this, auto dealerships started offering more deals to bring in customers after state shutdowns forced them to close their doors and sent unemployment numbers skyrocketing.
Edmunds found that 24% of all new car loans came with a 0% rate in May 2020 — and 25.8% came with a 0% interest deal in April 2020. But 47% of all financed purchases received an APR below 3% in May 2020, up from 41.5% in April.
Now is the time to buy
If you think you'll need a car in the next few months, now is the time to buy. While October through December is usually the best time to buy, it's hard to predict what the economy will look like at the end of the year.
And typically, dealerships offer fewer 0% APR or low-interest deals as inventory declines over the summer. In this case, it's possible they won't be able to sustain such low rates, especially while many of these deals come with deferred repayments.
Used cars might hit particularly hard. One of the largest auto lenders in the country, Wells Fargo, announced Tuesday that it was pulling out of its partnerships with independent car dealerships.
Independent dealerships tend to sell used cars, which many lenders see as a higher-risk product and typically fund at a higher rate. Banks typically offer lower rates than other types of lenders. If others start pulling out of independent dealerships, that could spur an increase in used car rates.
How to find a good deal today
Not everyone can qualify for those 0% APR rates — generally you need a credit score of around 760 or higher and a low level of other debts compared to your income. But you still might be able to get a lower rate than you were previously eligible to qualify for.
Shopping around to compare offers from multiple lenders can be a great way to find a loan with a low rate that fits your budget. And don't just pay attention to the APR. Many dealerships are also offering discounts on the MSRP and deferred repayments for around 90 days.
Something you might want to avoid are long-term car loans. Edmunds reported that the average auto loan term was 71.4 months in May 2020 — the second-highest on record.
While a long term can give you lower repayments, it also means that there's more time for interest to add up, potentially increasing your loan cost by hundreds or even thousands of dollars.
It also increases the chance that your loan will go upside down — where you owe more on your car than it's worth, since car values depreciate over time. This can be a risk even if you have a 0% APR loan. You can avoid this by choosing the shortest loan term you can afford.
Photo credit: Getty Images