Compare car insurance in Utah
Get the cheapest car insurance in Utah for 2022
Compare and save on car insurance
Enter your ZIP code to see insurers near you.
Your information is secure.
---
Utah drivers pay an average of $1,038.50 per year for car insurance according to the National Association of Insurance Commissioners (NAIC), that's about $86.54 per month. Utah drivers pay about 13% less than the countrywide national average of $1,189.64.
The NAIC takes into account all car insurance policies within the state such as drivers who select only state minimum coverage, as well as policies that include various levels of comprehensive and collision coverage. Because car insurance rates are influenced by personal factors, you could find yourself paying significantly less.
Utah car insurance quick facts
Minimum liability requirements
25/65/15
Average annual car insurance cost according to the NAIC
$1,038.50
No-fault state
In no-fault states, each driver pays for their own injury-related expenses after an accident.
Utah state minimum car insurance requirements
Drivers in Utah are required to carry a minimum amount of liability coverage to legally drive. You may see it written as 25/65/15, but we'll break down what that means.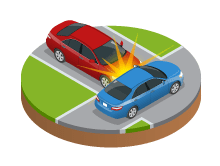 Utah bodily injury liability
$25,000 bodily injury liability per person
$65,000 bodily injury per accident
Utah requires $25,000 in bodily injury liability per person and $65,000 of bodily injury per accident. That's right in line with what most states require for liability coverage, though the per accident limit is slightly higher than the typical $50,000 limit.
This means $25,000 is the most your insurer will pay for a single person injured by you in an at-fault accident. And $65,000 is the maximum amount your insurer will pay if there is more than one person injured by you in an at-fault accident. Any costs outside of your bodily injury limit are required to come out of your pocket.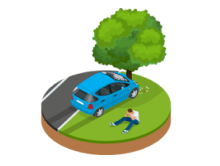 Utah property damage liability
$15,000 property damage liability
Utah requires drivers to carry $15,000 of property damage liability to legally drive. This coverage requirement is middle of the road compared to what other states across the US require.
This means $15,000 is the maximum amount your car insurance company will pay towards damages you cause to another person's car or property, such as repairs to a car, fence or building. You'll have to pay out of pocket for any costs beyond your property damage liability limit.
Utah personal injury protection
$3,000 personal injury protection
Utah drivers are required to carry $3,000 worth of personal injury protection to legally drive.
This coverage helps pay your or your passenger's medical expenses if you're injured in an accident, regardless of fault.
Finder tip: Utah state minimum coverage isn't enough
These state-mandated requirements are the lowest amount of coverage you need to legally drive in Utah, but may fall short if you're in a major accident. To avoid high out-of-pocket costs after an accident, consider raising your liability limits by balancing coverage, your budget and what you can afford to pay out of pocket for certain damage.
In Utah, each driver pays for their own injury expenses
Utah is a no-fault state, which means that you pay for your own medical bills, lost income and other injury expenses after an accident, no matter who's at fault. File a claim under your personal injury protection for these expenses. However, Utah no-fault laws don't apply to property damage like car repairs, according to the legal website Nolo.
For property damage, Utah considers whether drivers are partially at fault under a modified comparative fault law. Under this law, both drivers are assigned a percentage of fault. Drivers who are less than 50% at fault can get paid for damage caused by other drivers.
For example, if you're 80% responsible for an accident, your insurance will pay 80% of the other driver's property damage. However, since you're more than 50% at fault, the other driver isn't required to pay for your property damage.
Cheapest rates by age in Utah
Young Utahans under age 35 will find their best bet for the cheapest car insurance from USAA. If you don't qualify, Allstate comes in as the cheapest across most ages.
| Age | Allstate | Progressive | Geico | USAA |
| --- | --- | --- | --- | --- |
| 16-24 | $151.51 | $167.02 | $192.16 | $150.98 |
| 25-34 | $129.34 | $137.84 | $127.40 | $117.79 |
| 35-44 | $128.88 | $116.73 | $113.23 | $101.45 |
| 45-54 | $111.93 | $130.54 | $134.67 | – |
Cheapest rates by gender in Utah
Again, USAA should land you some of the lowest rates among major companies. Allstate stands as the next cheapest option in this analysis, and you can lower rates even more through Allstate's discounts and rewards programs.
| Company | Allstate | Progressive | Geico | USAA |
| --- | --- | --- | --- | --- |
| Men | $124.26 | $132.22 | $145.85 | $114.42 |
| Women | $136.57 | $135.73 | $143.49 | $132.39 |
Sample rates in Utah from major car insurance companies
"USAA drops its car insurance rate a solid $10 per month below other competitors, making it the cheapest option according to Savvy's cost data.
However, Allstate can help if you don't qualify for USAA. Safe drivers can save big by tracking their safe driving through the Allstate Drivewise program."
| Company | Allstate | Progressive | Geico | USAA |
| --- | --- | --- | --- | --- |
| Rate | $130.41 | $133.78 | $133.78 | $123.40 |
Best car insurance in Utah
You have access to a variety of national and local companies that are solid choices in Utah. To narrow down your options, we recommend starting with these companies.
We vetted insurance companies by looking at ratings from J.D. Power, the Better Business Bureau and National Association of Insurance Commissioners. We also chose companies that offer ample coverage and significant discounts for the best value.
Best for safe drivers: Progressive
Progressive is a go-to insurance company for drivers looking to reap the rewards of their road safety. Progressive offers some of the lowest rates on the market, especially if your recent driving record is accident-free. You also won't see your rates rise for small claims under $500 or for your first accident after three years of no claims.
If you're confident in your driving skills, you could give Progressive Snapshot a try. Snapshot is a program that tracks your driving and gives a discount based on how safely you drive. It scores you on hard braking, speeding, nighttime driving, the number of trips and the length of time behind the wheel.
Pros
A popular choice as the third-largest US auto insurance company
Save up to 31% by tracking driving or staying claim-free
Free accident forgiveness
Pricing tool helps you buy coverage in budget
Cons
Average customer service
Slow to respond to complaints
Must be a 5-year customer to qualify for accident forgiveness
Best for low mileage: Nationwide SmartMiles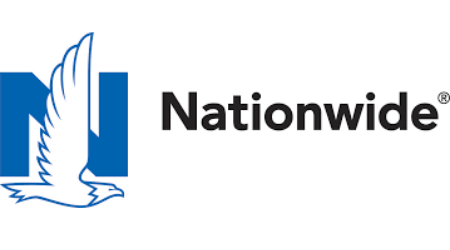 If you stay off the road more often than not, you could see significant savings on your premium by paying per mile. Nationwide SmartMiles is a pay-per-mile policy that charges you a flat rate per month, plus a per-mile rate for every mile you drive. As an example, you could save around $40 per month if you drive 6,000 miles a year or less.
Nationwide is one of the few insurance companies to offer this type of policy. By going with this national company, you're using an experienced brand with strong finances to back your claims.
Pros
Experienced brand with nearly 100 years in industry
Extra 10% discount for safe driving
Miles over 250 per day are free
Doesn't use your cell phone data
Cons
Rates may go up if you don't drive safely
Not compatible with every vehicle
Mileage tracked through plugin device, not app
Best customer service: American Family
American Family may not be the most well-known national brand, but it sets a high standard for customer service in the Southwest. When you choose this company, you get a decent list of coverage balanced with a heap of discounts to help you save. You also get access to a local agent who can walk you through choosing coverage or filing an accident claim.
American Family brings nearly 70 years of experience and strong finances to the table. Last, its low level of complaints filed with the National Association of Insurance Commissioners is a difficult feat for insurance companies to achieve.
Pros
No. 1 in Southwest for customer service by J.D. Power
Personalized service through local agents
Few complaints filed with the NAIC
Discounts up to 30% for car safety features
Cons
Lengthy application
Website not user-friendly
Best local company: Bear River Mutual
Many locals swear by Bear River Mutual as the best car insurance company for its low rates and service. The company proves itself with its strong finances, high Better Business Bureau rating and few customer complaints. Plus, you still get common coverage options like roadside assistance and rental reimbursement.
Pros
Experienced company with over 100 years in industry
Competitive rates
Personalized support through local agents
Cons
High-risk drivers may not qualify
No online quotes
No app for policy management
7 factors that affect your car insurance rates in Utah
Factors are characteristics specific to you that car insurance companies use to set how much you'll pay for car insurance. The less risky each of your factors is the less you pay, the riskier you are the more you'll pay. We'll break down Utahn's rating factors to keep in mind.
Factor
How it affects your rates

Age

As is standard with insurance, with age comes experience and your rates will be lower the longer you've been on the road. Most major insurers in the state will ding younger drivers with the highest rates, but that also varies across companies. Older drivers will pay the lowest rates.

Gender

After age, gender is the second greatest factor in when calculating insurance rates. In most cases men pay more than women across all age categories with women in the 25-year-old category paying an approximate annual premium of $1,280. Male drivers in the same age group pay around $1,360.

35-year-old female drivers could pay $1,120 in annual premiums vs. $1,100 for their male counterparts. The oldest age group of 60+ pays the lowest rates with women paying around $1,050 and men shelling out about $1,07o annually.

Location

Rates are calculated based on where you drive most according to city or ZIP. Areas with the highest population correspond with higher chances of accidents and theft.

But in the Beehive state, you'll find the most expensive rates in West Valley City at around $1,390 on average vs. Salt Lake City at approximately $1,350 annually. West Valley City rates rank 19% higher than the state average.

You'll find the lowest rates in St. George at $1,100, and Layton ringing in at $1,180.

Vehicle and mileage

What you drive and how far you travel both contribute to the rate your insurer sets. High-powered and high-performance cars, and vehicles with aftermarket modifications will make your insurance increase. Other details that weigh in on your rates are overall vehicle cost, your model's particular safety rating and chances for theft.

On average, Utah drivers that travel 6,000 miles or less could see an annual rate around $1,140 versus those that drive double the distance. Even driving 12,000 miles yearly will net you a cost of approximately $1,160 — a marginal difference for travelling twice the distance.

Credit score

Studies suggest a strong relationship between poor credit score and high insurance claims. The better your credit rating, the lower your insurance will be.

Typically, drivers with poor credit histories pay $2,220 on average, drivers with fair credit pay around $1,420 annually and drivers with good credit history pay about $1,160. Interestingly, companies can charge annual premiums twice as high to drivers with poor credit compared to rates for drivers with good credit.

Coverage

Your coverage type also factors in to how much you'll pay for car insurance. The more coverage you have, the more you'll pay — and the more protected you'll be. Often minimum coverage won't take care of all expenses in the event of an accident, particularly if the other party is underinsured.

In Utah, averages for low coverage clocks in at $1,100 per year, whereas medium coverage rates sit around $1,160 and high coverage will cost you approximately $1,250. If your situation allows for the $150 annual difference of $150 for full coverage, it could be worth it for added peace of mind.

Driving Record

Studies reveal that regardless of age, gender and location the best ways to keep control of your insurance rates is to keep a clean driving record. In Utah, drivers with a clear history see rates set at around $1,160.

In contrast, drivers with one speeding violation will pay approximately $1,413 annually, and drivers with one accident will see rates around $1,700 for the year. The highest rates are reserved for anyone with a DUI, which will cost you about $1,820 in annual premiums.
Does Utah require SR-22 insurance?
Yes. You might need to file an SR-22 in Utah alongside your insurance policy if you're convicted of a DUI, you're caught driving without car insurance, or you've accumulated too many violation points on your driving record. SR-22 is typically mandated by a court decision, and it's most commonly enforced for up to three years after the mandate. In Utah, it's also possible to be sentenced to keep SR-22 certification current for life if you're a repeat offender. Learn more about Utah and its SR-22 insurance.
Coverage you may want in Utah
Utahns drive less than the average American, but their vehicle theft rate is pretty high. In the event of a carjacking, severe weather, or a collision, it could pay to have a little extra coverage.
Comprehensive to fight the high theft rate
Unfortunately, vehicle theft happens. Utah holds slot number 11 in the highest theft rate, according to Statista. To counter this, comprehensive coverage could well be worth the cost. This coverage can help you replace your car in the event of a carjacking by paying out your vehicle's value at the time of the theft if your car is never recovered.
In addition to that peace of mind, comprehensive coverage can kick in with damage from storms, hail, water, fire, or animal strikes. Most auto lenders require this coverage if you're financing, too.
More personal injury protection is worth considering
The more you drive, the more likely it is for an accident to occur. Utah requires you to carry $3,000 in personal injury protection, which is designed to help you pay for your and your passenger's medical expenses after an accident (no matter who's at fault). However, $3,000 may not go that far.
If you don't have health insurance, or your insurance is costly, then upping that coverage could help if you're seriously injured in a vehicle accident. In Utah, drivers pay for their own personal injury expenses. Talk to your insurance agent to discuss the best coverage for your situation.
Consider more personal injury protection if . . .
You don't have health insurance.
Your health insurance copays and/or deductibles are high.
You drive a lot.
Uninsured coverage for daily commuters
If you're a daily commuter, then uninsured motorist coverage is worth checking out. This coverage helps you out if you get into a vehicle accident with a driver that doesn't carry any car insurance or is underinsured. Uninsured coverage isn't required in Utah, but if you're on the road a lot, it may be worth exploring your options.
Consider uninsured motorist coverage if . . .
You're in heavy traffic often.
You heavily rely on your vehicle.
You live in an area with many uninsured drivers.
Top 10 auto insurance companies in USA that serve Utah
We've pulled the top 10 companies by market share that offer coverage in Utah according to S&P Global. Compare top companies by three major rating agencies along with our overall score.
Better Business Bureau (BBB) rating measures how a business interacts with its customers, with the highest rating being A++.
J.D. Power determines customers' overall satisfaction with their car insurer's price, billing, claims and customer support. The higher the J.D. Power score out of 1,000, the better.
NAIC complaint index shows how a company's number of complaints compares to similar companies of its size. Scores lower than 1.00 show the company receives less than the average number of complaints, and scores above 1.00 show more complaints than average.
Finder's score shows you an overall look at the company by taking into account scores from each of these agencies as well as the coverage and discounts each company offers.
Which city has the cheapest car insurance in Utah?
Of Utah's largest cities, Clearfield has the cheapest rates and Salt Lake City has the most expensive car insurance rates. Salt Lake City drivers could face rates 3 times more than Clearfield drivers.
Car insurance quotes in Salt Lake City
| Company | Annual car insurance rate |
| --- | --- |
| Allstate | $1785 |
| American Family | $2512 |
| Progressive | $1941 |
| Geico | $1019 |
| StateFarm | $2425 |
Car insurance quotes in Clearfield
| Company | Annual car insurance rate |
| --- | --- |
| Allstate | $1390 |
| American Family | $2279 |
| Progressive | $1550 |
| Geico | $864 |
| StateFarm | $1927 |
Car insurance quotes in Ogden
| Company | Annual car insurance rate |
| --- | --- |
| Allstate | $1479 |
| American Family | $1964 |
| Progressive | $1672 |
| Geico | $898 |
| StateFarm | $1735 |
Car insurance quotes in South Jordan
| Company | Annual car insurance rate |
| --- | --- |
| Allstate | $1813 |
| American Family | $2146 |
| Progressive | $1511 |
| Geico | $894 |
| StateFarm | $1986 |
Car insurance quotes in West Jordan
| Company | Annual car insurance rate |
| --- | --- |
| Allstate | $1785 |
| American Family | $2415 |
| Progressive | $1765 |
| Geico | $996 |
| StateFarm | $2346 |
Compare car insurance providers in Utah
Bottom line
Although Utah provides an alternative to carrying car insurance to legal drive on its scenic roads, it's worth looking into purchasing at least the state's minimum level of coverage on your own. The right car insurance policy for your needs can keep you, your vehicle and your passengers protected in a fender bender or even the worst-case accident.
To learn more about policy options and tips to cheaper rates, read our comprehensive guide to auto insurance.
Frequently asked questions about car insurance in Utah