Finder is committed to editorial independence. While we receive compensation when you click links to partners, they do not influence our opinions or reviews. Learn how we make money.
Tesla Roadster car insurance rates
Race around top-down at the expense of a high premium.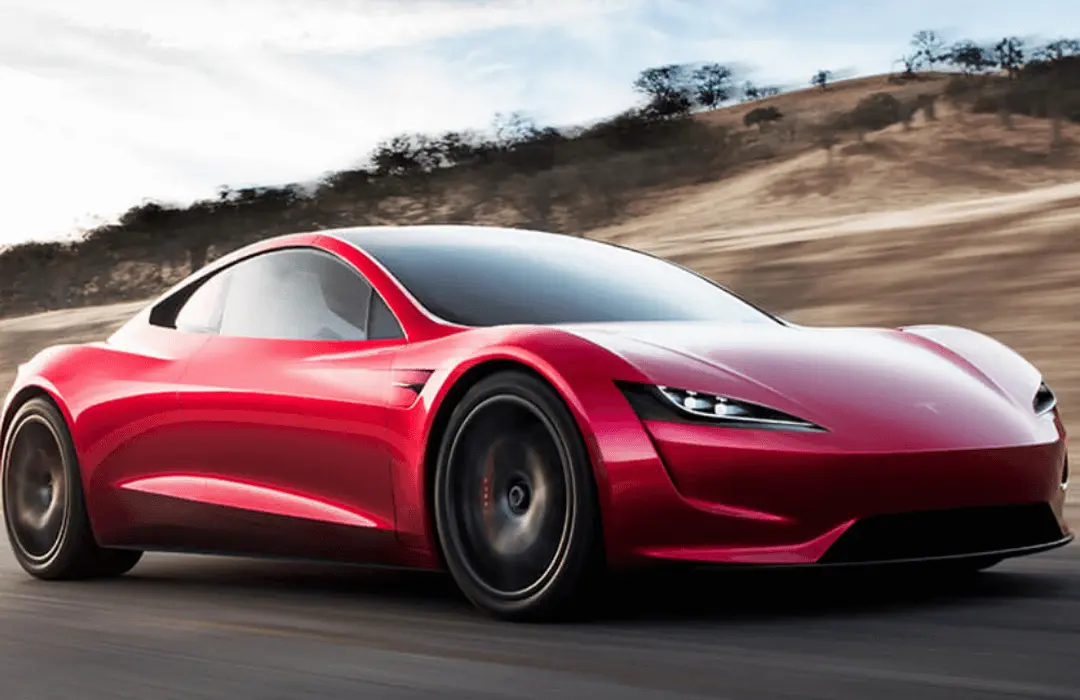 Compare car insurance quotes
Enter your ZIP code below and click Compare to see the cheapest rates in your area.
Tesla is bringing back the Roadster in 2020 as a performance car, so expect steep insurance costs for this sporty electric ride. The Roadster may bring a premium similar to the McLaren 570S, totaling $583 a month or $6,996 a year, about $5,700 above the national average. With a base price of $200,000, the annual insurance cost-to-base car price ratio would be 3%, below the national average of 4%.
Discover coverage that's broader than competitors, valuable discounts up to 30% off and perks like shrinking deductibles that reward no claims.
Broad coverage, including for custom car parts or ridesharing
Transparent pricing tools that help you buy within budget
Accident forgiveness on small claims or for staying claim-free
Stack a variety of discounts for multiple cars, autopay or homeownership
Compare car insurance for your Tesla Roadster
How do I compare insurance for the Roadster?
The 2020 Roadster is keeping its sporty convertible style from previous 2008 to 2012 models. But it's slated for higher speeds and a convertible glass roof, making it more risky to insure. Other characteristics of this car:
Body type. A sleek convertible with top speeds creates an exhilarating ride, but its glass roof and top-down features will make insurance companies shiver.
Fuel. Tesla is turning up the dial with a range of over 600 miles. That means you can last longer between charges, costing $10 to $13 a charge.
Theft rates. Insurers may fall in love with the Roadster's expected low theft rate based on previous model years.
Maintenance. Teslas aren't known for car problems, but you can expect costly maintenance and a specialized mechanic for this racey electric, which drives insurance rates up.
Coverage. You might want a luxury policy, fitting this luxury car with agreed value coverage and higher maximums to protect your investment. Also, consider medical payments and race track coverage if you need to cover track days.
Insurer options. Luxury car insurance whittles down your choices, but insurers like Chubb may help you get coverage. You might consider electric car insurers like InsureMyTesla or Electric Auto.
Warranty. This Tesla comes with warranty protection for four years or 50,000 miles, including roadside service. Although the battery warranty is still pending, the long-range Model 3 battery was protected for eight years or 120,000 miles.
Does the Tesla Roadster qualify for discounts?
Tesla hasn't released many details on this new car, but it's likely to have all the same features as previous models, which could help you save with car insurance discounts.
Antitheft
Antilock brakes
Airbags
Electric vehicle discounts
Seatbelt pretensioners
Stability control
Why is insurance so expensive for the Roadster?
The Roadster ticks all the boxes for an expensive insurance premium, especially with a high MSRP and specialty parts that make repairing or replacing more pricey for your insurer. Plus, this car can reach upwards of 250 mph, a speed that could encourage risky driving on the open road.
How reliable is the Tesla Roadster?
With a Tesla track record for safety and few recalls or problems on previous Roadsters, you can assume this upcoming car will have a similar reputation.
Safety. Although the NHTSA hasn't tested the Roadster for safety, it has 5-star ratings for many other Teslas like the Model 3, Model S and Model X.
Reliability. Owners from previous model years haven't reported common problems with the Roadster. However, you could need more repairs if you're using yours on the track.
Recalls. Yes, previous Roadsters had recalls on their electrical wiring and rear hub flange bolts.
Bottom line
The upcoming Roadster has features that make it a breezy ride with high insurance, like its convertible top and specialized coverage. Shop a variety of providers to get the best coverage and value, or find out the cost of insuring another car altogether.
Get the cheapest quotes
Compare car insurance companies near you.
Your information is secure.
Frequently asked questions about the Tesla Roadster
Read more on this topic