Compare car insurance in South Carolina
Get the cheapest car insurance in South Carolina for 2022
Compare and save on car insurance
Enter your ZIP code to see insurers near you.
Your information is secure.
---
South Carolina drivers pay an average of $1,227.54 per year for car insurance according to the National Association of Insurance Commissioners (NAIC), that's about $102.30 per month. South Carolina drivers pay about 7% more than the countrywide national average of $1,189.64.
The NAIC takes into account all car insurance policies within the state such as drivers who select only state minimum coverage, as well as policies that include various levels of comprehensive and collision coverage. Because car insurance rates are influenced by personal factors, you could find yourself paying significantly less.
South Carolina car insurance quick facts
Minimum liability requirements
25/50/25
Average annual car insurance cost according to the NAIC
$1,277.54
At-fault state
In at-fault states, the driver who caused the accident pays for damages.
South Carolina state minimum car insurance requirements
Drivers in South Carolina are required to carry a minimum amount of liability coverage to legally drive. You may see the required coverage written as 25/50/25, but we'll break down what that means.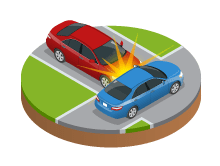 Bodily injury liability: 25/50
$25,000 for injuries to one person
$50,000 for injuries to multiple people per accident
These dollar figures mean that $25,000 is the most your insurance company will pay for a single person that you injure in an at-fault accident. And $50,000 is the maximum your insurer will pay for more than one person that you injure. Any costs outside of this coverage will come out of your pocket.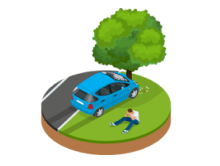 Property damage liability: 25
$25,000 to pay for someone else's car or property damage
This coverage means that $25,000 is the maximum amount your car insurance company will pay toward damages that you cause to another person's car or property. Example include repairs to a car, fence or building.
This is the highest required property damage limit, but fairly common among the states.
Uninsured/underinsured motorist: 25/50/25
$25,000 for injuries to one person in your car
$50,000 for injuries to multiple people in your car
$25,000 for your car damage by an uninsured driver
This coverage protects you if you get hit by an uninsured or underinsured driver. It pays for damages to your car or medical bills for you and your passengers.
Nearly half of the states across the US require some sort of uninsured motorist coverage, though some other states let you opt-out.
Optional coverage to consider in South Carolina
These state-mandated requirements are the lowest amount of coverage you need to legally drive in South Carolina, but may fall short if you're in a major accident.
To avoid high out-of-pocket costs after an accident, consider raising your liability limits by balancing coverage, your budget and what you can afford to pay out of pocket for specific damage.
Coverage
Description
Consider this coverage if
Higher liability coverage limits
Pays for someone else's property damage or medical bills if you cause an accident

State minimum liability coverage won't completely replace someone's car or pay legal costs.

You have many assets.

Collision
If you want your vehicle's damages to be covered in the event of a car accident, look into collision coverage.

You commute to work.

You drive in heavy traffic

You don't have the funds to replace/repair your car suddenly.

You have a car loan and your lender requires it.

Comprehensive
Step in when theft, storm damage like tornadoes or hurricanes, or animals strikes occur. Without this coverage, unpredictable events like these aren't covered, and you'd be left to pay for the damages.

Also, South Carolina sees 282 thefts per 100,000 people, as reported by Statista.

Severe weather rolls through your area.

You heavily rely on your vehicle.

You don't have extra cash to cover costly repairs or replace your car.

You live in an area with a high theft rate.

You're financing and your lender requires it.
Cheapest rates by age in South Carolina
You'll pay a pretty penny for your own car insurance policy if you're a young driver under 25. USAA may the best deal in this age group.
USAA also offers the lowest rate for other ages, although you may want to cross-check with Progressive and Geico.
| Age | Allstate | Progressive | Geico | USAA |
| --- | --- | --- | --- | --- |
| 16-24 | $239.74 | $239.26 | $280.02 | $224.73 |
| 25-34 | $213.03 | $178.44 | $169.07 | $152.06 |
| 35-44 | $169.59 | $166.17 | $155.84 | $151.53 |
| 45-54 | $171.93 | $144.04 | $134.88 | $111.99 |
| 55-64 | $154.80 | $130.67 | $118.43 | – |
Cheapest rates by gender in South Carolina
Costs between men and women don't differ much in South Carolina. In this sample, Progressive offers the lowest rate to men, while USAA gives the lowest price for women.
| Company | Allstate | Progressive | Geico | USAA |
| --- | --- | --- | --- | --- |
| Men | $187.60 | $163.81 | $171.33 | $164.40 |
| Women | $199.99 | $161.04 | $184.02 | $155.75 |
Sample rates in South Carolina from major car insurance companies
Progressive's and USAA's rates stay neck and neck in South Carolina. You may want quotes from both companies to make sure you're getting the best deal.
We base this cost information on sample quotes from Savvy.
| Company | Allstate | Progressive | Geico | USAA |
| --- | --- | --- | --- | --- |
| Rate | $194.36 | $162.55 | $177.67 | $160.08 |
7 factors that affect car insurance rates in South Carolina
Factors are characteristics specific to you that car insurance companies use to set how much you'll pay for car insurance. The less risky each of your factors is the less you pay, the riskier you are the more you'll pay. We'll break down South Carolinian's rating factors to keep in mind.
Factor
How it affects your rates

Age

The older you are and the longer you've been behind the wheel equates to lower rates. The drivers who pay the highest premiums are teen drivers and drivers in their early 20s. In South Carolina, this is true regardless of location or insurer.

Gender

Generally speaking, men will pay more for car insurance than women. Women typically drive less, drive slower and stay closer to home when they do hit the road, and so experience fewer road-related events. Overall, men pay approximately 5% more than women for car insurance annually.

Location

Where you live in South Carolina is a consideration when calculating insurance rates. While it's typical for drivers in larger cities to pay higher premiums than those in smaller centers, it's not necessarily the case in the Palmetto state. Studies show that drivers in Summerville — with a population of slightly over 53,000 people — pay higher rates than those located in the capital city of Columbia, population 133,500.

Hilton Head Island pay the lowest premiums in the state at approximately $1,360, 13.5 % lower than the statewide average rate of $1,576.

Vehicle and mileage

Your car model and series level combined with how much you drive will affect your insurance rates in South Carolina. High-powered and high-performance vehicles, and vehicles with aftermarket modifications will cause your insurance to spike.

Typically, drivers who drive less in South Carolina will pay lower rates than those who travel the distance. Interestingly, in South Carolina, drivers who are on the road for 6,000 miles a year pay around $1,500 annually. But drivers who travel double the miles a year pay only a marginal difference of $1,540, on average.

Credit score

The Insurance Information Institute states there is a strong correlation between lower credit scores and higher insurance claim submissions. A good credit rating and better can net you the lowest car insurance rates.

Studies show that drivers in South Carolina with good credit can get rates on average around $1,540. Those with fair credit rank at $1,830 annually, and drivers with poor credit scores are assessed to pay approximately $2,600 per year.

Coverage

The more coverage you have, the more protected you'll be — and the higher the premiums you'll pay. And the minimum coverage required in South Carolina is likely not enough to cover everything in the event of a collision, and you could pay for expenses out of pocket.

South Carolina rates for low coverage average out at $1,420 and medium coverage sits at $1,540, whereas high coverage premiums ring in at $1,690.

Driving Record

Your history on the road greatly affects your insurance rates. And keeping your record clean is one of the main ways drivers can control how much they'll pay — the cleaner your record, the lower your premiums.

Generally, drivers with no infractions pay about $1,540. Those with speeding violations will pay on average $1,820 — 17% more than those with a clean record. Drivers with one car accident pay even more at $2,210, and those with a DUI may the most at $2,230 annually.
Do I need SR-22 insurance in South Carolina?
South Carolina can require a driver with serious violations to file an SR-22, which is a document your insurance company files with the state that proves you have the minimum liability coverage needed to get behind the wheel. You may be required to file an SR-22 if you've gotten a DUI or if you're caught driving without the minimum car insurance required by the state. Your SCDMV will let you know if it's required to reinstate your license. Typically, South Carolina requires SR-22 drivers to maintain the coverage for a minimum of three years, but this can depend on the offense. Learn more about SR-22 insurance in South Carolina.
Top 10 auto insurance companies in USA that serve South Carolina
We've pulled the top 10 companies by market share that offer coverage in South Carolina according to S&P Global. Compare top companies by three major rating agencies along with our overall score.
Better Business Bureau (BBB) rating measures how a business interacts with its customers, with the highest rating being A++.
J.D. Power determines customers' overall satisfaction with their car insurer's price, billing, claims and customer support. The higher the J.D. Power score out of 1,000, the better.
NAIC complaint index shows how a company's number of complaints compares to similar companies of its size. Scores lower than 1.00 show the company receives less than the average number of complaints, and scores above 1.00 show more complaints than average.
Finder's score shows you an overall look at the company by taking into account scores from each of these agencies as well as the coverage and discounts each company offers.
Which city has the cheapest car insurance in South Carolina?
Of South Carolina's largest cities, Simpsonville has the cheapest rates and Lexington has the most expensive car insurance rates. Lexington drivers could face rates seven times more than Simpsonville drivers.
Car insurance quotes in Summerville
| Company | Annual car insurance rate |
| --- | --- |
| Allstate | $2681 |
| Farmers | $7393 |
| Metromile | $1764 |
| SafeAuto | $1184 |
| Progressive | $2215 |
Car insurance quotes in Rock Hill
| Company | Annual car insurance rate |
| --- | --- |
| Allstate | $2304 |
| Farmers | $7009 |
| Metromile | $1573 |
| SafeAuto | $1146 |
| Progressive | $1962 |
Car insurance quotes in Goose Creek
| Company | Annual car insurance rate |
| --- | --- |
| Allstate | $2681 |
| Farmers | $7317 |
| Metromile | $1764 |
| SafeAuto | $1250 |
| Progressive | $2222 |
Car insurance quotes in Simpsonville
| Company | Annual car insurance rate |
| --- | --- |
| Allstate | $2520 |
| Farmers | $6462 |
| Metromile | $1510 |
| SafeAuto | $1069 |
| Progressive | $1882 |
Car insurance quotes in Lexington
| Company | Annual car insurance rate |
| --- | --- |
| Allstate | $2518 |
| Farmers | $7635 |
| Metromile | $1684 |
| SafeAuto | $1148 |
| Progressive | $2390 |
Compare car insurance providers in South Carolina
In South Carolina, the driver at fault pays for damage
South Carolina is an at-fault state, which means that the driver who caused the car accident pays for the damage. Your insurance company and legal authorities will determine who's at fault, based on the accident details.
However, South Carolina also considers whether both drivers are partially at fault under a modified comparative fault law, according to the legal website Nolo. Under this law, both drivers are assigned a percentage of fault. Drivers with less than 50% of fault can get reimbursed for their damage from other drivers.
For example, if you're 80% responsible for an accident, your insurance will pay 80% of the other driver's damages. However, since you're more than 50% at fault, the other driver isn't required to pay for your damages.
Bottom line
To best protect yourself, your vehicle and others on the road in South Carolina, you'll want to find a car insurance policy that works for your needs and your budget. The good news is that you have a lot of options, and by shopping around and comparing rates, you're sure to find a terrific value.
To learn more about these topics, from state laws and requirements to discounts and savings, read our comprehensive guide to car insurance.
Frequently asked questions about car insurance in South Carolina