Finder is committed to editorial independence. While we receive compensation when you click links to partners, they do not influence our opinions or reviews. Learn how we make money.
Oregon's cheapest SR-22 insurance
Compare cheap SR-22 insurance in Oregon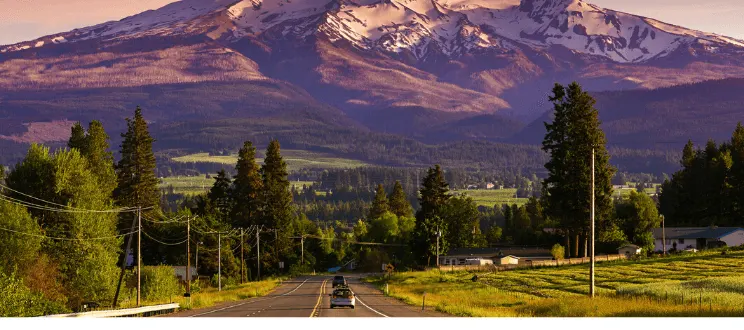 An SR-22 is a document your insurance company files with the state to prove you're covered by the minimum car insurance required to legally drive. Learn how you can get and maintain an SR-22 in Oregon.
Get instant SR-22 insurance online
Just enter your ZIP code and click Compare.
Need help? Call (877) 959-5072 toll-free to speak to an SR-22 specialist.
Need help? Call (877) 959-5072 toll-free to speak to an SR-22 specialist.
Do I need SR-22 insurance in Oregon?
Your state DMV will let you know if you need to file an SR-22. In Oregon, you may need to file for an SR-22 if:
You're liable for an accident and fail to pay for damages.
You're found driving without insurance.
You're convicted of a DUI.
You were involved in an accident and you were uninsured.
The state revokes your license.
You apply for a probationary or hardship permit — which you might need if your license is suspended.
A judge orders a mandatory insurance supervision.
What if I don't have a car or license?
If the DMV informs you that you need an SR-22, you'll still need to file for an SR-22 if you plan on driving in Oregon, even if you don't have a car or license.
If you lose your license because you're caught driving without insurance, the court could order you to carry non-owner insurance to reinstate your license.
What if I'm from another state?
If you have an SR-22 from another state, you must maintain it while driving in Oregon. Your SR-22 is likely to be sufficient in Oregon, but it's best to call your DMV and your insurer to confirm.
How do I file an SR-22 in Oregon?
Find an insurer. Ask your insurer if it's authorized to issue SR-22s in the state of Oregon. If not, find a provider that is.
Pay the SR-22 fee. To finalize your SR-22, you pay a processing fee to your insurer.
Verify minimum liability coverage. If you're already insured, call your provider to verify that your policy includes 25/50/20 coverage:

$25,000 for injury or death to one person.
$50,000 for injury or death to more than one person.
$20,000 for damage to property.

Submit your SR-22. Your insurance agent files your SR-22 with the Oregon DMV. Verify with the DMV directly to confirm a successful filing.
Discover coverage that's broader than competitors, valuable discounts up to 30% off and perks like shrinking deductibles that reward no claims.
Broad coverage, including for custom car parts or ridesharing
Transparent pricing tools that help you buy within budget
Accident forgiveness on small claims or for staying claim-free
Stack a variety of discounts for multiple cars, autopay or homeownership
Compare Oregon SR-22 car insurance
Find the best rates from insurance providers in Oregon. Learn more about state minimums and other requirements in the comprehensive guide to Oregon car insurance.
How much does an SR-22 cost in Oregon?
Once you've purchased or renewed a policy, most providers will file an SR-22 for a fee of $20 to $50.
But it's not the fee that's most expensive when you file for an SR-22 — you'll also typically see higher premiums than you're used to.
The impact of an SR-22 on your car insurance rates
SR-22s are often required after a driving conviction, such as driving without insurance or a DUI. After such a conviction,
you're considered a high-risk driver
by the state and most providers. Car insurance providers typically charge more for high-risk policies.
Talk with your insurance agent to find out how much you could potentially pay in higher premiums.
How long will I need an SR-22 in Oregon?
In Oregon, most court-ordered SR-22s result in a coverage requirement of up to three years. This period may be extended depending on whether you keep your driving record clean.
What happens when I don't need SR-22 coverage anymore?
Once you're at the end of your filing period you may want to contact your local DMV to confirm you're completely clear of the mandate before you cancel or change your insurance plan. You can then contact your insurance agent and find the best way to move forward with regards to your policy.
What happens if I let my SR-22 lapse?
Talk to your provider about how much you can expect your rates to increase. And make sure you understand your role in maintaining your insurance and your SR-22. A lapse or nonrenewal could set you back a lot of money and time.
In the event of a lapse your insurance company will send the state an SR-26, which rescinds the SR-22. The state may then suspend your license until your SR-22 is renewed.
Bottom line
Even without a car, you'll likely need to hold an SR-22 policy to get your license reinstated. You can potentially avoid additional suspension and fees by staying on top of your premium payments, renewing your policy early and driving within the law during your filing period.
Being marked as a high-risk driver doesn't necessarily mean you have to settle for the first provider that offers you half-decent rates. Take your time and shop around to find the best deal for your money.