Compare car insurance in North Carolina
Get the cheapest car insurance in North Carolina for 2022
Compare and save on car insurance
Enter your ZIP code to see insurers near you.
Your information is secure.
---
North Carolina drivers pay an average of $870.87 per year for car insurance according to the National Association of Insurance Commissioners (NAIC), that's about $72.57 per month. North Carolina drivers pay about 27% less than the countrywide national average of $1,189.64.
The NAIC takes into account all car insurance policies within the state such as drivers who select only state minimum coverage, as well as policies that include various levels of comprehensive and collision coverage. Because car insurance rates are influenced by personal factors, you could find yourself paying significantly less.
North Carolina car insurance quick facts
Minimum liability requirements
30/60/25
Average annual car insurance cost according to the NAIC
$870.87
At-fault state
In at fault states, the driver who caused the accident pays for damages.
North Carolina state minimum car insurance requirements
Drivers in North Carolina are required to carry a minimum amount of liability coverage to legally drive. You may see it written as 30/60/25, but we'll break down what that means.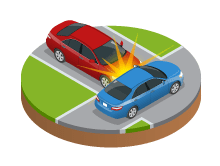 North Carolina bodily injury liability
$30,000 bodily injury liability per person
$60,000 bodily injury per accident
North Carolina requires $30,000 in bodily injury liability per person and $60,000 of bodily injury per accident. That's a tad higher than most states' minimum requirement for this coverage of 25/50.
This means $30,000 is the most your insurer will pay for a single person injured by you in an at-fault accident. And $60,000 is the maximum amount your insurer will pay if there is more than one person injured by you in an at-fault accident. Any costs outside of your bodily injury limit are required to come out of your pocket.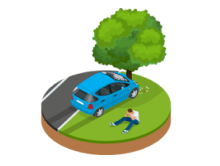 North Carolina property damage liability
$25,000 property damage liability
North Carolina requires drivers to carry $25,000 of property damage liability to legally drive. This is the highest required property damage limit across the US, but it's common among states.
This means $25,000 is the maximum amount your car insurance company will pay towards damages you cause to another person's car or property, such as repairs to a car, fence or building. You'll have to pay out of pocket for any costs beyond your property damage liability limit.
North Carolina uninsured or underinsured motorist
$30,000 uninsured and underinsured motorist bodily injury per person
$60,000 uninsured and underinsured motorist bodily injury per accident
$25,000 uninsured and underinsured motorist property damage
North Carolina requires all drivers to carry $30,000 of uninsured motorist bodily injury per person, $60,000 uninsured motorist bodily injury per accident and $25,000 in uninsured motorist property damage to legally drive. Near half of the states across the US require some sort of uninsured motorist coverage, though some other states let you opt-out.
This coverage protects you if you get hit by an uninsured or underinsured driver. It pays for your car's damage or medical bills to you and your passengers.
Finder tip: North Carolina state minimum coverage isn't enough
These state-mandated requirements are the lowest amount of coverage you need to legally drive in North Carolina, but may fall short if you're in a major accident. To avoid high out-of-pocket costs after an accident, consider raising your liability limits by balancing coverage, your budget and what you can afford to pay out of pocket for certain damage.
In North Carolina, the driver at fault pays for damage
North Carolina is an at-fault state, which means that the driver responsible for the accident pays for the damage. The insurance companies and legal authorities will determine who's at fault.
However, North Carolina law won't let you receive any payment from the other driver if you're found partially at fault, according to the legal website Nolo.
For instance, if the other driver is 95% at fault and you're 5% at fault, you won't get reimbursed for your damages by the other driver. Instead, you'd file under your own collision or personal injury protection if you bought these optional types of coverage.
Cheapest rates by age in North Carolina
Your best bet for low rates is Allstate for drivers under age 25, according to these sample quotes. However, the cheapest company switches to Geico or Progressive for other ages.
| Age | Allstate | Progressive | Geico | USAA |
| --- | --- | --- | --- | --- |
| 16-24 | $130.08 | $188.88 | $177.27 | $158.43 |
| 25-34 | $151.45 | $132.10 | $123.45 | $136.81 |
| 35-44 | $119.09 | $113.23 | $106.65 | $112.29 |
| 45-54 | $108.40 | $101.14 | $109.92 | $125.69 |
| 55-64 | $87.63 | $85.55 | $87.45 | – |
Sample rates in North Carolina from major car insurance companies
Shop around to keep rates low in North Carolina, even though the state keeps one of the lowest averages in the US. Progressive offers solid value based on our analysis of sample quotes from Savvy.
| Company | Allstate | Progressive | Geico | USAA |
| --- | --- | --- | --- | --- |
| Rate | $123.57 | $119.24 | $121.80 | $136.10 |
Best car insurance in North Carolina
Car insurance costs in North Carolina are low compared to other states — so keep shopping if you don't find the rate you prefer. To narrow down your choices, we recommend starting with these top companies.
We looked at insurance companies recommended by locals as well as ratings from J.D. Power, Better Business Bureau, the National Association of Insurance Commissioners and AM Best. We also compared the coverage and discounts offered to help you get the most value for coverage.
Best for safe drivers: Progressive
Progressive is a big-name brand with a plethora of coverage options, discounts and additional insurance policies for bundling. We've also found Progressive is one of the cheapest brands on the market when compared to the largest national insurers.
To keep prices low, you can use its Name Your Price tool to see how much coverage you can buy at your preferred monthly payment. With its 31% claim-free discount and accident forgiveness, drivers with clean driving records stand to save the most.
Pros
A popular choice as the third-largest US auto insurance company
Pricing tool helps you buy coverage in budget
Discounts of 30%+ for tracking driving or staying claim-free
24/7 online chat or phone support
Cons
Average customer service
Slow to respond to complaints
Must be a 5-year customer to qualify for accident forgiveness
Best customer service: Travelers
Travelers offers all the coverage you'd expect from an established brand, including extras like rideshare and gap coverage. Its app lets you access your ID card, file a claim, contact or even sign insurance documents. Or you can reach out to your local agent if you prefer more personal interactions.
Travelers brings top-notch service and nearly 170 years of experience to the table when it lines up next to other major insurance brands. It's the tenth-largest auto insurance company in the US, showing that customers trust it with their insurance needs.
Pros
Nearly 14,000 local agents offer one-on-one support
High ratings from J.D. Power, BBB and more
Discount up to 23% for claims-free driving
Extra coverage, like accident forgiveness, rideshare and gap
Cons
Mixed customer experience with Android app
Charges service fees with some payment methods
Competitors offer steeper discounts
Best local company: Erie
Erie may not be the biggest name in the game, but that may be because it focuses on service at the local level. Its more than 13,000 independent agents deliver personal, highly acclaimed service in 12 states. Plus, the company is backed by nearly 100 years of industry experience.
Accolades aside, Erie offers well beyond the basic car insurance coverage and perks. For instance, get coverage for personal items, rental car reimbursement or new car replacement if your car is under two years old. If you stay with Erie for three years, you can qualify for accident forgiveness.
Pros
25% discount for bundling auto + home policies
Top-rated for customer satisfaction by J.D. Power since 2013
Rates locked in unless you make a major policy change
Cons
Not the cheapest rates around
No online signup or claims
7 factors that affect car insurance rates in North Carolina
Factors are characteristics specific to you that car insurance companies use to set how much you'll pay for car insurance. The less risky each of your factors is the less you pay, the riskier you are the more you'll pay. We'll break down North Carolinian's rating factors to keep in mind.
Factor
How it affects your rates

Age

How old you are is a top factor in determining your car insurance rates. With each passing year, you earn more experience on the road. More experience can equal cheaper rates. Teen drivers pay the most, but rates begin to level off around your 20's with drivers over 50 paying the least.

Gender

North Carolina is one of seven states that bans the use of gender in calculating car insurance premiums. Insurers rely on factors such as age, location, driving record and what type of car you drive.

Location

Where you live affects your rates, including where you park your car. High theft rates, high traffic and a high number of uninsured drivers could mean higher rates.

North Carolina vehicle theft rates stand at 193.6 vehicle thefts per 100,000 inhabitants, according to the FBI's most recent report on vehicle theft rates. That's well below the national average of 246 vehicle thefts per 100,000 inhabitants.

As for uninsured drivers, 7.4% of Pennsylvanians on the road are uninsured. That's on the lower end for vehicle theft according to Insurance Information Institute, with the national average standing at 12.6%.

Vehicle and mileage

Your car's make, model and trim directly affect how much you'll pay for car insurance. Things like its cost, safety ratings, the likelihood of theft and sportiness all help insurers determine its cost to insure.

Safer and cheaper vehicles score the lowest rates, with luxury vehicles with higher repair costs resulting in higher premiums.

And, the more you're on the road, the more at-risk you are to get in an accident, which means higher premiums. However, according to the Bureau of Transportation, Pennsylvanians drive an average of 36.4 miles per day, that's slightly above the average across the US of 36.1 miles per day.

Credit score

Your credit score is included in your credit-based insurance score which insurers use to help calculate rates. According to the Insurance Information Institute, there is a strong correlation between your insurance score and claims filings. A good credit-based insurance score could mean lower rates.

North Carolinians have protections under state laws that regulate the use of your credit history when issuing car insurance policies.

Credit score can be used to set your initial rates and to lower your rates at renewal. However, they can't be used as a sole reason to terminate your policy or increase your rates higher than rates approved by the North Carolina Department of Insurance.

Coverage

The more coverage you get and the higher limits you choose, the more protection you'll have and the more you'll pay in monthly premiums. And, if you opt for full coverage car insurance that includes comprehensive and collision, the amount of your deductible weighs into your costs too, higher deductibles mean lower monthly premiums.

Driving Record

The better your driving record, the lower your premium. If you're in an at-fault accident you could see rates increases from 20% to 50%. And DUI's in North Carolina can increase your rate by around 112%, that's one of the highest increases we've seen across the US. These types of violations typically stay on your record for about three years.
Is SR-22 required in North Carolina?
North Carolina doesn't require a driver to complete an SR-22 form, which is used to prove that a driver has enough insurance to reinstate their license. However, North Carolina does require you to carry minimum liability insurance to drive. If you move to North Carolina with an SR-22 from another state, you'll probably need to maintain your SR-22 requirements.
Coverage to consider in North Carolina
North Carolina's minimum coverage requirements are decent, but it's still worth it to consider additional coverage if you have specific needs. North Carolinians drive more on average, which could make some extra coverage worth the coin.
Comprehensive coverage is a huge plus
Comprehensive coverage is a must-have when you have an auto loan. For those not financing their vehicles, it's still worth considering. It's there to help with costs from events such as storm and hail damage, fire, theft, falling objects, windshield damage, and much more. There's typically a deductible, but once you pay that, the coverage steps in to help with the rest of the repair costs. This coverage can be very helpful to drivers that live in a rural area, for heavy commuters, or those that don't have cash on hand to pay for expensive repairs costs.
Consider comprehensive coverage if . . .
You have an auto loan.
You drive a lot or heavily rely on your vehicle.
You live in an area with severe, unpredictable weather.
You don't have the funds to cover costly, unexpected repairs.
Collision coverage for commuters
Unlike comprehensive coverage, collision coverage kicks in to help with the costs to repair or replace a car in the event of a vehicle accident. North Carolinians drive more on average, and more time on the road means more risk of a vehicle accident. If you live in a densely populated area, are frequently in heavy traffic, or rely on your car every day, then collision coverage is worth looking into.
Consider collision coverage if . . .
You have a car loan and your lender requires it.
You drive regularly.
You can't cover the cost of repairing/replacing your vehicle on your own.
Roadside assistance for regular drivers
If you're a heavy commuter, roadside assistance can be a great addition to your policy. This is especially true if you have an older vehicle that's prone to mechanical breakdown, you have a long commute, or you live in a rural area. This coverage may also be included in your vehicle's manufacturer warranty – if it's not, then it may be worth adding to your policy.
Consider roadside assistance if . . .
You commute regularly and rely on your car.
You have an older vehicle.
You live in an area with harsh weather.
Top 10 auto insurance companies in USA that serve North Carolina
We've pulled the top 10 companies by market share that offer coverage in North Carolina according to S&P Global. Compare top companies by three major rating agencies along with our overall score.
Better Business Bureau (BBB) rating measures how a business interacts with its customers, with the highest rating being A++.
J.D. Power determines customers' overall satisfaction with their car insurer's price, billing, claims and customer support. The higher the J.D. Power score out of 1,000, the better.
NAIC complaint index shows how a company's number of complaints compares to similar companies of its size. Scores lower than 1.00 show the company receives less than the average number of complaints, and scores above 1.00 show more complaints than average.
Finder's score shows you an overall look at the company by taking into account scores from each of these agencies as well as the coverage and discounts each company offers.
Car insurance guides by city
Compare rates, requirements and driving tips with car insurance guides for your city.
Which city has the cheapest car insurance in North Carolina?
Of North Carolina's largest cities, Greensboro has the cheapest rates and Fayetteville has the most expensive car insurance rates. Fayetteville drivers could face rates 3 times more than Greensboro drivers.
Car insurance quotes in Charlotte
| Company | Annual car insurance rate |
| --- | --- |
| Allstate | $1119 |
| Metromile | $597 |
| Progressive | $506 |
| National general | $1024 |
| Geico | $826 |
Car insurance quotes in Raleigh
| Company | Annual car insurance rate |
| --- | --- |
| Allstate | $1477 |
| Metromile | $765 |
| Progressive | $647 |
| National general | $1167 |
| Geico | $830 |
Car insurance quotes in Concord
| Company | Annual car insurance rate |
| --- | --- |
| Allstate | $1235 |
| Metromile | $669 |
| Progressive | $576 |
| National general | $1153 |
| Geico | $918 |
Car insurance quotes in Greensboro
| Company | Annual car insurance rate |
| --- | --- |
| Allstate | $979 |
| Metromile | $536 |
| Progressive | $453 |
| National general | $977 |
| Geico | $806 |
Car insurance quotes in Fayetteville
| Company | Annual car insurance rate |
| --- | --- |
| Allstate | $1512 |
| Metromile | $803 |
| Progressive | $667 |
| National general | $1497 |
| Geico | $924 |
Compare car insurance providers in North Carolina
Temporary car insurance in North Carolina
You can buy temporary auto insurance in this state. However, you might run into issues finding temporary coverage from standard providers. So if you need this kind of coverage, you should be open to alternative options like going with a lesser-known provider or having some unconventional policy terms.
North Carolina car insurance and driving laws
Seatbelt, texting while driving and insurance laws vary by state. Here are some driving and insurance laws to know in North Carolina:
North Carolina requires car insurance.

Most states require liability insurance, and North Carolina requires 30/60/25 to be on the road. You must also have uninsured/underinsured motorist coverage.

Texting and driving.

Texting and driving is illegal in North Carolina. You can't read, write, or send messages/emails on a mobile phone or electronic device while operating a vehicle.

Teens can't use phones at all while driving.

Teen drivers under 18 are prohibited from using phones at all while driving, except during emergency situations.

Motorcyclists must wear helmets.

While riding a motorcycle or moped, you must wear a helmet that meets federal standards.

Seatbelts are required for everyone in all seats.

Whether you're in the front or back seats, all drivers and passengers of all ages must wear a seat belt.

Some counties require emissions tests.

There are 22 counties in North Carolina that require an emissions inspection. Vehicles that don't need an emissions test include vehicles that are 20 years or older, diesel-operated vehicles and farm vehicles. Certain light-duty vehicles are also exempt. You'll be notified if you need an emission test.
Bottom line
With annual insurance costs typically falling below the national average and laws that make it very difficult and risky to drive without liability coverage, North Carolina is a place where you'll most likely want to have a conventional car insurance policy.
To learn more about this topic, from rules and regulations to discounts on premiums, visit our comprehensive guide to car insurance.